Färjestad wins it on the road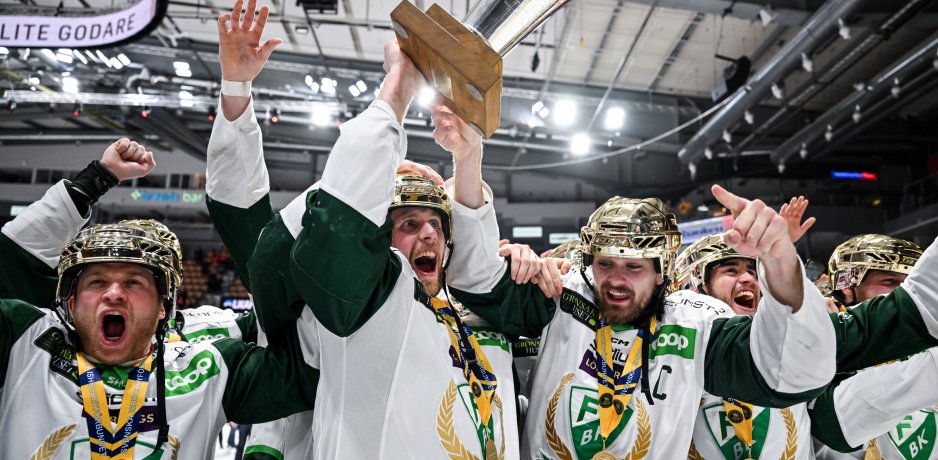 The latest teams to add its name to the list of European league champions in 2021/22 is Färjestad Karlstad, which won its 10th Swedish championship. Check back here for an updated list.
12 May: Färjestad ends season in Europe with 10th Swedish title
The final club hockey game of the 2021/22 season in Europe took place on Thursday night in northern Sweden, with visiting Färjestad Karlstad defeating host Luleå Hockey 3-0 in Game 7 of the Swedish Hockey League finals. It marks the 10th title for Färjestad, and the club's first since 2011.
After finishing sixth in the regular season, Farjestad did it the hard way, defeating third-place Skellefteå AIK in the quarter-finals and first-place Rögle Ängelholm in the semi-finals before facing second-place Luleå in the finals.
"We beat three solid teams, so it feels pretty awesome! What a group we have, so mentally strong," said 35-year-old forward Per Åslund, who was voted MVP of the playoffs after recording 18 points in 18 playoff games. "Itwasa very tough series against Luleå. Itwasabout small margins and they made it tough for us all the way. Itwasa magical final serieswith great atmosphere in thestands both in Karlstad and up here in Luleå."
Åslund was the team's third-leading scorer in the regular season with 35 points, trailing Joakim Nygård with 41 and Daniel Viksten with 39. Czech goalie Dominik Furch played in 38 regular-season games and all 18 in the playoffs, and recorded the shutout in the last game.
Idag ses vi på torget kl. 16:00 då firandet och underhållningen börjar. Vid kl. 17:00 tar vi emot våra guldhjältar! MOT TORGET!!! ???????????? pic.twitter.com/7ueu7kv0NY

— Färjestad BK (@farjestad_bk) May 13, 2022
4 May: Eisbären Berlin win 9th title in DEL, 24th overall
Eisbären Berlin have repeated as Penny DEL champion, defeating Red Bull Munich 5-0 on Wednesday to win the final series three games to one. It was Berlin's third straight win after dropping the first game of the series. After finishing first in the regular season Die Eisbären swept Kölner Haie three straight and Adler Mannheim 3-2.
Forwards Matt White, Marcel Noebels, Blain Byron and Leo Pföderl were the team's offensive stars, finishing as the top four scorers in both the regular season and playoffs. Matthias Niederberger was the team's go-to man in net, playing every minute of the playoffs and finishing it with a shutout. The win was also a fitting end to the career of great Dane Frans Nielsen, who just a few months ago led Denmark into the Olympics for the first time.
As mentioned, this was Berlin's second straight title and ninth German title since the creation of the DEL back in 1994. Previously, the club known as Dynamo Berlin had been a 15-time champion of East Germany, which only had a two-team league for a number of years.
???????????? NEUNFACHER MEISTA!!!! ????????????

EHC Red Bull München - Eisbären Berlin 0:5 | ENDE | Tore: Matt White (9., 37./PP & 60./EN), Fans Nielsen (25.) & Marcel Noebels (26.) #RBMvsEBB #ALLENEUNE #NURMITEUCH #UNFASSBAR pic.twitter.com/9vIND4iH7g

— Eisbären Berlin (@Eisbaeren_B) May 4, 2022
1 May: Zug comes back from 0-3 down in games, repeats as Swiss champ
EV Zug has repeated as champion of Switzerland in the most unlikely of fashions. After losing the first three games of the finals to the rival ZSC Lions from Zurich, Zug won four straight games, allowing only three goals along the way, culminating in a 3-1 victory on home ice at Bossard Arena on Sunday night.
After finishing first overall, Zug had few problems with its first two playoff opponents, sweeping both HC Lugano in the quarter-finals and HC Davos in the semi-finals. ZSC, the third-place team from the regular season, won the first three games of the finals each by one goal before Zug regained its top form.
Zug was led offensively by Jan Kovář. The Czech playmaking centre led the team with 43 points in 46 regular-season games but was on fire in the playoffs with 21 points in 15 games. And veteran goalie Leonardo Genoni, known for his heroics at the international level with the Swiss national team, was a pillar of strength, playing in 40 of 52 regular-season games and every minute of the playoffs.
It was the second year in a row that Zug has won both the National League regular season and playoffs. The club now has three titles overall, having previously won in 1997/98.
???? So feiern Meister! ????@official_EVZ | #champs2022 pic.twitter.com/ZIZ5aCfVIo

— MySports (@MySports_CH) May 1, 2022
28 April: Tappara wins in Finland, Třinec three-peat in Czechia
For the 18th time in history, Tappara Tampere is hockey champion of Finland, following a 1-0 victory over TPS Turku in Game 5 of the Liiga finals. Joona Luoto scored the game's only goal just 35 seconds into the first period and Christian Heljanko made 16 saves for his second consecutive shutout. A sellout crowd of 12,451 fans took in the game at Nokia Arena, which just opened in December and will host the IIHF World Championship starting from 13 to 29 May.
It capped off a spectacular season for Tappara, which also won the Liiga regular-season title and almost pulled off the "triple", reaching the Champions Hockey League final, where they lost to Rögle Ängelholm in Sweden.
Anton Levtschi was the team's big scorer in the regular season with 61 points in 55 points and 10 more in 14 playoff games, but Luoto was the team's big scorer in the playoffs with 17 points, and won the Jari Kurri Trophy as playoff MVP. Heljanko was stellar all season with a goals-against average under 2.00 in both the regular season and playoffs. Veli-Matti Savinainen, who joined the team late in the season after Jokerit Helsinki's abrupt withdrawal from the KHL, was also a key part of the championship run with 10 points in 15 playoff games.
Historiallinen kausi Hakametsästä Nokia Arenaan kruunautuu tähän hetkeen kun Otto Rauhala ja Jukka Peltola noutavat yhdessä Kanada-maljan ???????????? #Tappara #Liiga pic.twitter.com/dl25eysyaj

— Tappara Tampere (@Tapparaofficial) April 29, 2022
Also on Thursday, Oceláři Třinec won its third consecutive Czech title - and fourth title overall - following a 2-1 victory over Sparta Praha in Game 6 of the Tipsport Extraliga finals before 17,220 fans at O2 Arena in the capital city.
After finishing second in the regular season, Třinec swept regional rival Vítkovice from Ostrava in the quarter-finals and BK Mladá Boleslav in the semis before encountering a tough Sparta team in the finals. Veterans Martin Růžička and Andrej Nestrašil were the team's two big offensive weapons throughout the regular season and playoffs. The goaltending duties were mostly split during the regular season between veteran Marek Mazanec and youngster Ondřej Kacetl, but Kacetl got the bulk of the work in the playoffs for the second straight year. That is, until the last game, when Mazanec was given his first start in over a month due and performed admirably, stopping 26 of 27 shots.
"I'm mostly relieved that I didn't mess it up, and now we can celebrate," Mazanec told the club website. "I'm looking forward to going home now because I've really had enough."
Dobré ráno, Oceláři. Do hodiny jsou mistři doma! pic.twitter.com/EwK6sWPa3a

— ???????????? Oceláři Mis3 (@hcocelaricz) April 29, 2022
24 April: Stavanger in Norway and Aalborg in Denmark are champions again
After a four-year wait, the Stavanger Oilers are once again champions of Norway, following a four-game sweep of fellow EHC member club Storhamar Hamar in the Fjordkraft-ligaen finals. The decisive game was a 5-2 road victory in Hamar. Stavanger also swept Ringrike in the quarter-finals but needed all seven games against Sparta Sarpsborg in a tough semi-final series. The stellar netminding of Henrik Holm was a large reason for the team's success, but it also got scoring from Canadian Jarret Burton and American Dan Kissel.
At one time, the Oilers were a dynasty, winning their first title in 2009/10 and then six in a row from 2011/12 to 2016/17. In 2019/20, they were leading the Ligaen regular-season standings when the playoffs were cancelled due to the outbreak of the COVID-19 pandemic. They were also prominent on the European stage, winning the IIHF Continental Cup in 2013/14.
Nå blir det feiring hos Clarion Hotel Energy utover natta! ???????????? pic.twitter.com/shMMsiwqtx

— Stavanger Oilers (@StavangerOilers) April 24, 2022
Also on Sunday, the Aalborg Pirates won their second Danish national championship, defeating Rungsted Seier Capital 5-1 to win the Metal Ligaen final series in five games. Aalborg won its first title in 2017/18. Led by Danish international player Patrick Bjorkstrand, the Pirates accomplished the coveted "double", topping both the regular season and the playoffs.
As a result of these triumphs, both teams advance to the Champions Hockey League next season. It will be the fourth time for Stavanger and the second time for Aalborg.
DM-FESTEN I BILLEDER: Her er Aalborgs triumf

Læs mere her: https://t.co/UwHsWcuuXz #isdk #metalligaen pic.twitter.com/xUuTPnCy8Z

— Metal Ligaen (@MetalLigaen) April 24, 2022
13 April: Grenoble makes it 8 in France
Les Brûleurs de Loups (wolf burners), based in the French Alpine city of Grenoble, have won their eighth Coupe de Magnus, emblematic of France's national ice hockey championship and its top professional league, the Synerglace Ligue Magnus. Both trophy and league are named after Louis Magnus, the father of French hockey and the first President of the IIHF.
The latest title came after a decisive 5-1 victory on home ice at Patinoire Polesud (South Pole Rink) over Les Ducs d'Angers, giving Grenoble a 4-1 victory in games. It capped off a dominant season in which Grenoble comfortably topped the regular-season standings, finishing 13 points ahead of second-placed Angers. Grenoble featured the top two scorers in the regular season in Nicolas Deschamps and Damien Fleury and the top goalie in Jakub Štěpánek. Les Brûleurs de Loups then went 12-2 in the playoffs, sweeping Bordeaux and beating Cergy-Pontoise and Angers in five games each.
With eight championships, Grenoble is the third-most decorated club in French hockey history after Chamonix and Rouen. As the French champion, Grenoble will go to the Champions Hockey League for the third time.
CHAMPI8️⃣NS DE FRANCE 2️⃣0️⃣2️⃣2️⃣ !!!

Ils l'ont fait ! Les Rouge et Bleu s'offrent un 8e titre de Champions de France en s'imposant en finale face aux Ducs d'Angers !!!!!

YEEEEEEES QUE C'EST BON ! ???????????? pic.twitter.com/IjIdQyILX0

— Brûleurs De Loups (@bruleursdeloups) April 13, 2022
11 April: Salzburg sweeps Fehérvár in ICEHL finals
Red Bull Salzburg won its seventh ICE Hockey League title and ninth Austrian national championship after defeating Hungarian club Fehérvár AV19 4-0 in the best-of-seven finals on Monday 11 April. Backed by playoff-MVP netminder Atte Tolvanen, Salzburg didn't lose a single playoff game. After topping the regular season in points, Salzburg swept Czech club Orli Znojmo in the quarter-finals and the Vienna Capitals in the semis.
Despite the sweep, all four games were close. It started with a 2-1 overtime win in Game 1 on a goal by Danjo Leonhardt and finished with a 3-1 road win in Game 4. Team Captain and former Olympian Thomas Raffl broke a 1-1 tie at 12:14 of the second period with the series-winning goal and former NHL defenceman T.J. Brennan sealed the victory with a late empty-netter.
"Of course we are relieved. It's the playoffs, winning's all that matters," said Raffl. "No matter how, because we certainly didn't play our best game of the series today. Still, we always find a way to come back and win the game in the end. And it was unbelievable how our fans supported us today, that was certainly the best atmosphere we've experienced here all season."
Salzburg and Fehévár will be joined by Villach SV as ICEHL representatives in next season's Champions Hockey League.
ES IST VOLLBRACHT.

How SWEEP IT IS ???????????????? pic.twitter.com/WcCVTwbiVC

— EC Red Bull Salzburg (@ecrbs) April 11, 2022
10 April: Belfast Giants clinch EIHL title
Thanks to Scott Conway's shootout-winning goal, the Stena Line Belfast Giants defeated the Sheffield Steelers 2-1 to clinch first place in the EIHL standings for the club based in Northern Ireland. With two games left for each team, the Giants now have a four-point lead over the second-place Steelers and also hold the tiebreaker. The EIHL regular-season winner is considered the national champion and therefore the Giants will return to the Champions Hockey League for the second time.
"These guys, all year long, they've done what we've asked of them," said victorious coach Adam Keefe, brother of Toronto Maple Leafs head coach Sheldon. "Early on this season we had so many injuries but the guys kept on going, no questions asked. We knew it wasn't going to be easy – a very good team in Sheffield Steelers, I'm sure we'll see them down the line – but these guys deserve it. You bring in a group of good people and good things happen."
Founded in 2000, this is the sixth national title for the Giants, who also won the EIHL's Challenge Cup for the fourth time in March.
CHAMPIONS!

???? Dean Woolley pic.twitter.com/IsVXriLdC5

— Belfast Giants (@BelfastGiants) April 10, 2022
8 April: Katowice wins first Polish title since 1970
After waiting more than half a century, GKS Katowice is once again champion of Poland after a four-game sweep of Unia Oświęcim in the Polish Hockey League finals, culminating in a 4-1 victory on Friday night. Katowice topped the regular-season standings by winning 28 out of 40 games, then beat Zagłębie Sosnowiec 4-1 in the quarter-finals and local rival GKS Tychy in the semis with a dramatic seventh-game overtime win.
At the heart of Polish Silesia's hockey hotbed, Katowice was dominant with six national titles between 1958 and 1970. Since then, there were several second- and third-place finishes in the 1990s and early 2000s. Finally back on top, Katowice qualifies for the Champions Hockey League for the first time along with Comarch Cracovia, who qualified after winning the IIHF Continental Cup in early March.
????[GIEKSA FOTO] Czekaliśmy już tyle lat i DOCZEKALIŚMY SIĘ ????????????

Prezentujemy MISTRZOWSKĄ galerię zdjęć od @fotoblatom1 ???? 1/4

WIĘCEJ ZDJĘĆ ???? https://t.co/mDazKWuV0R pic.twitter.com/gDsrM7zEGm

— GKS Katowice Hokej (@GKSHokej) April 9, 2022


Photo: JOHANNA LUNDBERG / Bildbyrån