Name: O2 Arena Praha
Opened: 2004
Address: Českomoravská 2345/17, 190 00 Praha 9, Czech Republic
Capacity: 17 037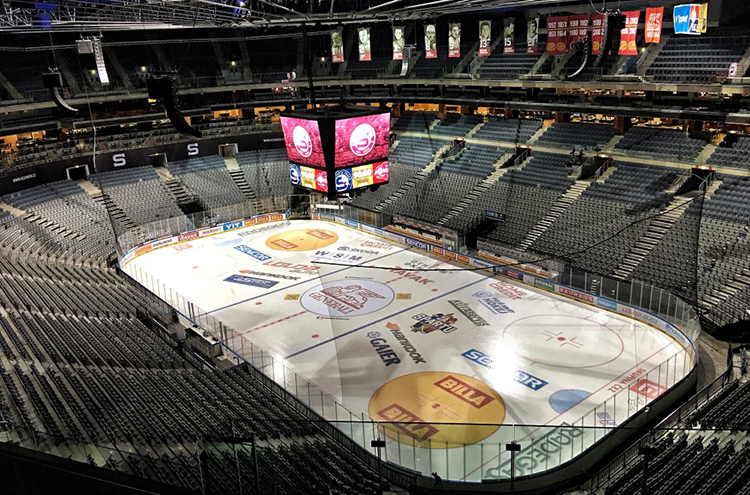 O2 arena is one of the leading facilities in Europe with a seating capacity up to 18,000. Every year, it hosts dozens of attractive sporting and cultural events. It opened in 2004 for the Ice Hockey World Championship and since then has welcomed over 600,000 people every year. O2 arena is located in northeastern Prague, approximately 10 km from the city centre. It occupies an advantageous position between the interior road ring, which provides comfortable transportation from other sections of the city, and the external ring road, which allows a quick connection to the outgoing motorway and the international highway network.
Basic info
Founded
1903
Website
www.hcsparta.cz
Club adress
HC Sparta Praha a.s.
TIPSPORT ARENA
Za Elektrárnou 419
170 00 Praha 7, Czech Republic

Honours
National titles
(8) – 1953, 1954, 1990, 1993, 2000, 2002, 2006, 2007
European championships or greatest European accomplishments
Euro League 2nd place (1) – 2000; Euro Champions Cup 2nd place (1) – 2008; Champions League 2nd place (1) – 2017; European Cup 4th place (1) – 1991; Euro League 4th place (1) – 1997; Spengler Cup winner (2) – 1962, 1963

Last Seasons
2022-23: 3rd regular season, quarter-finals, CHL group stage
2021-22: 3rd regular season, league finals, CHL quarter-finals
2020-21: 1st regular season, semi-finals
2019-20: 3rd regular season
2018-19: 9th regular season, play-in round

About club
HC Sparta Praha is one of the most successful and famous clubs in Czechoslovakian and later Czech ice hockey history. There are no names in Czech sports better recognized internationally than "Sparta" and few clubs have as much history.
Sparta's first period of great success was in the years following World War II, as it won two national titles in a row – 1952/54 and 1953/54 – under the name Spartak Sokolovo. The next highly successful period came much more recently when Sparta won the Czechoslovakian league in 1989/90 and in 1992/93. After a few years of bad luck and less success, Sparta returned to the top of the Czech Extraliga in 1999/00 when they were crowned league champions. That victory was the first of four championships they would win over seven seasons, adding Extraliga titles in 2002, 2006 and 2007.
In addition to those domestic achievements, Sparta was also highly competitive in European club hockey. In 1997, the team reached the European Hockey League semi-finals, and then three years later reached the final – the first time in 11 years that a Czech team had gone so far in Europe – and fell in a tight game to Russia's Metallurg Magnitogorsk. In 2008, Sparta reached the final of the European Champions Cup, once again falling to Magnitogorsk, and then in 2017 reached the final of the Champions Hockey League, where they took powerful Frölunda Gothenburg to overtime before falling in a thrilling contest.