German legend Uwe Krupp becomes new head coach of Sparta Prague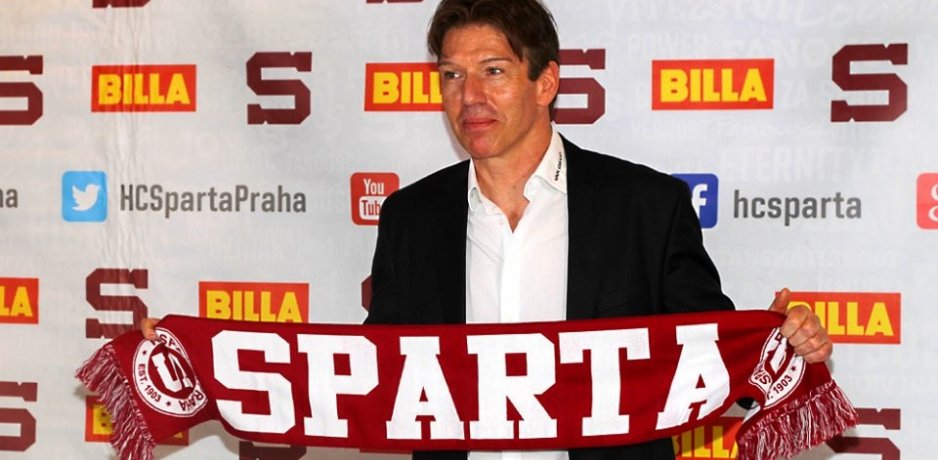 On Sunday, Czech club Sparta Prague made big news by hiring German hockey legend Uwe Krupp as the team's new head coach. As a defenceman, Krupp played 810 NHL games with the Buffalo Sabres, New York Islanders, Quebec Nordiques, Colorado Avalanche, Detroit Red Wings and Atlanta Thrashers, was a two-time all-star and most notably scored the Stanley Cup-winning overtime goal for Colorado in 1996. After his playing career, he went on to coach the German national team and DEL clubs Kölner Haie and Eisbären Berlin. Now, just days after taking his new job, he gave an extensive interview about his career and how it led to the Czech capital for the club's website, hcsparta.cz.
Just a few days ago you were competing for the DEL title with Eisbären Berlin and now you've already taken on a new coaching challenge. What are your feelings right now?
Looking back at almost four full seasons in Berlin, I'm happy with the way the team improved and developed during that time. I'm also a little disappointed that we did not win the championship this year. We put up a hard fight and were close, but it wasn't quite enough in order to win. Now I'm excited about taking on the new challenge to work with Sparta Prague in the Tipsport extraliga.
What was the main reason you chose to join Sparta?
First of all, it is a tremendous honour. I'm aware of the long tradition of hockey in the Czech Republic and former Czechoslovakia, but the more I read about it the more impressed I am becoming about hockey's cultural meaning in this country. It's very clear to me that being entrusted to guide and coach Sparta is a true privilege.
You played with Petr Bříza in Landshut during the NHL lockout in 1994. Was this also part of your decision?
I have met Petr in Landshut as a player and then years later again during World Championships as he is now working for the Czech Ice Hockey Association. Sometimes you have a connection when you meet somebody and sometimes you don't. We always found a couple of minutes to catch up even though at the Worlds, everybody is pretty busy and coaches and officials are usually stressed. Knowing him was an important factor in my decision to take the job.
What comes first to your mind with the word Sparta?
Honestly, and this makes me sound very shallow – I think of the movie 300... (laughs) Obviously, it is about an ancient warrior culture, but I love that movie and couldn't think of a better name for a sports team. Sparta says it all!
Jozef Golonka gave me a chance in Cologne
And how about Czech hockey as a whole? What is your experience with it?
Growing up in Germany in the 1970s, there was a lot of Czech and Slovak influence in German ice hockey. Names like Dr. Wohl, Dr. Ján Starší, Karel Gut and a little later Luděk Bukač had a huge influence on hockey in Germany. The first coach that gave me a chance to break into the men's team in Cologne was Jozef Golonka, who is somewhat of a cult figure in Bratislava. He was a tough coach and didn't take it easy on the lanky, too tall German kid. Of course, the other experience was playing with and against very talented Czech-born players in North America. There have been many guys I've crossed paths with, and watching them make it in the NHL, or giving it their best shot, has always earned my utmost respect. It has never been easy for Europeans to make it in North America.
What do you expect from your new team?
I really want to first meet all the players and start working together before I start talking about my expectations. I played an exhibition game against Sparta last season and I liked what I saw, but that's all. We'll know more once training camp starts.
What will be your first moves in Sparta?
The first thing will be for all the people in the hockey department to sit down and work through the way business is done at Sparta. Everybody who works closely with the players plays an important role and for the whole thing to work well, we all must understand what it is that needs to be done and then work together until we get to where we want to go.
Not many coaches have had a playing career as amazing as yours. What are the advantages of that?
I think you get to see the business from both sides. Having been a player allows you as a coach to put yourself into the players' shoes and it probably helps to understand how a player feels and thinks.
Do you think that you understand players better because of your experience in the NHL?
I'm not sure if NHL experience is necessary to be able to relate to players. To me, you just need to know what it means to be a professional hockey player or athlete and the pressures and expectations the individual has to deal with.
I have already started to learn Czech
You were the second German-born player in the NHL. How was it for you back in 1986 when you started to play overseas?
I was greener than green when I went to Buffalo. I definitely needed some time to learn how to play in North America. But, I knew what I wanted and I knew how to work and that combination ended up working for me.
Did you already know the language before going there?
I had basic school English. Actually, my English and French skills were about equal. I just downloaded a Czech language learning program today and, wow, I've got my work cut out... (smiles)
Which Czech players did you meet during your NHL career?
Like I said before, there are a lot of guys. To name a few, Dom (Hašek) was probably the biggest name I played with, even though my career was basically over by then. David Volek stays forever in my hockey memories because of the OT winner against Pittsburgh with the Islanders in 1993. Sorry Jags! (laughs) I also spent a little time with František Kaberle and Milan Hnilicka in Atlanta during my last season.
You won the Stanley Cup with the Colorado Avalanche in 1996. I assume this was the highlight of your career, am I right?
Clearly, that is the highlight that everybody associates with my career. Personally, there are other moments and seasons that I look back to and remember well, but that Cup is the popular choice.
What was the reaction back home in Germany after your success?
Despite the lower public status of ice hockey in Germany, it was certainly acknowledged, but only to hockey insiders was it really interesting. The internet information superhighway was still in its early stages and what nowadays makes it around the world in nanoseconds, took a lot longer to break through. Nonetheless, it was a great time and I am proud of it.
The next big thing was your participation at the 1998 Winter Olympic in the qualification group. I suppose you know what Nagano still means to the Czech people.
Well, I guess it's hard to forget for anybody that follows hockey around the world. The first "dream team" Winter Olympics and who could forget Wayne Gretzky shaking his head for not getting picked in the shootout and the Czech players celebrating the gold medal. A classic moment in hockey history!
The last few years of your career were marred by injuries. Were they why you finally decided to end your playing career?
Yes, the last years were miserable. It's hard to explain to someone who wins the fitness award as a 36-year-old in an NHL training camp, why he needs another back surgery after he wakes up and cannot raise his foot. They just kept adding up and even the most stubborn man on earth –me!) would eventually understand the message your body is trying to tell you.
Coaching kids rekindled my love of hockey
Did you immediately know that your next step would be the transition to coaching?
No. I was actually pretty burnt out on hockey when I retired. The recurring injuries left me feeling frustrated and helpless. I was busy trying to find closure to my career and at that time coaching was not high on my list at all. That changed when I started helping out with the youth hockey program in Atlanta. Working with 11-year-old boys and girls was such an amazing experience for me that it rekindled my love of hockey. I truly enjoyed watching the kids' hockey development and at the same time how they were turning into young adults.
You started straight away with coaching the German national team and stayed there for six years. What are the specifics of coaching a team of players from different clubs, in your opinion?
I think you still need to form a team. It is not just about the statistically best players, but the best players for the different roles that a team needs to be successful. Another part is that the players need to identify a common goal. The goal cannot come from the management or coaches. It has to come from the players. Only after that can coaching start.
The first club you coached was your youth team, Kölner Haie in your hometown Cologne. Was that special to you?
Yes, very much so. There are still people around the arena that worked there when I was a kid. They remember me scavenging for broken sticks after the big team practices and they watched me grow up. It was a great time to come back and lead the team for a few years.
Then you moved to Berlin, another big club. Do you think that working in Berlin could be similar to Prague?
I think Cologne, Berlin and Prague have quite a few things in common. All of them are big names, large-market teams that enter each season with high expectations. All of them need to play good hockey to fill large arenas and all of them will bring out the best in every opposing team. And last, but not least, all of them get lots of attention from the media and otherwise.
You have a lot of experience with coaching in the public eye. Are you looking forward to another major club?
I really am! It will be a great challenge for everyone – the players, the coaching staff, the management, even the fans – to work together and pursue our common goals.
Photo: hcsparta.cz