Name: Scandinavium
Opened: 1971
Address: Valhallagatan 1, 412 51 Göteborg.
Capacity: 12 044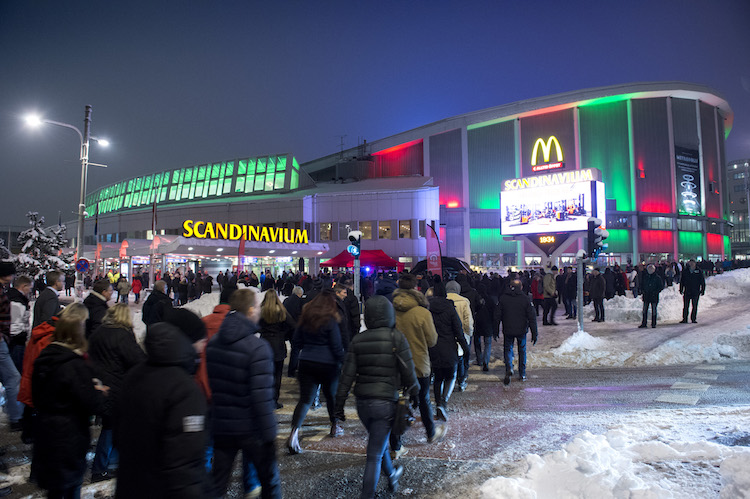 Basic info
Founded
1944
Website
www.frolundahockey.com
Club adress
Frölunda HC
Mikael Ljungbergs väg 5
414 76 Göteborg
Sweden

Honours
National titles
(5) – 1965, 2003, 2005, 2016, 2019
European championships or greatest European accomplishments
Champions League winner (4) – 2016, 2017, 2019, 2020; Champions League 2nd place (1) – 2015; Champions League semi-finals (2) – 2022, 2023; Euro League 3rd place (1) – 1997
Last Seasons
2022-23: 6th regular season, semi-finals, CHL semi-finals
2021-22: 4th regular season, semi-finals, CHL semi-finals
2020-21: 7th regular season, quarter-finals
2019-20: 7th regular season, playoffs cancelled, CHL champion
2018-19: 3rd regular season, league & national champion, CHL champion


About club
Frölunda Gothenburg is a perennial attendance leader in the Swedish Hockey League and the area is well known for its great interest in hockey. In recent years, the club has become well known throughout Europe due to its success in the Champions Hockey League, reaching the Final five times and winning titles in 2016, 2017, 2019 and 2020.
The club has changed its name twice. The original name from 1944 was Västra Frölunda, followed by Västra Frölunda Hockey Club in 1984 and Frölunda Hockey Club in 1994.
Over the years, the team has been coached by respectable names such as Leif Boork, Lars Falk, Tommy Boustedt and Conny Evensson. The current coach Roger Rönnberg arrived in 2013 and is on a long-term contract – it expires in 2025.