Dahlin leads record number of Europeans picked at NHL Draft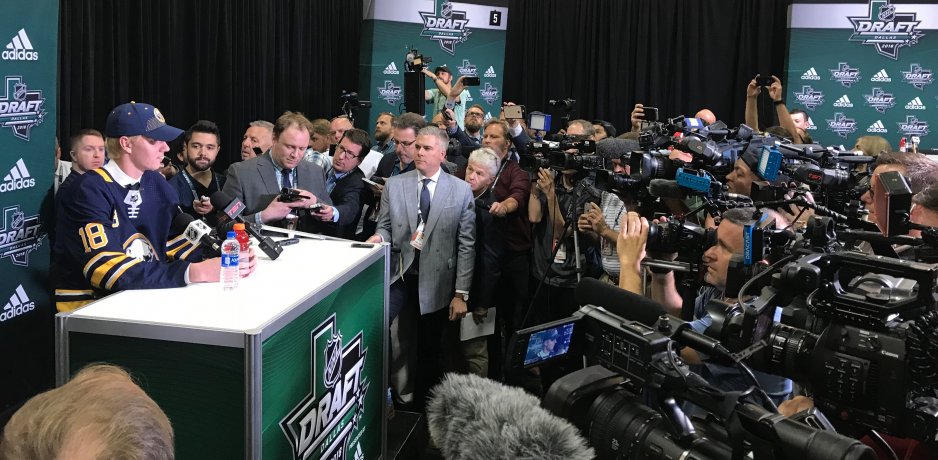 There were 92 European players taken at the 2018 NHL Entry Draft in Dallas this past weekend. That breaks the previous record of 89 selected last year in Buffalo. Leading the way were 30 Swedes selected, which is the most ever from a European country. Previously, 28 Swedes were drafted in 2011 and 2014.
Of course, Rasmus Dahlin of Frölunda Gothenburg was the first of those Europeans (and Swedes) chosen, first overall by the Buffalo Sabres. Dahlin, the consensus No. 1 pick for the better part of the past two seasons, was the eighth European to be taken first overall since Djurgården Stockholm's Mats Sundin was taken first overall by the Quebec Nordiques in 1989.
"It feels amazing and it's a dream come true," Dahlin said on live television following the pick. "I've heard so much about the Buffalo Sabres and just want everything to get started now. I'm excited."
Dahlin was the only Frölunda player drafted this year, but overall they have had 74 players picked, which is more than any European club in recent history.
Dahlin was immediately followed by two more Europeans – Russian Andrei Svechnikov to the Carolina Hurricanes and Ässät Pori's Jesperi Kotkaniemi to the Montreal Canadiens. It was just the second time that the NHL Entry Draft opened with three Europeans picked. The first time was in 1999 with four – Czech Patrik Stefan to the Atlanta Thrashers, Swedish twins Daniel and Henrik Sedin to the Vancouver Canucks, and another Czech, Pavel Brendl, fourth overall to the New York Rangers.
"I heard that they were looking for centres so I hoped that they'd choose me and they did, so I'm excited," Kotkaniemi said immediately after being taken by Montreal. "It's a great feeling. I think the biggest thing is I'm getting a great team, so I'm very excited to go there."
In addition to the 30 Swedes taken, the 92 European picks included 20 Russians, 16 Finns, 11 Czechs, five Slovaks, four Swiss, two Germans and Belarusians and one player each from Norway and Great Britain.
Taken 189th overall by the Arizona Coyotes, Liam Kirk is not the first British-born player ever drafted but he is the first who has been trained in Britain. At 18 years of age, the Sheffield Steelers forward already has 71 EIHL games under his belt and was a member of the British national team that won the World Championship Division 1-A tournament in Hungary this past April.
"Liam must be thrilled and rightly so. All the hard work he has put in not just over the last couple of years for since he started playing has paid off," Steelers head coach Paul Thompson told the club website. "His family are good people and the effort they have put in can't be underestimated. How proud must they be feeling."
The Steelers were one of 24 E.H.C. Alliance members clubs from seven different leagues to have at least one player selected in this year's NHL Entry Draft. Leading the way was Finnish champion Kärpät Oulu with four draftees, led by Rasmus Kupari at 20th overall. In all, 12 European clubs had at least two players taken.
| | | | |
| --- | --- | --- | --- |
| European Club | League | Drafted | Top Pick |
| Kärpät Oulu | Liiga | 4 | Rasmus Kupari (20) |
| Brynäs Gävle | SHL | 3 | Adam Boqvist (8) |
| Mamonty Yugry | MHL | 3 | Kirill Marchenko (49) |
| Linköping HC | SHL | 3 | Adam Ginning (50) |
| Timrå IK | Allsvenskan | 3 | Jacob Olofsson (56) |
| Ässät Pori | Liiga | 2 | Jesperi Kotkaniemi (3) |
| Lokomotiv Yaroslavl | KHL | 2 | Grigori Denisenko (15) |
| Dynamo Pardubice | TELH | 2 | Martin Kaut (16) |
| Luleå Hockey | SHL | 2 | Isac Lundeström (23) |
| Skellefteå AIK | SHL | 2 | Jonatan Berggren (33) |
| Krasnaya Armiya | MHL | 2 | Alexander Romanov (38) |
| Espoo Blues | Nuorten SM-liiga | 2 | Lenni Killinen (104) |
In addition, E.H.C. Alliance member 18 member clubs had at least one player selected, led by Frölunda's first overall pick.
Photo: Frölunda Hockey Club