Lundkvist, Ahokas, Zurich, Lundqvist win at European Hockey Awards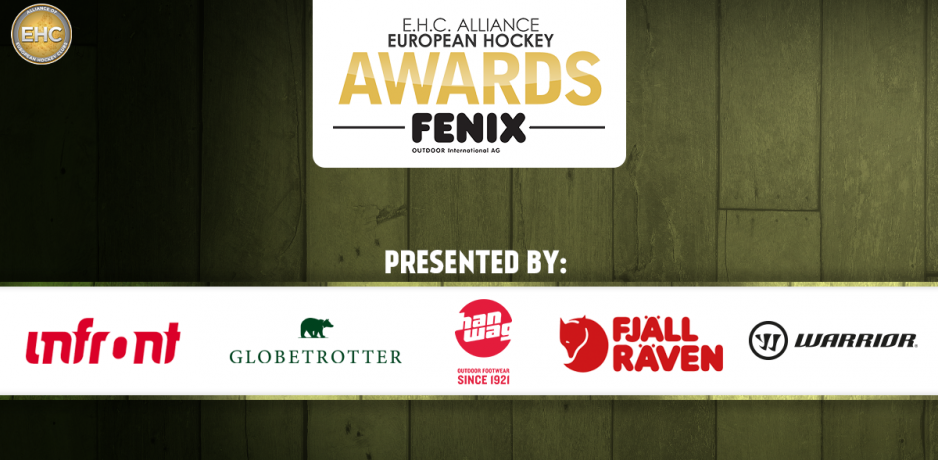 GOTHENBURG, Sweden – The 2020 Fenix Outdoor European Hockey Awards were announced today by the Alliance of European Hockey Clubs (E.H.C.). It's the fourth year the E.H.C. has recognized the best accomplishments in the European clubs and leagues. The annual Awards Gala in Prague was cancelled due to the Coronavirus pandemic.
The winners:
Young Player of the Year - presented by Fjällräven
Nils Lundkvist (Luleå Hockey, SWE/SHL) – In the seemingly never-ending influx of Swedish defencemen, Nils Lundkvist, 19, dominated in the SHL for regular-season winner Luleå with 11G/20A/31Pts in 45GP and in the Champions Hockey League with 11Pts in 12GP, reaching Europe's Final Four. Also a standout for Sweden's World Junior team, collecting 8Pts in 7GP
en route to a bronze medal. At 19, Nils was an outstanding player among seasoned pros averaging team second-best 20:18TOI in one of Europe's top leagues.
Other nominees: Benjamin Baumgartner (Davos, SUI/NL), Samuel Fagemo (Frölunda, SWE/SHL), Jesse Puljujärvi (Kärpät, FIN/Liiga) Tim Stützle (Mannheim, GER/DEL).

Coach of the Year - presented by Globetrotter
Jussi Ahokas (KooKoo Kouvola, FIN/Liiga) – In his first season as a coach of a major league pro team, Ahokas led KooKoo to a staggering 37-point improvement from the previous season, while taking the low-budget club from bottom of the league to a playoff position for the first time in club's short top-league history. Also, this is the first first time that KooKoo finished with a winning record since being promoted to Liiga in 2015. Ahokas won accolades for his leadership and development style.
Other nominees: Thomas Berlund (Luleå, SWE/SHL), Rikard Grönborg (Zurich, SUI/NL), Tom Pokel (Straubing, GER/DEL), Christian Wohlwend (Davos SUI/NL)
Club of the Year - presented by Hanwag
ZSC Lions Zurich (SUI/NL) – Under new Swedish coach Rikard Grönborg, the Lions roared to a regular-season win with a 17-point improvement after missing playoffs in 2018/19. The Zurich team boasted 12 roster players who had graduated from the club's impressive youth system, which has 1500 boys and girls in 70 teams. The ZSC women's team won the Swiss Cup and were one game from the national title before pandemic stopped season. Investing for the future with their new Swiss Life Arena (ready 2022), the clubs also makes a significant impact with several social responsibility programs.
Other nominated clubs: CSKA Moscow (RUS/KHL), Frölunda (SWE/SHL) Kärpät Oulu (FIN/Liiga), Luleå Hockey (SWE/SHL)
Warrior Career Excellence Award
The Warrior of the Year is awarded to the player who best exemplifies the qualities of sportsmanship and dedication, career excellence, combined with community service and high standard of playing ability.
Joel Lundqvist (Frölunda Indians, SWE/SHL) – At the age of 38, the "Captains' Captain" scored 24 goals in the SHL and in the Champions Hockey League, leading Frölunda to its fourth European CHL title and fifth final in six seasons, while appearing in his 1000th game with the club he first represented as a pro in 2001. With Frölunda, Lundqvist has won four national titles (last in 2019) while being one of only four Swedish players with three IIHF World Championship gold medals. Joel averaged a team-third 17:22TOI, in his 17th season for the club, 11th as captain.
Other nominees: Milan Gulaš (Plzeň, CZE/Extraliga), Jaromír Jágr (Kladno, CZE/Extraliga), Lasse Kukkonen (Kärpät, FIN/Liiga), Yannic Seidenberg (Munich, GER/DEL)