Frölunda raises the ante on women's game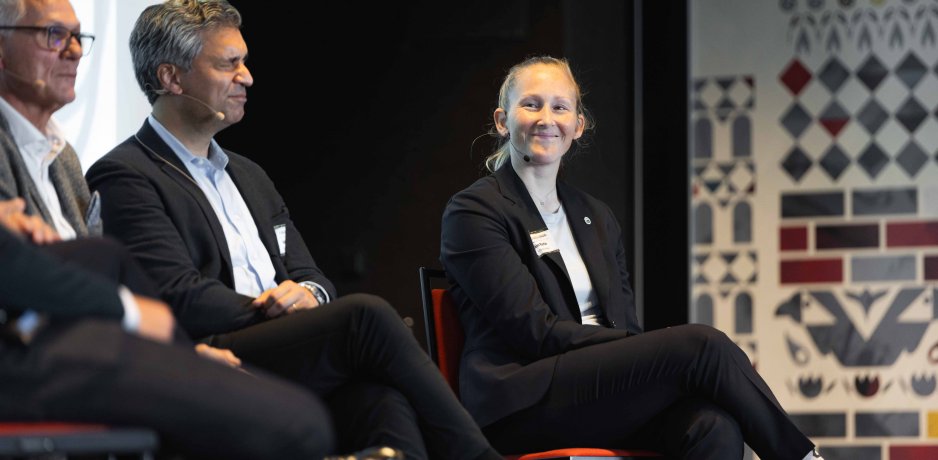 Few other, if any, GMs in the world have ever been able to get on a stage as the GM of a team that just got promoted to the country's top league and presented a perfect 34-0-0 record for the season.
Kim Martin Hasson, the general manager of Frölunda HC, did just that at the EHC Hockey Business Forum in Tampere, Finland. (With an asterisk for the last win of the season coming in OT).
Frölunda's quick emergence to the SDHL has given the entire league a boost, and a promise of a brighter future. It also puts some pressure on other prominent Swedish clubs to make a similar investment in their women's teams. Färjestad BK and Skellefteå AIK are two examples of teams looking to earn a promotion to the SDHL this season.
Investment is usually synonymous with money, but according to Martin Hasson, it's not just money.
"A lot of teams can put money into it – but you also have to care about the women's team," she said.
"There needs to be a passion for the women's team and everyone in the organization has to get involved. At Frölunda, our coaches work with the men's team's coaching staff and I, as the GM, work with the SHL team's GM," she added.
For Frölunda, the case for starting up a women's team was so strong that one might wonder what took them so long. While Göteborg HC did play in the SDHL (but folded at the beginning of the 2022-23 season), there was high demand for a strong girls' and women's organization. There's a lot of potential for growth and little competition. Also, an SDHL team would make a natural goal for the young players coming up through Frölunda's academy.
Martin Hasson's first call went to Erika Holst, who had been the Team Sweden captain when Martin was the Olympic hero and had a past with girls' hockey development programs at the Swedish federation. The next text went to Hanna Ohlsson who had scored eight points in six World Championship games for Sweden at the 2022 Worlds. She was made captain.
Add to that Team Finland star Michelle Karvinen, and the foundation was there.
Both Karvinen and Ohlsson amassed 155 points last season.
At the same time, Frölunda also started their hockey high school which will both attract talented players and be a feeder for the SDHL team. According to the club's policy, about half the roster should be home-grown and come from the academy. This season, three new young players were added to the 25-player strong roster of which eight are players born in 2006 or later.
The main club has committed a two-million-euro investment in a three-year period, said Martin Hasson, with the goal of making the team financially self-sustainable, with players earning a living by playing hockey.
Last year, sponsor revenue was close to 150 000 euros and ticket revenues about half of that. This year, sponsorship revenue is up by about 40 percent while ticket revenues are expected to almost double.
The financial situation is a challenge, exacerbated (and caused) by the less-than-impressive attendances in the SDHL. Frolunda's average of 600 from last season would've placed them second in the SDHL, behind only Luleå Hockey.
Player recruitment is another challenge. More girls need to find the game.
"It's a process but we need to get serious about managing the challenges that come with women's hockey's growth," Martin Hasson said.
And things are happening. In Switzerland, Lara Stalder – who won the SDHL scoring title four times in a row between 2020 and 2023 – is trying to do with EV Zug what Martin Hasson, Holst, Ohlsson, and Karvinen did with Frölunda. Zug has secured a million-euro budget for the team this season and are making a push to earn a promotion to the SWHL A for next season.
They also want to be financially self-sustainable by 2024-25.
Stalder is leading the charge. She's got 15 goals and 23 points in three games.