Frölunda: From underachiever to top of Europe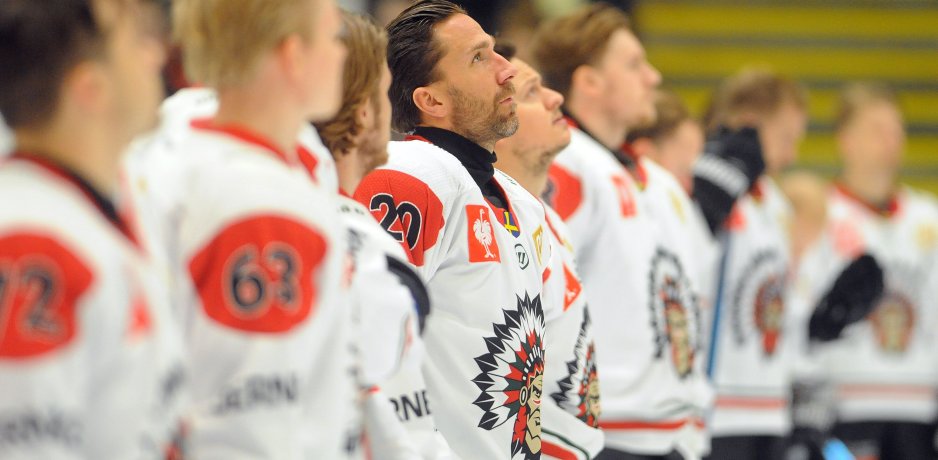 Frölunda from Gothenburg will be playing their fifth Champions Hockey League final on February 4, having already won three European titles. With the two SHL titles (2016, 2019) the club, which earlier was a perpetual underachiever, is now gunning for its sixth championship in as many years. We try to explain why.
Those who have followed Frölunda's European CHL success from afar may have the feeling that the club from Sweden's second-largest city has always been at the top. Nothing could be more misleading. Truth is that few clubs in Europe have been so much up-and-down-and-up-again as the one which will face Mountfield Hradec Králové in the Champions Hockey League Final in the Czech city on 4 February.
To understand the modern Frölunda HC, we need to go back in history. Västra Frölunda IF, as the club was known in its original form, became an elite hockey club in the early sixties. In those days, Gothenburg was solely a football town. No players of quality were developed on Sweden's west coast and there was no real hockey stadium. Virtually all players had to be recruited from the north and the home games were played at a make-shift rink on the Ullevi football stadium.
The pioneer era was capped with club's first national title in 1965, and the success eventually led to the building of the city's first hockey arena in 1967, Frölundaborg. While Frölunda immediately became Gothenburg's winter darlings (games at Ullevi were often witnessed by 20,000-plus crowds, while the 10,000-seat Frölundaborg was frequently sold out over capacity) it would take another 36 years (!) before the club – now known as the Frölunda Indians – would win its second national championship, in 2003.
There were many lean years between 1961 (when the rise to the top began) and 2003. With some few exceptions (reached national finals in 1980 and 1996) most of the club's existence was marked by financial challenges and often even mismanagement, poor recruiting, constant changes in leadership, as well on coaching and executive and board positions.
Frölunda reached a historic low when the club was relegated from Sweden's top league in 1984, and only returned after five seasons, in 1989. At times, the situation was so bad that the club's very existence was in doubt, especially around 1984, when Frölunda's hockey division left the old Västra Frölunda IF, which for many years also included football, handball and bowling.
Although there was a visible sportive improvement in the mid-90s, it was later revealed that the on-ice surge (which led to the Swedish finals in 1996) was a result of shady financial activities where the club was dishing out lucrative contracts which included money which really wasn't there.
All this led to legal court cases where several club executive and board people were tried, and some convicted.

As often is the case, hardship leads to positive changes in attitude, and personnel. Following the litigation, Frölunda's coffers were scraped, but the club had some promising young players coming up through the system. As there was not much money for external recruiting, the management and coach Conny Evensson had to rely on youngsters such as Henrik and Joel Lundqvist, Magnus Kahnberg, Jari Tolsa, combined with veterans Niklas and Mikael Andersson, Patrik Carnbäck, Tomi Kallio and Ronnie Sundin.
This was the core that won the 2003 championship and the positive run lasted over 2005 (the club's fourth championship) and 2006 (third final in four years, but lost to Färjestad). But instead of continuing with fiscal responsibility and developing its own talent, Frölunda relapsed to old sins.
Between 2006 and 2011 Frölunda had five head coaches and during this time signed 37 established (expensive) players who were either total failures or added marginal quality to the team. During these five seasons of hubris, arrogance and financial free-wheeling the club missed the playoffs twice. Everything that Frölunda had built during the early years of the 2000s – including a solid bank account – was lost.
When the current president Mats Grauers (recruited from handball) was elected, the first thing he had to do was to beg for a €2 million loan from the city of Gothenburg, the owner of Scandinavium, the home arena. "We were insolvent," remembers Grauers. "We had no money to pay bills."

The beginnings of the new era were tough. The club survived on borrowed money and had three consecutive quarter-final losses in the domestic league. When the Champions Hockey League was formed in 2014, Frölunda's focus was still very much on regaining financial sanity and trying to re-establish the club as a national force. To concur Europe was not really on the clubs agenda. Not yet.
Aside from stabilizing the economy, Mats Grauers started to – piece by piece – build an organization worthy a club with European aspirations. Grauers was very dissatisfied with the club's recent coaches who could not develop and properly use talented, young players, while almost solely relying on veterans.
His key acquisition was Roger Rönnberg, the coach. Grauers wanted someone who liked dealing with young players and who knew how to win. Rönnberg, originally from Luleå, led Sweden a World Junior gold in 2012 (Sweden's first since 1981) and silver in 2013. As soon as Rönnberg's deal with the Swedish Ice Hockey Association was over, Grauers called and asked for a get-together.
That meeting – arguably the most important meeting in the club's history – commenced the new era of Frölunda Indians (the pro club) and Frölunda Hockey Club (the youth and development part). In Roger Rönnberg, Frölunda finally got the coach they needed; with full focus on development, winning and with very clear communication towards the players about what it takes to win. Rönnberg is in his seventh consecutive season as head coach. No other coach in Frölunda's history has even been close to lasting that long.
While Frölunda historically has been an understaffed club, President Grauers realized that a top organization needs top people – in every area. Christian Lechtaler, a former player, assistant coach and Sports Director, was promoted to club CEO. Former player and 2001 NHL first-round pick Fredrik Sjöström retired at 30 to become the club's main scout, was later promoted to assistant GM and he is today the GM, responsible for recruiting, scouting and player personnel.
These three – Rönnberg, Lechtaler and Sjöström – form President Grauers' "Golden Triangle". It's an enormously tight group that shares the same opinions and values regarding how the game should be played, what it takes to win, how players shall practice and how players shall be evaluated to bring the best bang for the buck. They also agree on financial restraint. Compared with some European rivals, Frölunda has a quite modest player budget.
This combined with averaging 10,000 fans year in and year out at Scandinavium and having a solid marketing and sales force, contributes to an organization that has all the makings of a top pro club.
Although players come and go, an analysis about what makes today's Frölunda tick, cannot be made without mentioning Joel Lundqvist, soon 38, the Captains' Captain, the heart and soul of the team, and its most valuable member.
Joel, for many years more known as Henrik's twin brother, played his 1000th game for Frölunda when the club defeated Luleå 3-1 away on 14 February to qualify for the club's fifth CHL Final in the six years this edition of the Champions Hockey League has existed.
This particular game was an epitome of what Joel Lundqvist means to Frölunda. Against the best SHL team right now, and in the most difficult building, Frölunda were trailing 4-2 on aggregate with two periods left, after having lost the first semi-final game at home 3-2 one week earlier.
Lundqvist dug as deep as its humanly possible to provide the leadership which he realized was needed for Frölunda who had to produce three away goals (without conceding one) to get through. The captain played every shift as if it were his last, he skated as a teenager, hit bodies left and right and he simply refused to lose.
Joel assisted on Rhett Rakhshani's equalizer in the middle stanza, and he scored the game-winner on a tip in the third, before Ryan Lasch got the semi-final winner with ten minutes left. Joel Lundqvist possesses these intangible leadership qualities which you can't teach and which money can't buy. Either you have it or you don't.
With Lundqvist setting these high standards – at every practice and game in and game out – the other players must follow. They don't dare not to follow. And this is probably the answer to the question of how Frölunda can – time after time – come back from seemingly hopeless CHL situations and qualify for the next round. Teammates are scared to lose, because even worse than losing, is to face their captain in the locker room afterwards.
Round of 16: Frölunda were at one point trailing rival Färjestad 5-0 at Karlstad, a game they eventually lost 6-3. They won 8-2 at home, 11-8 on aggregate.
Quarter-finals: After having lost 3-2 at home to Swiss EHC Biel-Bienne, they needed three goals away with less than three minutes to play in Biel. Lundqvist led the charge assisting on the 3-3-goal, a game which Frölunda finally won 5-3 in OT and 7-6 on aggregate.
Semi-finals: 3-2 loss at home vs. Luleå ended with a 5-4 Frölunda win on aggregate.
Joel Lundqvist will be 38 on March 2. In the CHL he has 11 points (7+4) in as many games. He is tied for second in team scoring in the SHL with 25 points (12+13) in 31 games. He is chasing his fourth CHL title, having already won three IIHF World Championship gold medals and four Swedish titles.
When Joel retires, he will do so as the most accomplished player in club history. And on top of that you have the spiritual qualities which no trophies can reflect.
Photo: Captain Joel Lundqvist (#20) is in focus as the Frölunda Indians listen to the national anthems before a CHL game. (David Williams / Cardiff Devils)