Frölunda & Rönnberg 2-time winners, firsts for Heponiemi & Wolf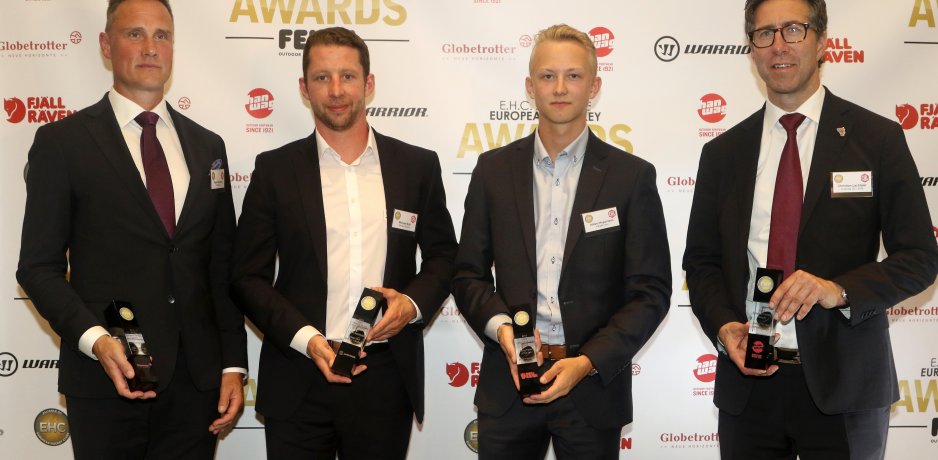 ​PRAGUE – The third annual Fenix Outdoor European Hockey Awards took place on Tuesday night, with four awards being presented: Frölunda Gothenburg as Club of the Year, Roger Rönnberg as Coach of the Year, Aleksi Heponiemi as Best Young Player, and Michael Wolf winning the Warrior Award.
For Frölunda Gothenburg and Rönnberg, the team's head coach, it was a case of déjà vu, as both are second-time recipients after both winning at the inaugural European Hockey Awards two years ago. The dominance of the Swedish champion at the European club level is undeniable, having taken the Champions Hockey League title for the third time in four years and also claiming its second SHL title in that time.
"We started this journey about six years ago, and since then we've won five titles," said Rönnberg, referring to the three CHL titles and two in the SHL. "But I'm not as proud of that as I am about how everyone within the club has grown. This club is all about growth."
For Hanwag Club of the Year, Frölunda beat out Adler Mannheim, who are back on top in Germany after winning the DEL regular season and playoffs, CSKA Moscow, the long-time European powerhouse of the 1970s and '80s that won its first title of the post-Soviet era, Kärpät Oulu, who dominated the Finnish Liiga regular season and came up just short in the playoffs, and SC Bern, who like Mannheim pulled off the double in Switzerland.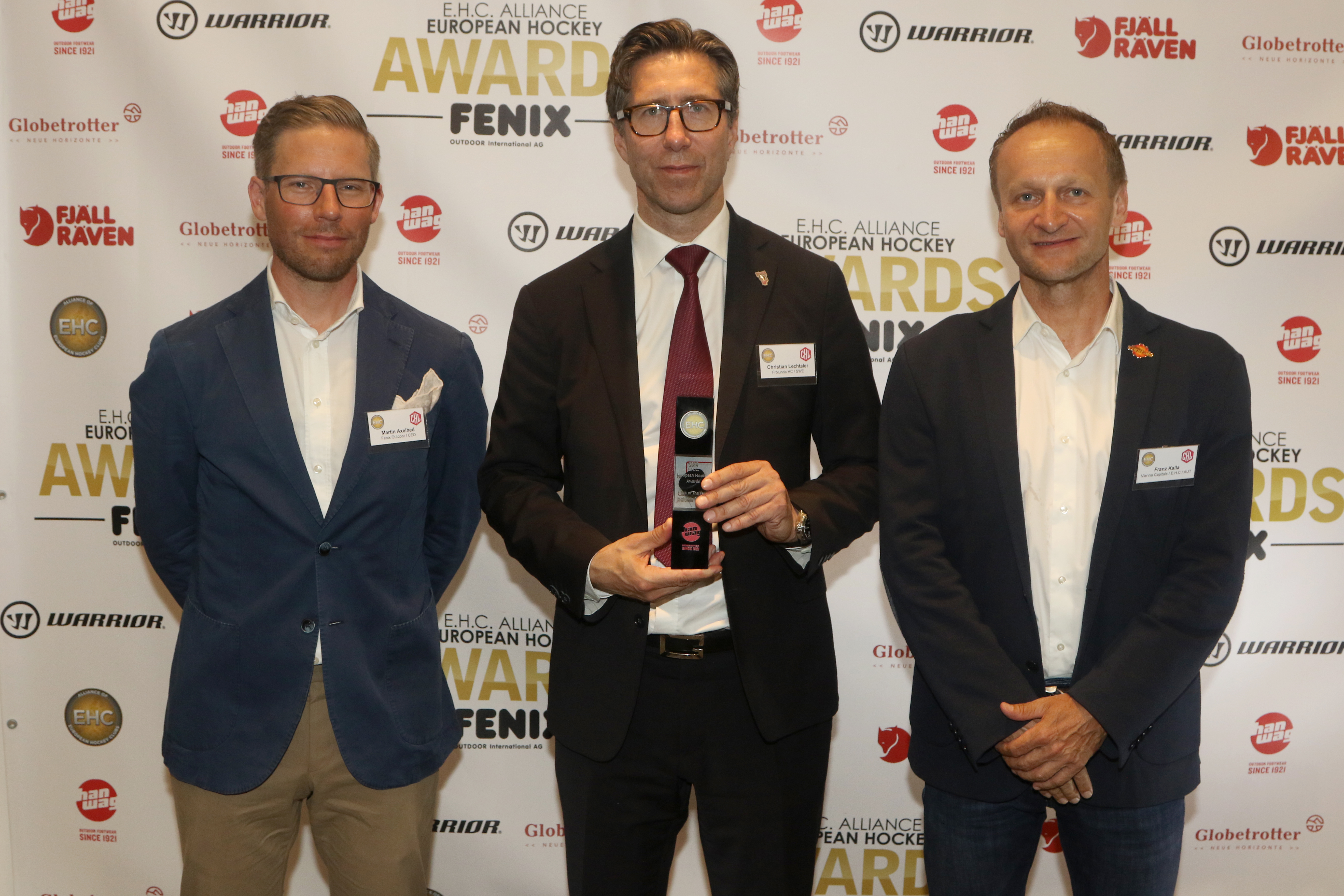 For Globetrotter Coach of the Year, Rönnberg beat out Mannheim's first-year coach Pavel Gross, Kari Jalonen of Bern, Adam Keefe of the EIHL and Continental Cup champion Belfast Giants, and Antti Pennanen, who guided HPK Hämeenlinna to the promised land in Finland with a limited budget.
"I don't think this is an individual prize," said Rönnberg. "No coach can do it alone. He can never be better than the players he has or can he have success without support from the organization, so thanks to Frölunda for all the support through the good times and bad."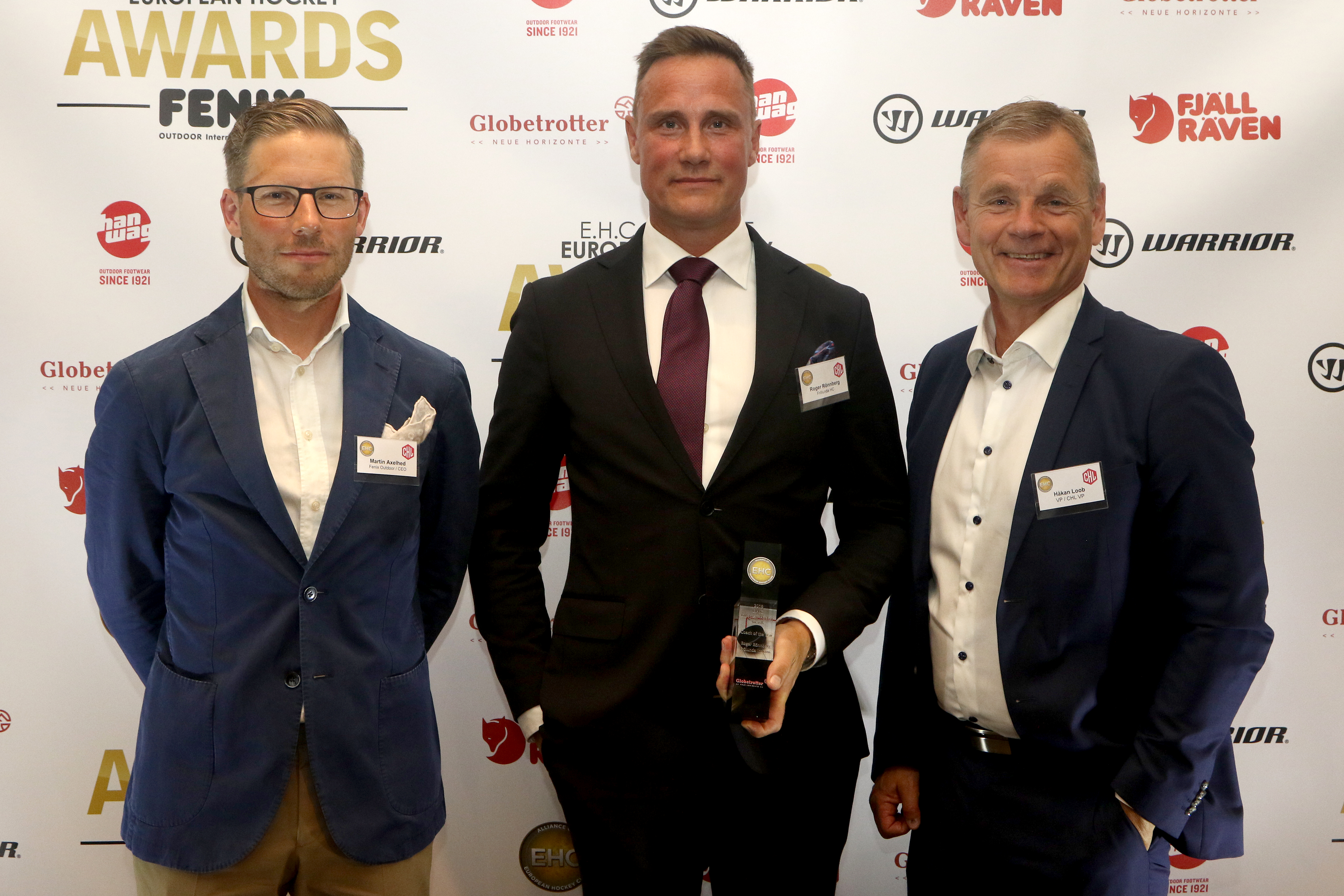 Aleksi Heponiemi won the Fjällräven Young Player of the Year Award after a fine season in Kärpät, where the 20-year-old recorded 46 points in 50 regular-season games and helped lead Finland to the World Junior Championship with nine points in seven games. Other nominees included one of his World Junior teammates, TPS Turku's Kaapo Kakko, Emil Bemström of Djurgarden Stockholm, Mannheim defenceman Moritz Seider and CSKA's Kirill Kaprizov, who was nominated for the third straight year and won two years ago.
"There were a lot of very good players nominated, so that makes this a really big honour," Heponiemi began. "I want to thank the whole Kärpät organization for giving me the chance to compete and giving me the role to have the success that I did. I couldn't have done it without the help of the coaches and my teammates."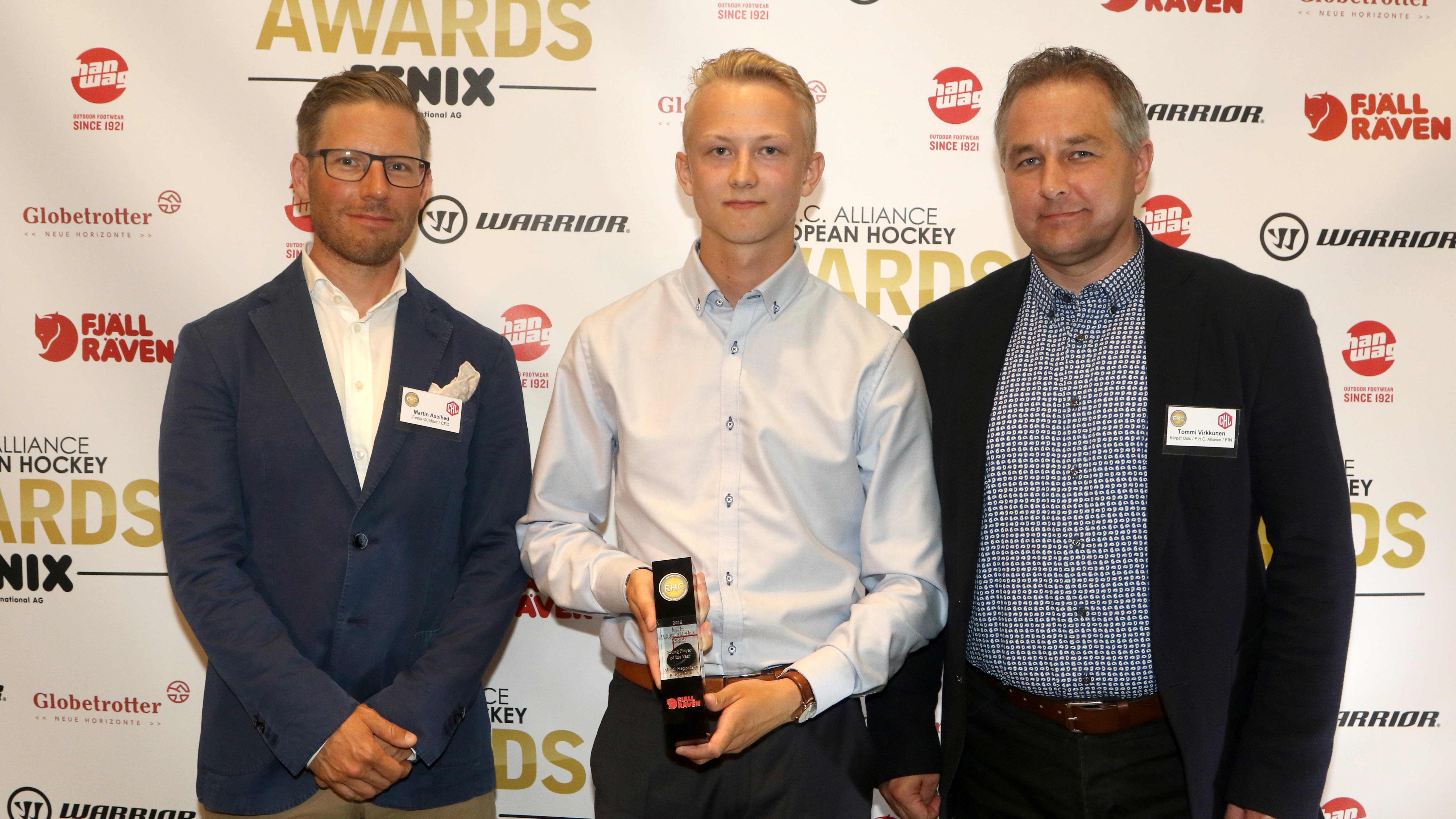 "Look at these young players. They look like kids but they sure don't play like it," said Michael Wolf, winner of the Warrior Award, which is awarded to the player who best exemplifies the qualities of sportsmanship and dedication, career excellence, combined with community service and high standard of playing ability.
The heart and soul of Red Bull München, who helped the team to the CHL and DEL finals in his final season of playing, went on to say, "I didn't know I wanted to be a hockey player when I grew up. I just saw a friend of mine sign a pro contract at 18 so I tried to find a team that would take me too. Look how much things have changed. I can't believe 20 years have passed so quickly, but I appreciate every minute of it."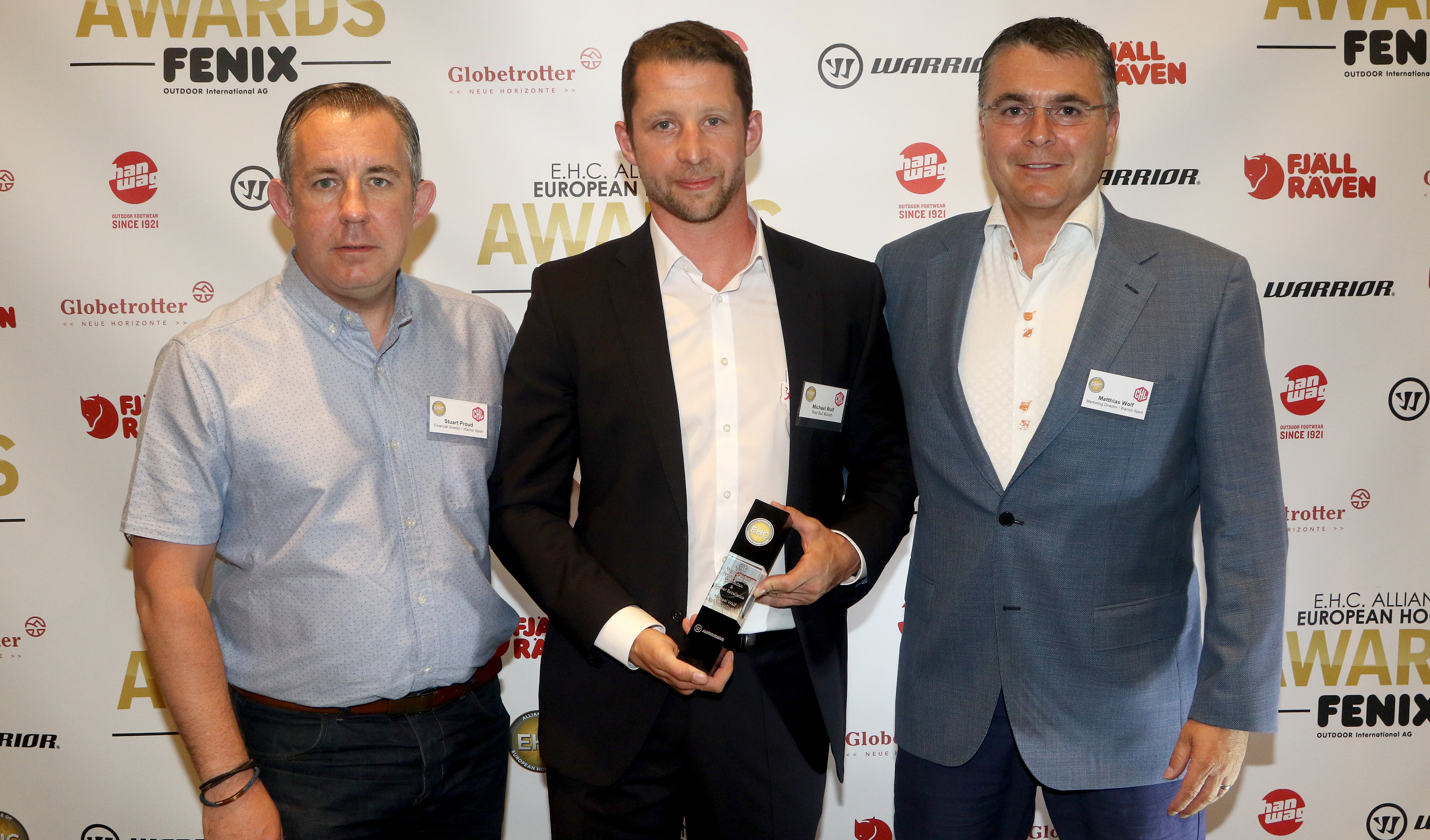 Other nominees for the Warrior Award were Thomas Koch of KAC Klagenfurt, Lasse Kukkonen of Kärpät, Joel Lundqvist of Frölunda and Branko Radivojevič of Dukla Trenčín.
Previous winners:
Club of the Year – presented by Hanwag
2019 – Frölunda Gothenburg
2018 – Red Bull Munich
2017 – Frölunda Gothenburg
Coach of the Year – presented by Globetrotter
2019 – Roger Rönnberg (Frölunda)
2018 – Fredrik Söderström (Storhamar Hamar)
2017 – Roger Rönnberg (Frölunda)
Young Player of the Year – presented by Fjällräven
2019 – Aleksi Heponiemi (Kärpät)
2018 – Elias Pettersson (Växjö Lakers)
2017 – Kirill Kaprizov (Salavat Yulayev Ufa)
Warrior Career Excellence Award
2019 – Michael Wolf (München)
2018 – Riika Välilä(HV71 Jönköping)
Photos: Jan Beneš