Söderblom, Ambühl, Rögle, Tangnes among winners at E.H.C. Awards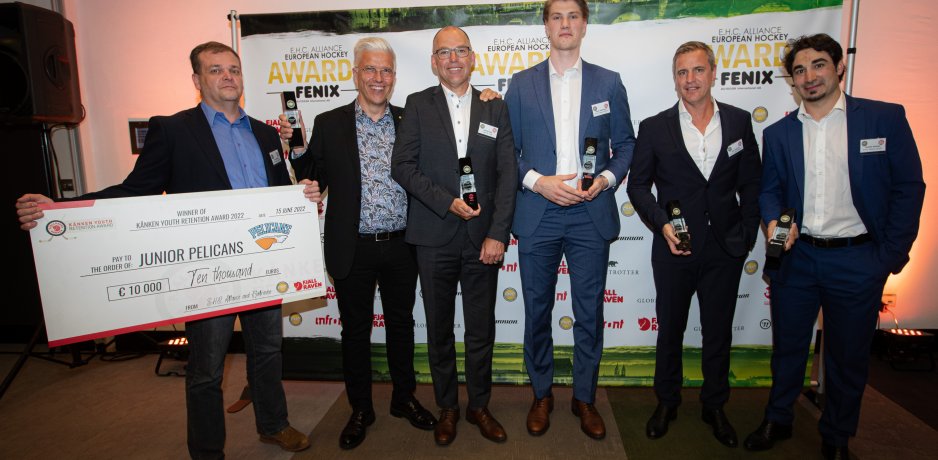 PRAGUE, Czech Republic – The 2022 Fenix Outdoor European Hockey Awards were announced on Wednesday by the Alliance of European Hockey Clubs (E.H.C.). It's the sixth year the E.H.C. recognizes the best accomplishments in the European clubs and leagues. This year, the annual Awards Gala returned to Prague after two cancelled events due to the pandemic.
Click here to see post-meeting reactions.
The winners:
Young Player of the Year – presented by Fjällräven
Elmer Söderblom (Frölunda Gothenburg, SWE/SHL) – This was the season when Elmer Söderblom grew into his 202cm, 114kg frame. The 20-year-old led his team in scoring with 21 goals and 12 assists in 52 games and the SHL in 5-on-5 goals. He added 6 points in 9 playoff games. Displaying the ability to score when it matters, Söderholm led the league in game-winning goals with 8, adding one in the playoffs. He also excelled in the Champions Hockey League, scoring 9 points (6+3) in 11 games. At the end of the season, Söderholm was named to the Swedish national team and on 9 June signed a three-year contract with the NHL's Detroit Red Wings.
"It's a great honour to win this award with all the great players who have won it before and all the others who were nominated," said Söderblom. "It was great to play in front of the fans again this season after the pandemic and I would like to thank them, and also my teammates. Frölunda has been huge for me and for my development. I think their program and the way they develop players is something special."
Other nominees: Simon Edvinsson (Frölunda, SWE), Šimon Nemec (HK Nitra, SVK), Aatu Räty (Jukurit, FIN), Juraj Slafkovský (TPS Turku, FIN).

Coach of the Year – presented by Globetrotter
Dan Tangnes (EV Zug, SUI/NL) – After winning the Swiss title in 2021 for the first time since 1998, the Norwegian coach led EV Zug to a second consecutive title, this time in the most unlikely fashion. Trailing the final series 3-0 to the Zurich Lions, Tangnes made his team play four perfect defensive games, in which Zug allowed three goals, becoming the first team in a major national league in 80 years (since the 1942 Toronto Maple Leafs) to come back from being 0-3-down in a final series. EV Zug also won the regular season, after yet another 100-point season.
"It's always hard to explain but I think in the first three games, we got the short end of the stick," Tangnes said about his team's historic comeback. "There was always a belief in our group that if we keep doing what we're doing, the results would go our way. Maybe because of last year, we had that extra confidence from that experience of winning that we needed to keep believing when we were up against a wall. It made the whole experience extra special."
Other nominees: Cam Abbott (Rögle BK, SWE), Serge Aubin (Eisbären Berlin, GER), Jussi Tapola (Tappara Tampere, FIN), Václav Varaďa (Oceláři Třinec, CZE).
Club of the Year – presented by Hanwag
Rögle Ängelholm (SWE/SHL) – Founded in 1932 as a bandy club, Rögle BK from small-town Ängelholm (pop. 28 000) became Europe's best hockey club 90 years later by winning the 2022 Champions Hockey League, defeating Finland's Tappara Tampere 2-1 in the final. In the process, Rögle lost only two games in the pan-European competition while also eliminating four-time CHL winner Frölunda Gothenburg in the semi-finals. While becoming the first team to win a European championship before having won the national title, Rögle also won the SHL regular-season title for the first time in club history.
"I'm extremely proud of the organization," said Rögle CEO Daniel Koch. "We still feel like this is just the beginning of a great journey. We still feel like a small club and we'll never forget that. We see ourselves as one big family."
Other nominated clubs: Belfast Giants (GBR/EIHL), Oceláři Třinec (CZE/Extraliga), Tappara Tampere (FIN/Liiga), EV Zug (SUI/NL).
Warrior Career Excellence Award
The Warrior of the Year is awarded to the player who best exemplifies the qualities of sportsmanship, dedication and career excellence, combined with community service and a high standard of playing ability.
Andres Ambühl (HC Davos, SUI/NL) – In his 22nd pro season, Andres Ambühl set a record virtually every time he stepped on the ice during the spring. The Swiss "Perfect-10" played in his record 17th IIHF World Championship, setting another record on May 21 by playing in his record-setting 120th World Championship game (vs. Canada), surpassing Germany's Udo Kiessling's 31-year-old record. In February, Ambühl represented his country in his fifth (!) Olympic Games. For his club team HC Davos, Ambühl has won five national titles in 18 years with the club, adding one more championship during a three-year stint with the Zurich Lions. A Swiss perpetuum mobile.
"I would like to thanks my parents for always supporting me and never forcing me into anything, and to my wife for taking care of everything at home when I'm off playing a little boy's game," said Ambühl. "When you start playing, you're just trying to win games and championships and don't really think about what's going to be at the end." But when you win an award like this, I guess it shows that you didn't do everything wrong and hopefully I still have some years left."
Other nominees: Roman Červenka (Rapperswil-Jona Lakers, SUI), Sebastian Furchner (Grizzlys Wolfsburg, GER), Thomas Koch (KAC Klagenfurt, AUT), Joakim Lindström (Skellefteå AIK, SWE).
Kånken Youth Retention Award
To be awarded annually to an ice hockey youth program which emphasizes sustainability through social responsibility and high retention rates among its participants.
Junior Pelicans (FIN) – For their committed work with boys and girls on various levels, diversified training and for the club's social awareness, and ambition to maintain a high retention rate. The Junior Pelicans from Lahti, Finland boast around 200 coaches for some 1300 boys and girls divided into 80 teams. The club has also created a coach education model that not only can be used by other hockey clubs, but also by other sports.
"This award is the result of work done by so many people," said Junior Pelicans executive director Ari Suomalainen. "Thanks to our players, our coaches and all of our volunteers. We have worked hard and this award will make us work even harder."
Other finalists: EV Zug Nachwuchs (SUI), Kárpáti Farkasok (HUN), Troja-Ljungby (SWE).
E.H.C. Leadership Award
To be awarded to a distinguished leader in European club ice hockey for their outstanding commercial and social accomplishments within their club and their community.
Pea Israelsson (Skellefteå AIK, SWE/SHL) – For turning a club on the verge of bankruptcy in 1997 into one of Swedish hockey's powerhouses, including financially, and making Skellefteå AIK one of the finest developers of hockey talent. During this era, Skellefteå won two national championships and four regular-season titles, and reached seven SHL finals, six of them consecutive. Israelsson's 25-year tenure as CEO includes investing in a training rink made entirely of wood, introducing a women's program, and a total refurbishing of the Skellefteå Kraft Arena.
"I am really honoured and really proud to win this prize but I can say that many people have been working hard together doing something we love," said Israelsson. "When you love what you're doing and set lofty goals, you can accomplish a lot. Skelleftea is really a hockey-crazy town and the people have high expectations, which can make things tough but all that much more rewarding when you succeed."
Photo: Jan Beneš