6th E.H.C. AGM seeks improved relations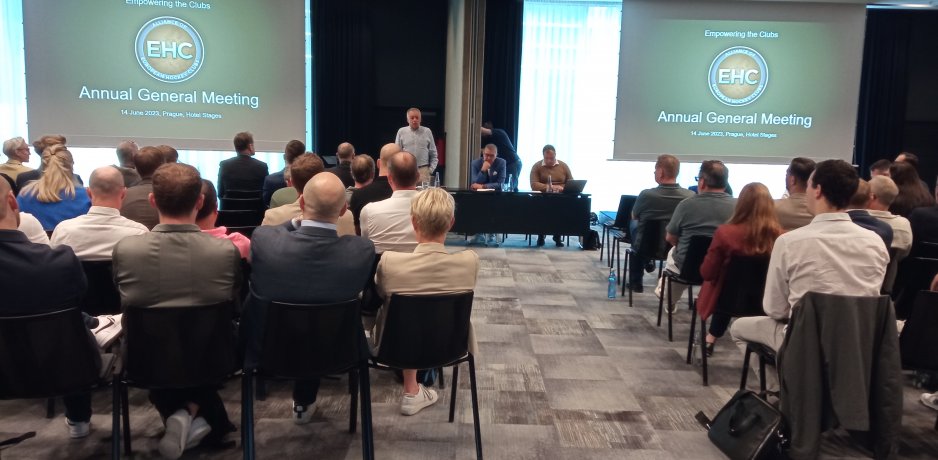 On the morning after the 2023 Fenix Outdoor European Hockey Awards, the Alliance of European Hockey Clubs held its sixth Annual General Meeting at the Stages Hotel in Prague.
The first major topic for discussion was the relationship between the clubs and the International Ice Hockey Federation. To that end, E.H.C. Alliance President and SC Bern CEO Marc Lüthi proposed a new committee, which was approved.
The new European Professional Hockey Committee is a step up from the Presidential Task Force – which was established about 17 months ago – in that it will directly involve the IIHF. In fact, all members of the committee are presidents or CEOs of clubs or IIHF Council Members. The aim is to have most of the top European countries represented.
"In this committee, we will discuss and make proposals to the Council on any topic related to top-level hockey in Europe on the national team, league or club levels," said Lüthi. "It can also express its opinion and make recommendations on other international competitions and other hockey-related topics, such as the Winter Olympics, World Cup of Hockey or international club competitions and questions related to the NHL and NHLPA."
"I'm very happy we've approved this group," said IIHF Senior Vice-President Petr Břiza, who has a better perspective than most on the relationship between the various factions owing to his long connection to Sparta Prague as General Manager and CEO, and his involvement with the Champions Hockey League. "This last step is absolutely needed because we all share the same challenges with hockey in Europe."
Speaking from the IIHF's perspective, he said, "We see Europe as one of the fundamental pillars of the hockey world."
To reiterate that point, it was shown that at the recent IIHF World Championship, 64 percent of all players were members of E.H.C. Alliance clubs and 73 percent had been developed by one.
"Being united is something we need," said Břiza. "Sometimes these are difficult relationships between clubs, leagues and Member National Associations but what we need is stability, so that these issues can be worked out for the overall good of European hockey."
Next was the Managing Director's Report from Szymon Szemberg. He emphasized the success of last autumn's Hockey Business Forum in Malmö and gave a glimpse ahead toward this year's in Tampere, Finland, which will be focused around a Liiga game on 28 September at Nokia Arena between the state-of-the-art facility's two tenants, Tappara and Ilves.
Some of the themes on the agenda will be increased revenues from LED boards, the importance of solid ownership, how Tampere became Finland's top event city, escaping the trappings of stagnation, the efficiency of advertising in the arena and on jerseys, the development of women's club hockey, and a panel debate about future of club hockey in Europe.
In a presentation on attendance of European hockey clubs, Szemberg said that hockey is the best attended of any indoor sport in Europe
"We are bigger than handball and basketball when it comes to attendance in professional sports," he said.
There has been a gradual but significant increase in attendance over the years. In 200/01, for example, Kölner Haie led all of Europe with an average of 11,529 per game and only 20 clubs topped 5200. Szemberg gave three reasons for that.
"There's better organization within the clubs – whereas you used to have one or two people in an office selling tickets, you now have a greater effort. Secondly, central marketing within the league, which allows clubs to pool and make more efficient use of resources. Thirdly, arena development – you have so many new or renovated arenas around Europe that are much more fan-friendly," he explained.
Szemberg also mentioned the Women's European Cup project, noting that "hockey is the only major team sport that doesn't have a women's European club championship" and referencing the proposal of a women's "final four" this December in Luleå, Sweden.
Last year's Board was elected to a two-year term but there were two vacancies to fill this year due to the departures of Kjetil Böe of the Stavanger Oilers and František Štolc of HK Poprad, who were both thanked by all in attendance. Elected in their places were Miloš Radosa, President of Dukla Trenčín and Pål Haukali Higson, Stavanger's General Manager.
And another change is coming, as Szemberg, the Alliance's Managing Director since its inception, will be stepping down after the 2023/24 season.
"The decision is mine and mine alone, and the reason, very simply, is that I would like to do something else," said Szemberg.
With that, the meeting was adjourned, and Lüthi invited all in attendance to the Hockey Business Forum in Tampere.