Rögle BK: from humble beginnings to the top of Europe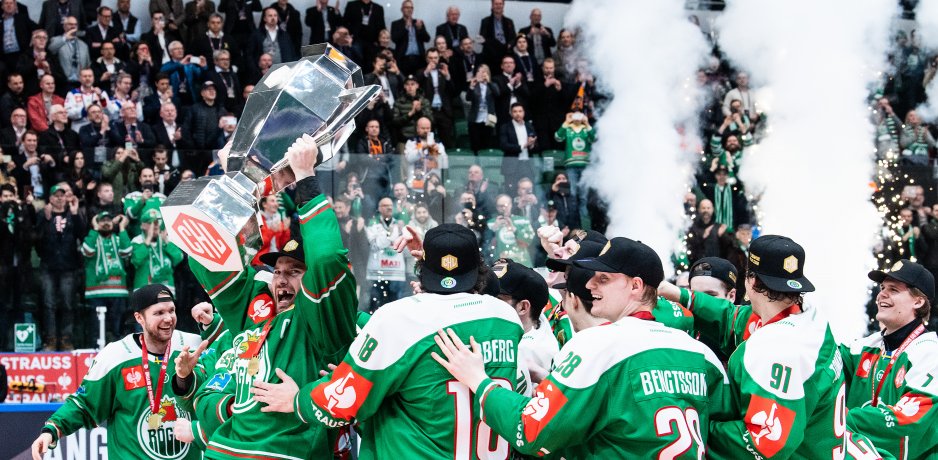 There are some interesting things about Rögle BK. The place Rögle basically doesn't exist – "BK" stands for bandy club – but they can become the first hockey team to win a European title before having won a national championship. In short, the latest winner of the Champions Hockey League is an intriguing club.
If you ask a European hockey fan to mention a few Swedish clubs, they would for sure name the four-time CHL winner Frölunda from Gothenburg, the perennial powerhouse Färjestad from Karlstad or the 16-time national champion Djurgården from Stockholm or maybe the Växjö Lakers, who have won three Swedish titles since 2015.
But when the Swedish Hockey League again – for the sixth time in seven seasons – produced the club champion of Europe on Tuesday, it was none of the above. It was Rögle Bandyklubb lifting the European Trophy after a 2-1 home-ice victory over Tappara Tampere. And you say, "What?"
There is nothing strange about this reaction. There are many casual Swedish hockey fans who are not sure about when Rögle actually became a top club, why they are there and what makes them so good. After some 50 years of up-and-down and down-and-up between the Swedish national divisional systems, Rögle was for the fifth time promoted to Sweden's top league in 2015.
After four seasons as bottom-dwellers, Rögle finished third in the 2019-20 season but Covid-19 killed the playoffs. The club which calls the south-western city Ängelholm their home, were runners-up in 2020-21, both in the regular season and playoffs where they lost the final to Växjö in five games.
So there, from also-rans as late as in 2019 to national finalists in 2021 to challengers for the highest European honours in 2022. It's that easy, right? Wrong.
"This work began some six years ago under former CEO Marcus Thuresson and the board who laid out a long-term plan and strategy where the goal was to become one of the best clubs in Sweden," says Daniel Koch, the current CEO who is in his only third year with the club.
"The club has done an excellent job in patiently developing the organization, getting the right people, making sure that there is a stable economy, but there is no question that the recruiting of Cam and Chris Abbott was a game-changer for the club," says Koch. "Both bring enormous energy and determination to our club."

Cam is the coach and Chris is the GM and the pretty-much identical twins from Sarnia, Ontario in Canada are architects of the modern-day Rögle BK. They have been in Europe for fourteen years, and the last five years with Rögle.
"They have been instrumental to our success," says Koch. "It's like one plus one becomes three. Cam is a better coach because of Chris, and Chris is a better GM because of Cam."
And the Abbotts are no strangers to being on top of Europe. Cam and Chris were an integral part of Luleå Hockey's Champions Hockey League winning team in the competition's inaugural 2014-15 season and once retired, they both arrived at Rögle for the 2017-18 season, having swapped arctic Sweden for south Sweden, close to continental Europe.
Humble beginnings
But let's make a short break here and check how a club that was founded to play a different sport on ice, made it through the ranks to eventually become one of the prime hockey clubs in Europe, in the most unlikely of places for a major sports organization.
The first thing you can do is to search google maps and try to find a place called Rögle. You will be lucky to find out that it's one in a cluster of four villages south of Ängelholm, a town of 28 000 people on the southwest coast of Sweden. And if you actually find Rögle and go there, you will be surrounded by fields and some farmhouses. The closest comparable in Europe is Swiss cult club HC Ambri-Piotta, from the twin villages Ambri and Piotta, also basically in the middle of nowhere, just south of the Gotthard tunnel. Both clubs come from places where it really shouldn't be possible today to run a thriving, professional hockey club.
And hockey wasn't the mind of the pioneers who founded Rögle BK in 1932. As we already revealed, their sport was bandy, an 11-man game on skates played with a ball, on a soccer-sized ice field, a sport which was big in Sweden long before hockey became popular.
It was only in the early 50s that hockey started within Rögle Bandyklubb, and eventually became the preferred ice sport, but the people who ran the club never cared to change the official club name. Trying to adapt to the new sport, Rögle toiled in the lower divisions before local industrialist Gösta Carlsson entered the scene with a bang in the early 60s.
Carlsson, who made a small fortune on health food and nutrition articles, became big on hockey, started to invest into Rögle BK and he built the arena, Vegeholmshallen, in 1963. As southern Sweden and the region of Skåne did not produce hockey players of quality in those days, Carlsson's funding made it possible to acquire American goalie Tom Haugh, Canadian forward Des Moroney, Norwegian Björn Elvenes and eventually the biggest signing of them all: superstar centre Ulf Sterner, the first European in the NHL.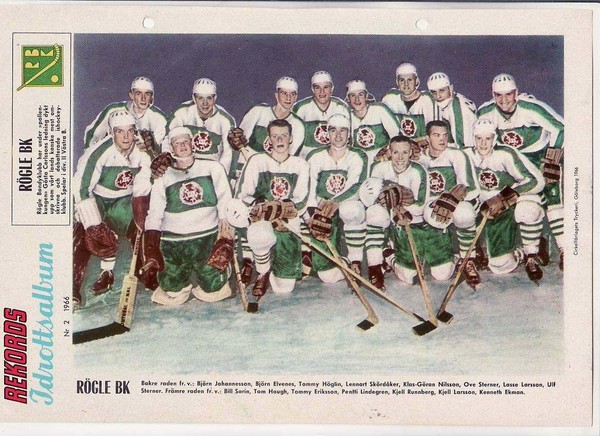 So when Sterner returned from the New York Rangers in 1965, he didn't go back to Frölunda in Gothenburg but instead accepted a generous offer from Mr. Carlsson and Rögle. Suddenly, Rögle became the club everybody talked about. But what happens overnight, often disappears equally fast. Although Rögle earned promotion to the top Swedish league in 1966, they were relegated again three seasons later.
It would take another 23 years before the club returned to the highest national level, now called Elitserien, but also this flirt with Sweden's hockey nobility was short-lived. After four seasons Rögle was relegated again in 1996.
But the foundation was laid. Despite the challenges to establish the pro team in the top league, Rögle BK became one of Swedish hockey's prime producers of talent. The two players with the most national team games for Tre Kronor are products of the Rögle hockey school; Jörgen Jönsson (285 national team games) and Jonas Bergqvist (272). Jörgen's younger brother, Kenny, played for Rögle in the second division in 2006, the same year he was named Best Defenceman at the Turin Olympic hockey tournament where Sweden took gold.
With the never-say-die attitude, the commitment to develop local talent and the support from commercial partners from a large region around Ängelholm, it was just a matter of time before Rögle would finally establish itself as one of Sweden's top clubs.
Building a home
"It is correct that Ängelholm is not a big city, but Rögle has become the club of the entire region which is very thriving and expansive," says Koch. "We have partners and people who support the club from Landskrona in the south to Halmstad in the north. "In the last years, we have had a 50 percent growth in our partner network."
It is enough to enter the club's beautiful Catena Arena and feel the pulse and energy, to realize that the club is on a journey from a challenger to a regular competitor for top honours, domestically and in Europe.
Last season, a rather sophisticated renovation of the arena started, to increase the capacity from the current 4950 to 6400. A group of stakeholders made an investment of around 25 million euros to elevate the roof and to insert a new sector-level for both public seating and increased capacity for partners and hospitality.
Unfortunately, it will be completed a couple of weeks too late to host Tuesday's Champions Hockey League final. But once finished, the Catena Arena will be one of Sweden's finest hockey buildings, with a wonderful intimacy and perfect sightlines from every seat in the house. A miniature NHL arena.
Although Rögle BK is today by all accounts one of the leading clubs in Europe, it has a relatively modest budget for player salaries. These numbers are not official, but Rögle spends around 4 to 4.5 million euros in salaries on their SHL team. There are clubs in the SHL that spend more, and there are definitely clubs in central Europe that have a larger budget.
But despite this, Swedish clubs continue to dominate the Champions Hockey League. Rögle was the eighth team from the SHL to play in the European tournament's seventh season. Is there an explanation for this?
"The key is player development," says the Rögle CEO. "I strongly believe that clubs that have a solid junior program will be more successful. And we want to be one of the leading clubs in both Sweden and Europe when it comes to player development."
The order is usually that you win at home first and conquer Europe later, but Rögle has taken a unique route. Although the names and formats of the European club hockey competitions have changed many times, pan-European club hockey started in 1967 and Rögle has become the first club to win a European title without having won a national championship.
"Yes, that would be quite amazing," Koch said before the big game. "The CHL trophy is what we are striving for, but we are enormously proud just to have reached the Champions Hockey League final and to have earned the right to host it.
"We are convinced that European club hockey has a bright future, that the CHL will grow each year and that more and more clubs will realize the value of this competition. We as a club, but also our fans are very excited to be in the final."
Champions Hockey League finals
2015: Luleå Hockey, SWE – Frölunda Gothenburg, SWE 4-2
2016: Kärpät Oulu, FIN – Frölunda Gothenburg, SWE 1-2
2017: Frölunda Gothenburg, SWE – Sparta Prague, CZE 4-3OT
2018: Växjö Lakers, SWE – JYP Jyväskylä, FIN, 0-2
2019: Frölunda Gothenburg, SWE – Red Bull Munich, GER 3-1
2020: Mountfield Hradec Králové, CZE – Frölunda Gothenburg, SWE 1-3
2021: Cancelled
2022: Rögle Ängelholm, SWE – Tappara Tampere, FIN 2-1
NOTE: This article was previously published before the CHL final and has been updated to reflect the result of the game.
Photo: Ludvig Thunman