Mountfield Hradec Králové: new kid with something to prove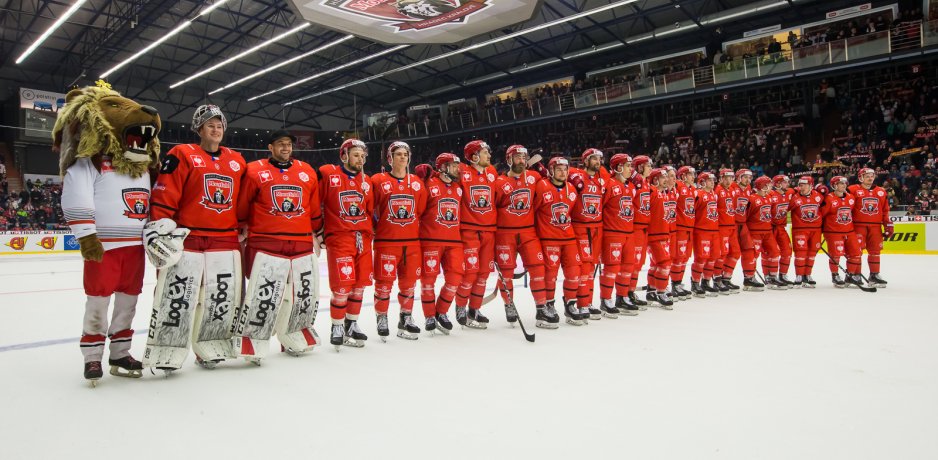 Tuesday's Champions Hockey League Final features the reigning champion of Europe and three-time winner Frölunda Gothenburg against a relatively unknown opponent – Mountfield Hradec Králové.
Hradec Králové – the ninth-largest city in the Czech Republic with a population of approximately 93,000 – is located a little over 100 km east of the capital, Prague. Based on Mountfield having a better record than Frölunda throughout the competition, that is the city that will host the Final.
"It's a big thing for the city, for the team and, I think, for the whole Czech Republic," Mountfield defenceman Richard Nedomlel said, noting that it's the first time the final will be played outside Sweden or Finland. "We're gonna go there and try our best."
As far as Czech cities go, Hradec Králové doesn't have a lot of hockey history to boast about, enjoying only one season in the country's top league prior to 2013 – that coming in 1993/94 when the team was promoted and then quickly relegated. By comparison, Pardubice – a neighbouring city of similar size with which Hradec Králové has a fierce rivalry in nearly everything – has played in the country's top league for as long as it has existed, won six national championships and produced several noteworthy players. The two cities co-hosted the 2000 IIHF World Junior Championship, with Pardubice the main venue.
Big changes came in 2013. Up until that time, Královstí Lvi Hradec Králové was a middle-of-the-road team in the Czech second division and Mountfield, a Czech retail chain specializing in home and garden needs, owned an Extraliga club based in České Budějovice in South Bohemia. That city is home to Budvar beer and its hockey team played in Budvar Arena, which, unsurprisingly, sold Budvar beer. Since the Extraliga had a contract to sell Budvar at its games, everything was fine until 2013, when the league changed its beer sponsor to Radegast.
This put Mountfield between a rock and a hard place. According to the terms of the contracts, they would either incur heavy penalties from Budvar for selling Radegast in the arena or from the league for selling Budvar. Seeing no other way out of the situation, the company moved its Extraliga team to Hradec Králové, the new Motor České Budějovice inherited Královstí Lvi's place in the lower league, and the two clubs swapped youth programs.
Mountfield has been relatively successful on the ice since the move, never finishing lower than fifth in the Extraliga regular-season standings. In the playoffs, they've been put out in the quarter-finals four times and have advanced to the semi-finals twice, but never to the final round. The team's biggest star for a few years was Jaroslav Bednár, with the one-time NHLer leading the team in points three straight years.
The on-ice success has earned the club three straight appearances in the Champions Hockey League. The first two didn't go so well, with the team finishing last in its group each time. Things seemed to be headed in the same direction this season when Mountfield dropped its first game in Wales 3-2 to the Cardiff Devils. However, that was followed up by a 3-2 win in Gothenburg over Frölunda. Yes, that Frölunda. Since then, Mountfield's only CHL loss has come at the hands of those Frölunda Indians, 4-3 in Hradec Králové later in the group stage.
In the round of 16, the opponent was German champion Adler Mannheim. The first game in Hradec Králové was 0-0 until Aleš Jergl scored the game's only goal with less than five minutes to play. A week later in Mannheim the teams played to a 1-1 draw, giving Mountfield the one-goal win on aggregate.
Mountfield's star in the two games was former Nashville Predators goaltender Marek Mazanec, who stopped 44 of 45 shots over 120 minutes. He was just getting started.
Against Swiss club EV Zug in the quarter-finals it was more of the same. Two games and just one goal against on 55 shots. Then Djurgården Stockholm in the semis: two games, 47 shots and just one goal. For his part, Mazanec downplayed his role in it.
"It's like a cliche but it's about teamwork," the goalie said after the semi-final victory. "Our team played a great hockey game today both offensively and defensively – we hardly gave the puck away."
In front of Mazanec is a group of players that are largely unrecognizable to a non-Czech audience. Captain Radek Smoleňák, 33, has played in a number of countries and leagues in his career, including seven games in the NHL. Winger Lukáš Cingel has been a mainstay on the Slovak national team and previously played in a CHL Final three years ago with Sparta Prague. Forward Rudolf Červený is the current team's only on-ice connection to České Budějovice, going with the team in the 2013 move and coming back to Hradec Králové this season after splitting last season between teams in Slovakia and Sweden.
Indeed, Mountfield's most recognizable name, and face, is probably behind the bench in the form of Vladimír Růžička – a former NHLer and Olympic champion as a player and a long-time coach of the Czech national team, winning a gold medal at the 2010 World Championship. Růžička shares the head-coaching duties with Tomáš Martinec – a Hradec Králové native who began his coaching career in the Království Lvi youth system before it became part of the current Mountfield club.
Funny thing, though. As unbeatable as Mountfield has seemed to be in the CHL, their Extraliga showing has never been worse. With 40 of 52 games played – and still two more to play this weekend before the CHL Final – the team sits eighth in the 14-team league.
"I don't know what it is," said Mazanec, dismissing the notion that his team is playing differently in the two competitions. "I think that teams in our own league are playing us more defensively, which we don't like but we're gonna have to find a way to battle through."
But none of that will matter on Tuesday night. If they can win in front of their home fans they'll be able to claim to be what no Czech team has been able to do since Poldi Kladno in 1976/77 – club champion of Europe. It won't be easy, but the team they're facing they've already beaten once this year.
"We've beaten them once so I believe we can do it again," said Mazanec. He then cautioned: "They've got a lot of skill and speed and they also play a physical game so it won't be easy at all. We've gotta get ready for that."
In addition to being the first Czech team to host the CHL Final and having a chance to become the first Czech team to win it, there's another thing to consider that might be equally important to Mountfield fans. Neighbour team Pardubice has finished second-best in Europe twice – in 1973/74 and 1987/88. A win on Tuesday would finally give Hradec Králové some serious local bragging rights in the hockey arena.
Photo: Stanislav Souček