Zug returns to the top in Switzerland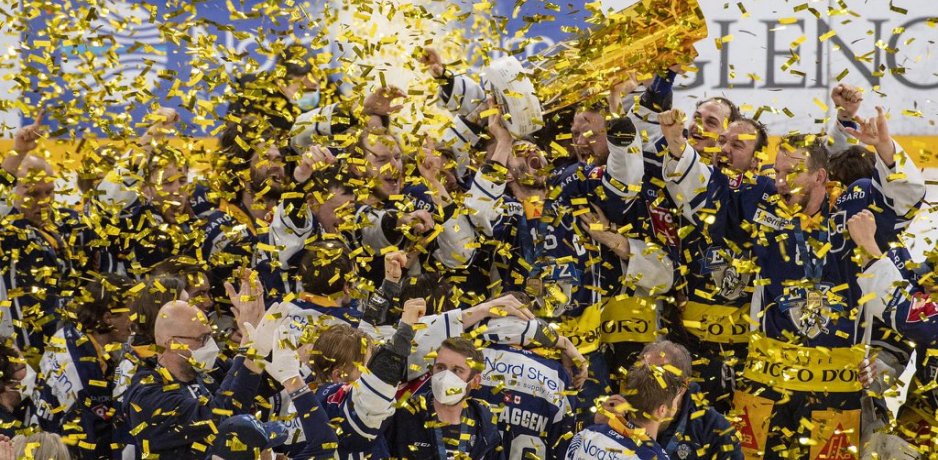 For the second time in the club's history, EV Zug is the ice hockey champion of Switzerland, completing a three-game sweep of Geneve-Servette HC in the finals.
After winning its first title in 1998, it was a long 23-year wait for the second with bumps along the way. There were a couple of close calls in recent years, with several strong regular-season finishes followed by playoff disappointment. They made the National League finals in 2017 and 2019 but lost each time to SC Bern. That 2018/19 season was Dan Tangnes's first behind the Zug bench.

"I said after the lost final in Bern two years ago that we're gonna use this feeling ... as motivation," Tangnes told MySports on the ice after the last game.
It took two long years to realize that motivation. Following a second-place finish and cancelled playoffs last season, Zug dominated the National League in 2020/21 with 119 points in 52 games – 27 points ahead of second-placed HC Lugano. In the playoffs, they got revenge on Bern by beating them 4 games to 2 and then beat the Rapperswil-Jona Lakers 3 games to 1 to advance to the finals.
"We didn't play 'nice' ice hockey every night, we won many different ways. This is what we did in the playoffs as well," said Tangnes. "Everybody submitted to something bigger than themselves. It doesn't matter if it's Grégory Hofmann or Lino Martschini or Jan Kovář, everybody's blocking shots and taking big responsibilities on both sides of the puck. This is why we have a different hero every night and a lot of players that can make a difference for us."
Tangnes identified three of the team's big offensive weapons and Kovář was the main catalyst, leading the league in scoring in both the regular season and playoffs with 63 and 15 points, respectively. A playmaking centre, the vast majority of Kovář's points were assists and his favourite target was Dario Simion, who led the team with 24 goals in the regular season and nine more in the playoffs.
Of course, you don't win titles without good defence and Zug sure had that, with former NHLers Raphael Díaz and Nick Shore anchoring the blueline and veteran Swiss international hero Leonardo Genoni backstopping them in goal.
Born in Norway and getting his coaching start in Sweden, Tangnes was an established professional coach when he took over behind the Zug bench but this was his first championship of any significance. One of his assistants was brand new to the job back in 2018, having just finished his playing career. Josh Holden is a former NHLer who spent his last 10 seasons in Zug. Having experienced some of the team's past heartbreaks as both a player and an assistant coach, this win was special for him too.

"As a player, you have so much emotion because you're engaged in that game," said Holden. "Now I try to keep them down and energize the guys in different ways and to have the opportunity to do it in Zug … I'm pretty proud."
Photo: @SwissIceHockey