Swiss EV Zug on HHoF display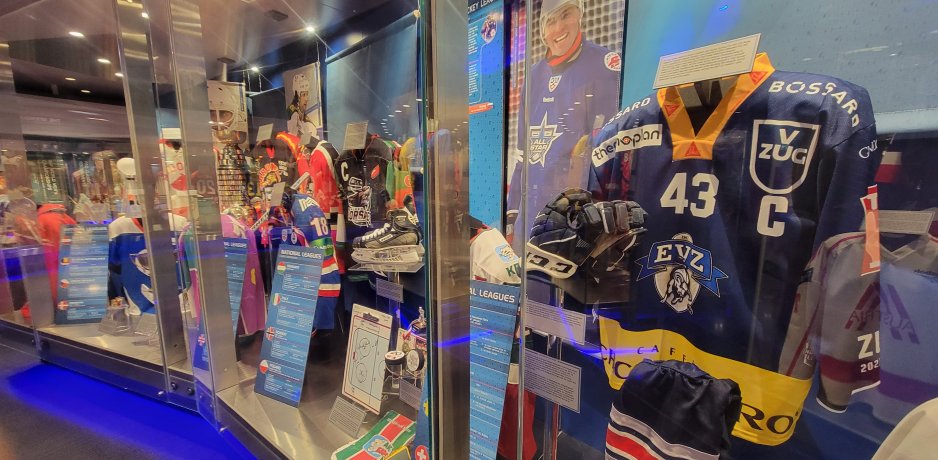 Swiss club and E.H.C. Alliance member EV Zug have been recognized by the Hockey Hall of Fame in Toronto with a display that commemorates Zug's incredible feat in the Swiss finals, coming back from being down 3-0 to win the national title.
The Hockey Hall of Fame is the world's finest hockey museum, which recognizes the game's history from all corners of the world. Positioned in Toronto's downtown, the Hall of Fame displays the finest collection of hockey artifacts from virtually all countries where hockey is played.
Now, a few EV Zug artifacts that tell the story of one of the most unlikely accomplishments have received a permanent place in the famous Hall. In the spring of 2022, Zug was behind 3-0 in the best-of-seven National League finals against ZSC Lions of Zurich but managed to do something which had not happened in 80 years in a major national league – to win a final series with four consecutive victories after being down 3-0.
When the unlikely comeback was complete, the E.H.C. Alliance alerted the Hockey Hall of Fame about this feat and noted that this was the first time since the 1942 Toronto Maple Leafs (against the Detroit Red Wings in the Stanley Cup Finals) that a team in a major national league managed to climb back to win a best-of-seven finals after losing the first three games.
Shortly afterwards, the curators at the Hockey Hall of Fame contacted the management of EV Zug and asked them for a few items from the Swiss finals to put on display in the Toronto hockey museum. The Zug exhibit shows the gloves with which forward Fabrice Herzog scored the winning goal in Game 7 and the jersey worn by captain and star forward Jan Kovář.

The feat is also the centrepiece of the video produced for Zug coach Dan Tangnes, who received the E.H.C.'s Globetrotter Coach of the Year Award at the European Hockey Awards in Prague last June.
Check the video which shows the remarkable Zug comeback here.
The timing of recognizing the EV Zug display at the Hockey Hall of Fame is perfect. On Monday 19 December, EV Zug announced that the club has signed a new agreement with Dan Tangnes, which should keep the Norwegian-Swedish coach in the Swiss town until 2026.

And this comes less than a week after Zug eliminated Czech club Mountfield Hradec Králové to make the Final Four of the Champions Hockey League, Zug's most significant European success so far in the club's history.
Zug will take on Finnish Tappara from Tampere in the CHL semi-finals, trying to become the first Swiss club to win a European championship since Zurich's remarkable Champions Hockey League success in 2009.
If Zug wins, maybe the Hockey Hall of Fame will have a reason to expand on that display.
Photo: Hockey Hall of Fame