In a city that eats their young, this is what you are up against, Juraj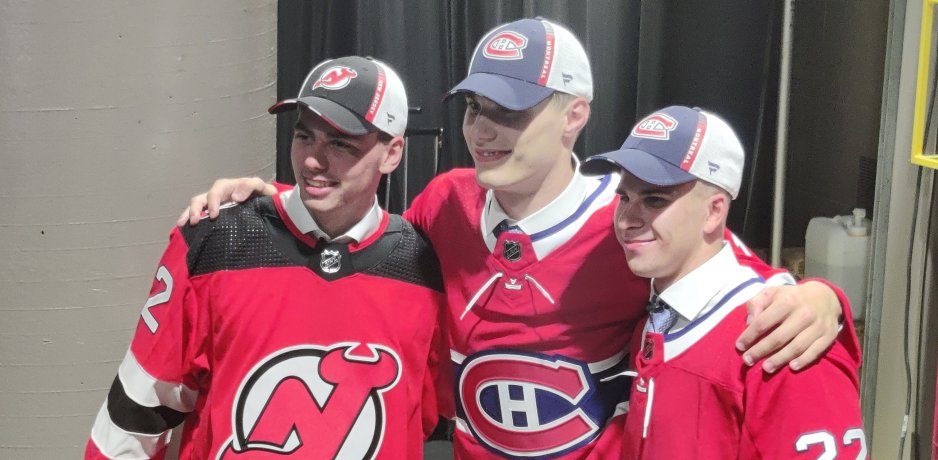 Former Sports Illustrated and Montreal Gazette reporter and columnist, Michael Farber, writes exclusively for eurohockeyclubs.com about what awaits Slovak winger Juraj Slafkovský, whom the Montreal Canadiens selected first overall in the NHL Draft in July. Farber, a recipient of the 2003 Elmer Ferguson Memorial Award (for outstanding hockey journalism) and a member of the Hockey Hall of Fame selection committee, indicates that this will be quite a challenge for the 18-year-old from Košice.
The Montreal Canadiens – or so we are reliably informed – are a religion, a trope favoured by man-bunned, tenure-tracked sociology professors and serious journalists bereft of original ideas.
Of course, there are undeniable whiffs of the theocratic surrounding this team in Montreal, a city whose most readily identifiable marker is a 26-ton, 31.4-meter cross perched atop Mount Royal.
There is everything but a puff of white smoke at the ceremonies that greet a sweater retirement or some such grand occasion, which has happened often with a team that has won a record 24 Stanley Cups and featured many of the most significant players in the National Hockey League.
There is the familiar bleu, blanc, rouge uniform/vestment, sometimes referred to as la sainte flanelle without even a hint of irony. Although his actual nickname was Casseau, a nod to those containers of the French fries he so enjoyed early in his career, some in the keyboard class began referring to Patrick Roy as Saint Patrick, who didn't drive the snakes out of anywhere although in 1986 he talked to his goalposts and won the Conn Smythe Trophy while backstopping a rookie-laden team to a surprising championship – a Children's Crusade, if we want to wring this analogy's neck to an inch of its life.
But there comes a time to put down the hymnal. The Canadiens as religion? Please. Name a single religion that, as a tenet, engages in cannibalism.
The renowned Montreal Canadiens – le club de hockey Canadien, les Glorieux, the most famous team in the hockey universe – eat their young.
This was not always the case. Back in more spacious days, there were apprenticeships to be served, lessons to be learned in the minor leagues. But the NHL expanded, the years became a quick march and since the Canadiens won their last Stanley Cup in 1993, the franchise often seems to have been hurrying to nowhere. Montreal has taken young players – notably its first-round draft choices – and chewed them to a fine paste. They go well when paired with sour grapes.
Welcome to Montreal, Juraj Slafkovský.
Your life would have been so much different if you had been drafted by Anaheim or Arizona or New Jersey of pretty much fill-in-the-blank. Not better or worse necessarily, just different. Montreal had the first pick, you had some big international tournaments and well, here we are. The city will know you. They will expect stuff. You had a taste on draft night here because you weren't named Shane Wright.
You sloughed off the smattering of boos, which means you aced your first lesson. You are not a centre. And no matter how much you might look like him – the size, the left shot, and the neighbouring homeland – you are not Jaromír Jágr. Just don't grow a mullet and expectations should merely be outsized, not colossal.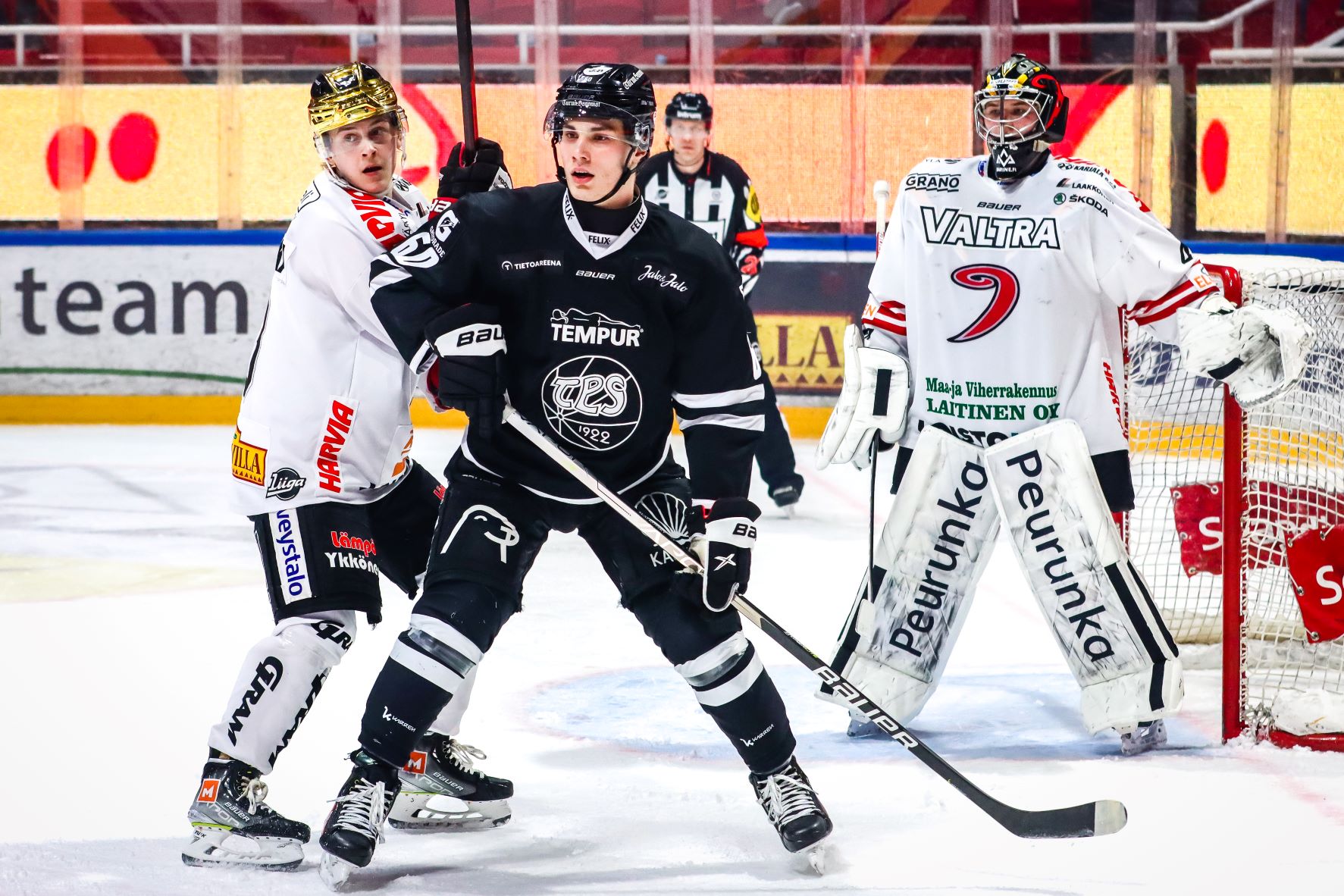 ABOVE PHOTO (TPS Turku Media): Slafkovský with TPS Turku during a Finnish Liiga game against JYP Jyväskylä.

TOP PHOTO (Szymon Szemberg): Slafkovský at the 2022 NHL Entry Draft with fellow Slovak draftees Šimon Nemec (left) and Filip Mešár.
Now new-ish Montreal president Jeff Gorton and general manager Kent Hughes act like levelheaded gents. And Martin St. Louis, still a novice at running the bench, seems to have a knack for developing talent, starting with his own as an undrafted Hall of Fame player and then last winter after taking over from Dominique Ducharme.
The only reason they didn't finish 33rd last season is there are only 32 NHL teams, but, playing against type, Canadiens fans, enamoured by the new car smell of their coach and the dandy second half by Cole Caufield, were laudably tolerant.
There is a tacit understanding that times have changed, that Hall of Fame left winger's Steve Shutt quip "the fans are behind us, win or tie," is as much a relic as the Latin-only mass. But with star goaltender Carey Price unlikely to play this season or perhaps ever because of a lingering knee issue, the Canadiens do not figure to be a Cup threat until you are well into your prime years.
One year of Montreal misery is fluky, maybe even palatable to a fan base that stamped its approval of a rebuild. But you probably wouldn't want to test the civic patience in what is wrongly referred to as a hockey city.
Montreal – site of the first indoor match in March 1875 and the formation of the NHL in November 1917 – is a Canadiens city, not a hockey city. Junior hockey has not flourished in greater Montreal since the days of Mario Lemieux and Pat LaFontaine in the early 1980s. (Currently the closest junior team is some 40 kilometres from of the city.)
The Canadiens' minor-league affiliate draws well in Laval, just north of the city, but the affiliation with the big club is the draw more than the game itself. There is a Canadian Football League team and a Major League Soccer team, but since the baseball team decamped to Washington, D.C., not quite two decades ago, Montreal has been a one-brand town. CH. You will be a central figure in the 24/7/365 Canadiens kaleidoscope.
Assuming you're still here in a few years.
Take a peek at the 10 drafts between 2009 and 2018. Not one of these first-round selections remain with the team:
2009 – Louis Leblanc. The Canadiens nudged him to leave Harvard and play junior hockey, the wrong pace at the wrong time. He played 50 NHL games. He eventually wound up at Slovan Bratislava of the KHL, where his coach criticized him for his "un-Canadian" lack of physicality and sent him to the Slovak Extraliga. He played 10 more games in Switzerland before retiring.
2010 – Jarred Tinordi. The defenceman had 46 games over four seasons in Montreal. He played seven last year with the New York Rangers, spending most of his time in the minors.
2011 – Nathan Beaulieu. The defenceman spent four unmemorable seasons in Montreal. He has played a depth role in Winnipeg the past four seasons.
2012 – Alex Galchenyuk. Taken at No. 3 overall and heralded as the most NHL-ready player in the draft, Galchenyuk has had a solid but not distinguished career, bouncing between centre and wing and among six different teams.
2013 – Michael McCarron. The Lilliputian Canadiens lusted for size and wound up picking a heavy-legged plow horse. The 6-foot-6, 232-pound winger, now with Nashville, has scored nine goals in 126 NHL games.
2014 – Nikita Scherbak. He never developed in Montreal, perhaps because he was buried on a fourth line. He played 37 NHL games before returning to Europe and currently plays in the Czech Extraliga.
2015 – Noah Juulsen. Injuries undermined the defenceman, who has played 56 games and is on his third NHL team.
2016 – Mikhail Sergachev. The defenceman was a keeper – at least until he was traded to Tampa Bay in the woebegone deal for Jonathan Drouin, who never filled his anticipated role as a hometown hero. Sergachev has played a prominent role on two Lightning Cup winners.
2017 – Ryan Poehling. Poehling scored a season-closing hat trick in his first NHL game in 2019. He would score another 10 goals in 84 subsequent games with Montreal. He was traded to Pittsburgh in July.
2018 – Jesperi Kotkaniemi. The other third overall pick on the list, Carolina gave the restricted free agent an offer sheet prior to the 2021-22 season. The Canadiens let Kotkaniemi walk, closing a middling three-year stint that included 22 goals in 171 regular season games. The Ässät Pori product did score five in 19 playoff games in Montreal's surprising run to the 2021 final.
Poor development. Mediocre drafting. For every Price (fifth overall in 2005) and P.K. Subban (43rd overall in 2007), there is a laundry list of early-rounders whose mark were nothing more than footprints on the beach at high tide.

Brent Bilodeau. Terry Ryan. Lindsay Vallis. Vague names from vague times. In the second round of the 1992 draft, Montreal took a smallish centre named Keli Corpse. A Montreal columnist had the temerity to observe that while the Canadiens had drafted a lot of stiffs, this was the first time they had taken an actual Corpse. He never played an NHL game.
So good luck, Juraj Slafkovský. The last time Montreal had the No. 1 overall pick, Doug Wickenheiser sat in the Forum press box on opening night, 1980, watching the third selection, Denis Savard of the Chicago Black Hawks, who grew up a 15-minute bike ride from the old arena, pirouette through the Canadiens. That's history. But that's not your history. You start fresh. A genesis, maybe.