Name: Ondrej Nepela Arena (Zimný štadión Ondreja Nepelu)
Opened: 1940 (renovated 2011)
Address: Odbojárov 9, 831 04 Bratislava, Slovakia
Capacity: 10,055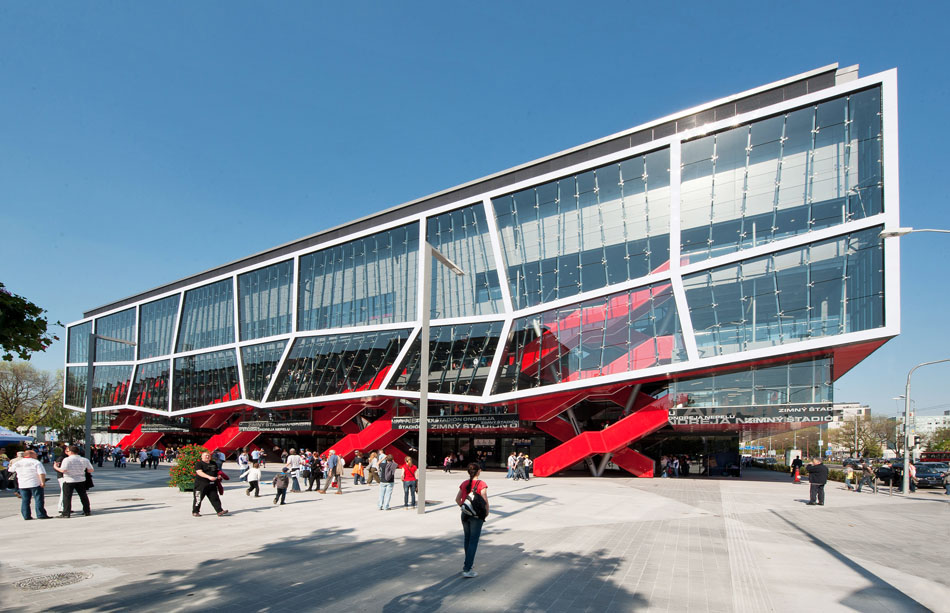 Ondrej Nepela Arena (owned by the City of Bratislava) is a home arena for HC Slovan Bratislava since 1940. The arena is located in the traditional Bratislava sports district of Tehelne Pole. The arena had been renovated several times. It was the main venue of the 2011 and 2019 IIHF World Championships. The state-of-the-art multipurpose arena features three ice rinks, dozens of retail spaces, attractive sky boxes and club partners, premium lounges, advanced management information systems (including multimedia screens), and in particular - a compact, typically hockey concourse for over 10,000 spectators that can create an electrifying atmosphere.
Basic info
Founded
1921
Website
www.hcslovan.sk
Club adress
Odbojárov 9
831 04
Bratislava
Honours
National titles
Czechoslovakia (1) – 1979; Slovakia (9) – 1998, 2000, 2002, 2003, 2005, 2007, 2008, 2012, 2022
European championships or greatest European accomplishments
Spengler Cup winner (3) – 1973, 1974, 1975; Continental Cup winner (1) – 2004; Continental Cup 3rd place (1) – 2001
Last Seasons
2022-23: 2nd regular season, quarter-finals, CHL group stage
2021-22: 1st regular season, league & national champion, CHL group stage
2020-21: 4th regular season, semi-finals
2019-20: 2nd regular season, playoffs cancelled
2018-19: 25th regular season (KHL)

About club
HC Slovan Bratislava is one of the oldest and most traditional hockey clubs in Europe. It was founded as 1. ČsŠK Bratislava in December 1921. Slovan joined the top Czechoslovak hockey league at the end of World War II. Slovan was the first Slovak hockey club to win the championship of the Czechoslovak federal league, doing so in 1978/79. Slovan has also won the most titles in the independent Slovak league, winning nine times between 1998 and 2022. It remains the only Slovak club to play games against NHL teams: the Tampa Bay Lightning (2008) and New York Rangers (2011).
Throughout its over-100-year history, Slovan has been a regular supplier of top hockey players for Slovakia's national teams in all age categories, including the medal winners from the World Championships. Slovan plays its home games in the state-of-the-art Ondrej Nepela Arena, the primary venue of the IIHF 2011 and 2019 World Championships.