Hockey Business Forum looked back and looked forward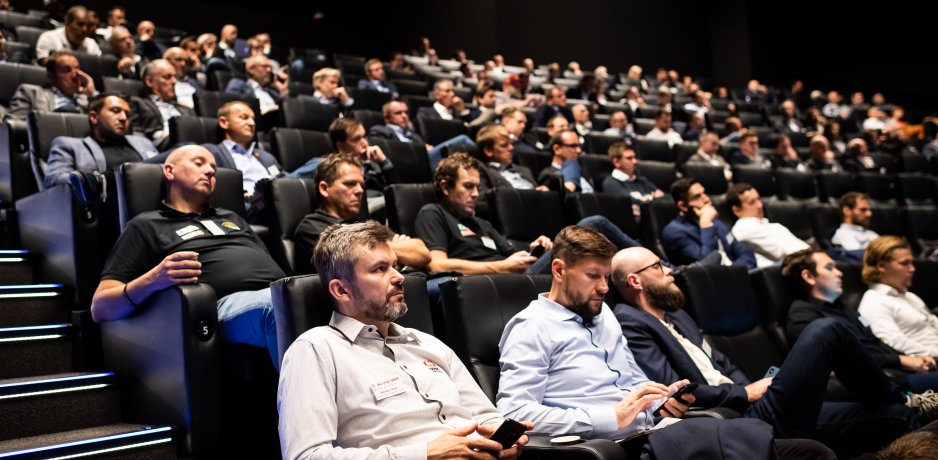 ​BERLIN – The third annual E.H.C. Hockey Business Forum was held on Monday at Mercedez-Benz Platz, just a stone's throw from the Berlin Wall as the 30th anniversary of its toppling quickly approaches. It involved some reminiscing about hockey in East Berlin, how the area has been developed since then, as well as many presentations about how a team can improve its bottom line as we move into the future.
The Forum began with a lively panel discussion on salary control and revenue sharing involving NHL Deputy Commissioner Bill Daly, E.H.C. President and SC Bern CEO Marc Lüthi, KHL Vice-President Alexey Krasnov and IIHF Council Member and German Ice Hockey Association President Franz Reindl. The discussion was moderated by Forum emcee Paul Romanuk.
Read more on the panel discussion here.
Next, the Forum's host team was represented by "Mr. Eisbären Berlin" Sven Felski, a former player, and general manager Peter Lee. First, East-Berlin-born Felski was welcomed by Romanuk and talked about growing up as a fan of Dynamo Berlin before the Wall came down and playing for the renamed club after.
"There were only two teams in the league, so you always knew you would finish no lower than second place," Felski quipped about the former East German league, often described as the smallest league in the world.
Then Lee, the former NHLer who joined the club in 1997 as an assistant coach and has remained ever since, spoke about the growth that the club has experienced since it was bought by the Anschutz Entertainment Group and moved into the new arena in 2009.
"When you've got an owner that's willing to invest in the team, a lot can happen," said Lee.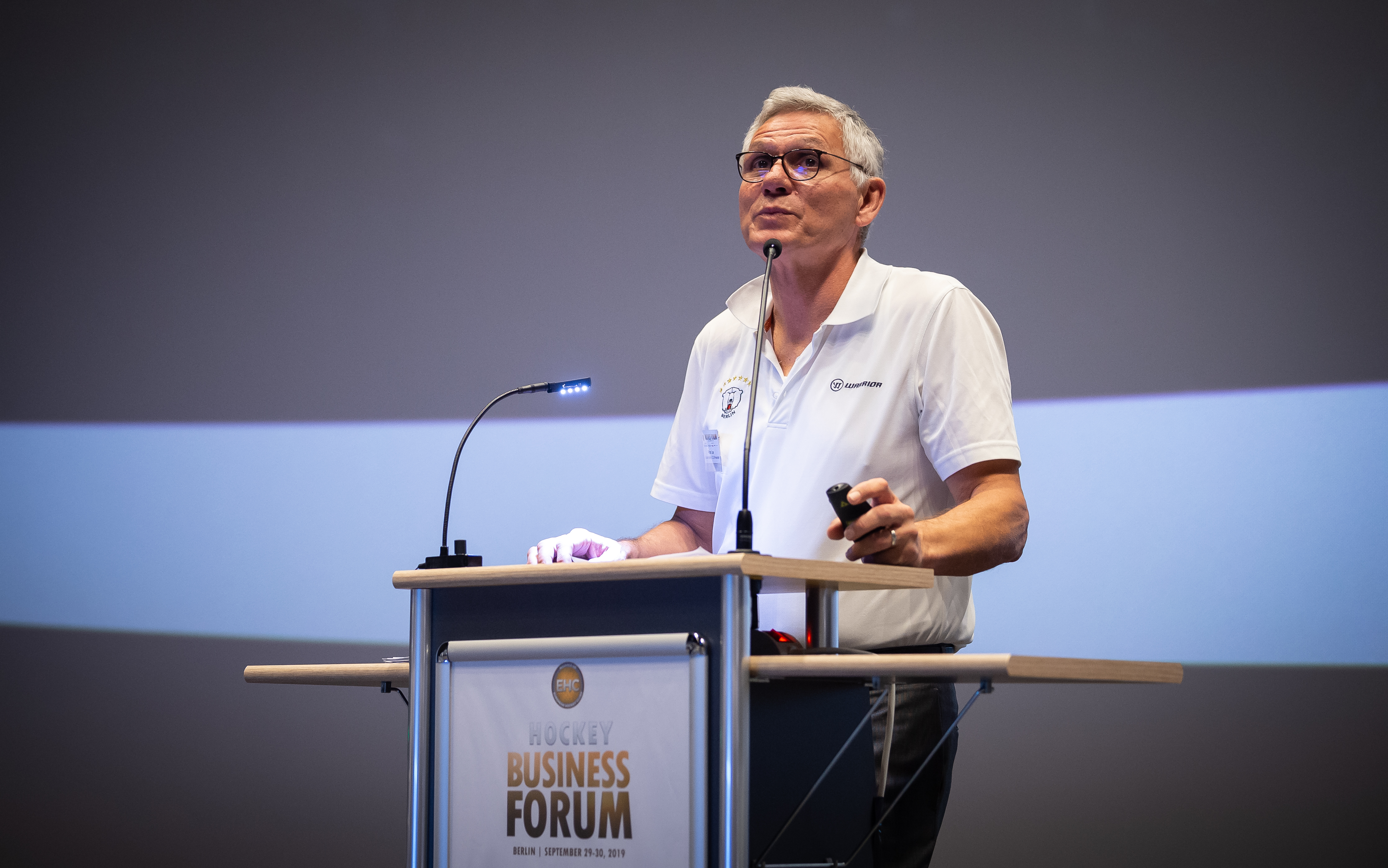 In addition to Eisbären Berlin, the American AEG also owns several entertainment properties and professional sports teams, including the NHL's Los Angeles Kings and several minor-league hockey teams in the United States. Luc Robitaille, the former Kings star and Hockey Hall-of-Famer who's now the team's president.
"We'll talk hockey and talk business," Robitaille said of his relationship with Lee. "If he needs a player, we'll use our scouts and our resources to try to help him get him."
Elaborating on the advantages of the cooperation between the teams, Robitaille continued: "I think for an NHL team to be involved with European teams, there's a lot to learn and I think it can really help. When they have a camp, our staff can assist with that."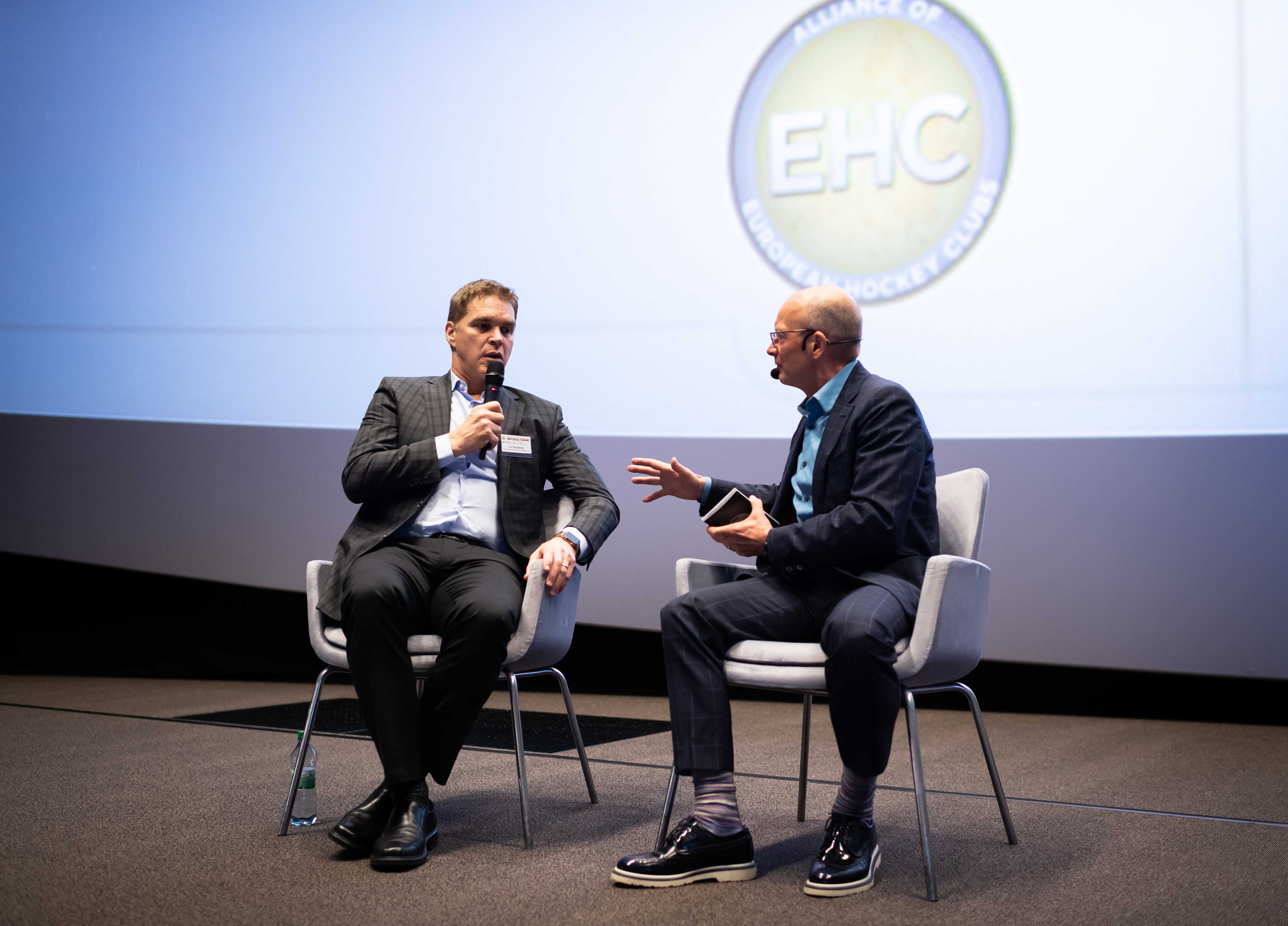 AEG helped build both Mercedez-Benz Arena in Berlin and Staples Center in Los Angeles and both were risky ventures, being built in areas that had not previously been considered desirable.
"The first time I came here, this was a wasteland in Berlin," Mika Sulin would say later in the Forum during his presentation on the importance of a team owning its own building.
Sulin is a former player who had led projects on many new arenas in Europe, and cited Die Eisbären as just one example of how a new arena can greatly improve a team's profitability. On the horizon is his greatest project yet – a new 15,000-seat facility in Tampere, Finland that will host both Tappara and Ilves and be the primary host of the 2022 IIHF World Championship.
"European hockey can't invest into the game without new venues and new revenue streams," said Sulin, who said that even in an old arena, plenty can be done to upgrade it and generate more revenue from it.
Ed Scott of Euroleague Basketball spoke about what hockey could learn from basketball at the international club level. After all, the two sports have a lot in common.
"We're both winter sports, we're both indoor sports, in most of our markets we compete against football, and we have the capability of sharing venues," said Scott.
Also, the relationship of European clubs and FIBA to the NBA is somewhat similar to that of European clubs, the IIHF and the NHL.
Scott spoke about the informal collaboration between associations of clubs in various sports – namely football and handball and now hockey as well, represented by the E.H.C.Alliance – in biannual meetings.
"The EHC is the youngest of those organizations, so there's more we can share with them," Scott said about the relationship. "But when you see what the hockey clubs got in terms of compensation from the IIHF for players at the Winter Olympics, that's something we don't have in basketball or other sports."
Read "Groundbreaking IIHF decision compensates clubs for Olympians"
Christian Heimes of IX.co spoke about a digital strategy of interacting with customers, using artificial intelligence to personalize advertising. He spoke of a "path to growth" that can take years to reap financial rewards after getting to know what your customers will respond to.
"The bad news is, it takes work. If you want growth, it takes work," said Heimes. "The good news is if you have people who understand the space, it's doable."
After the break, Frölunda Indians head coach Roger Rönnberg spoke about the philosophy of coaching. Ronnberg believes that long-term success depends on a philosophy that starts with the club and not with the coach.
"We gotta change the culture of the club," is what Rönnberg was told by ownership at the time he was hired, and he believes that the new culture that has been instilled shouldn't change even when the time comes for him to leave.
"The team's philosophy should start with the club, not the coach," he said. "Otherwise, when a coaching change is made, the whole system is put into chaos. I'm thinking about scouting and everything at the youth level, where they learn the same system as the big team."
Rönnberg then got into the business side of it, and how to get the best team using a limited budget.
"I think you've all seen this film," he said, showing a picture from Moneyball – where a baseball team with a small budget was able to have success by being smarter about what type of players they spent its money on. "I think that's the direction that hockey is headed."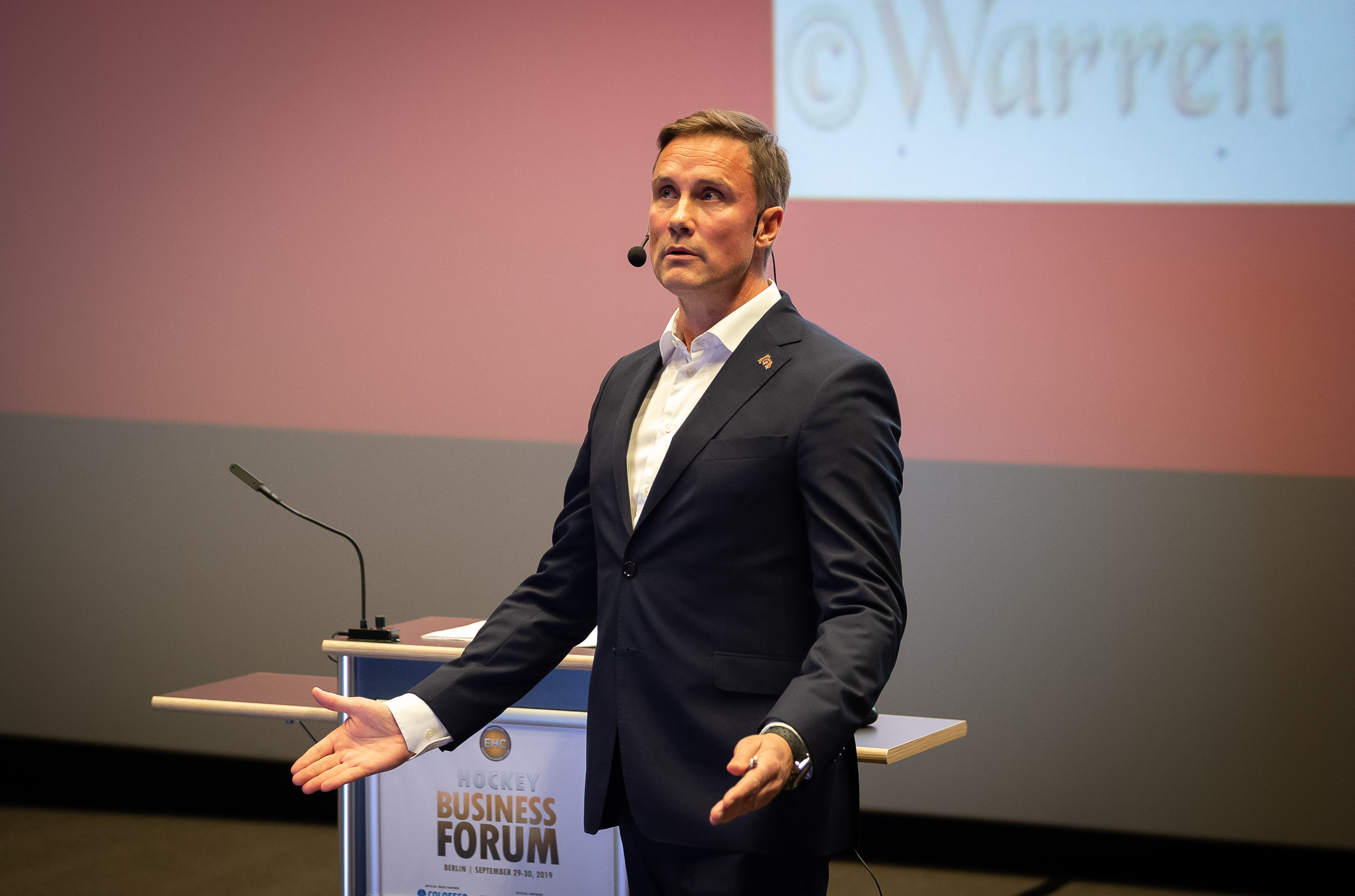 Addressing a big concern in hockey nowadays, Patrik Egervall of MIPS presented how head injuries could be reduced through new helmet technology. Egervall said the real damage done during a concussion is caused by the rotation of the brain inside the head. We are born with cerebral fluid which helps minimize this rotation, but that's not enough for the speeds at which collisions in hockey and other sports played nowadays. A MIPS helmet mimics the protective properties in the human brain and adds a layer of protection.
"An ordinary helmet protects your skull," said Egervall. "A MIPS helmet protects your brain."
From protecting your brain to protecting the planet, Tom Huston presented what he called "the greatest economic opportunity in human history" with for-profit sustainability. Huston calls for businesses to not simply pay lip service to being environmentally friendly, but making it a core value of the business, as Brynäs Gävle has already successfully done.
Read "Brynäs report on sustainability & social responsibility"
"Companies that run themselves this way have significant advantages over their competitors," said Huston. "This is nothing new; it's already been proven."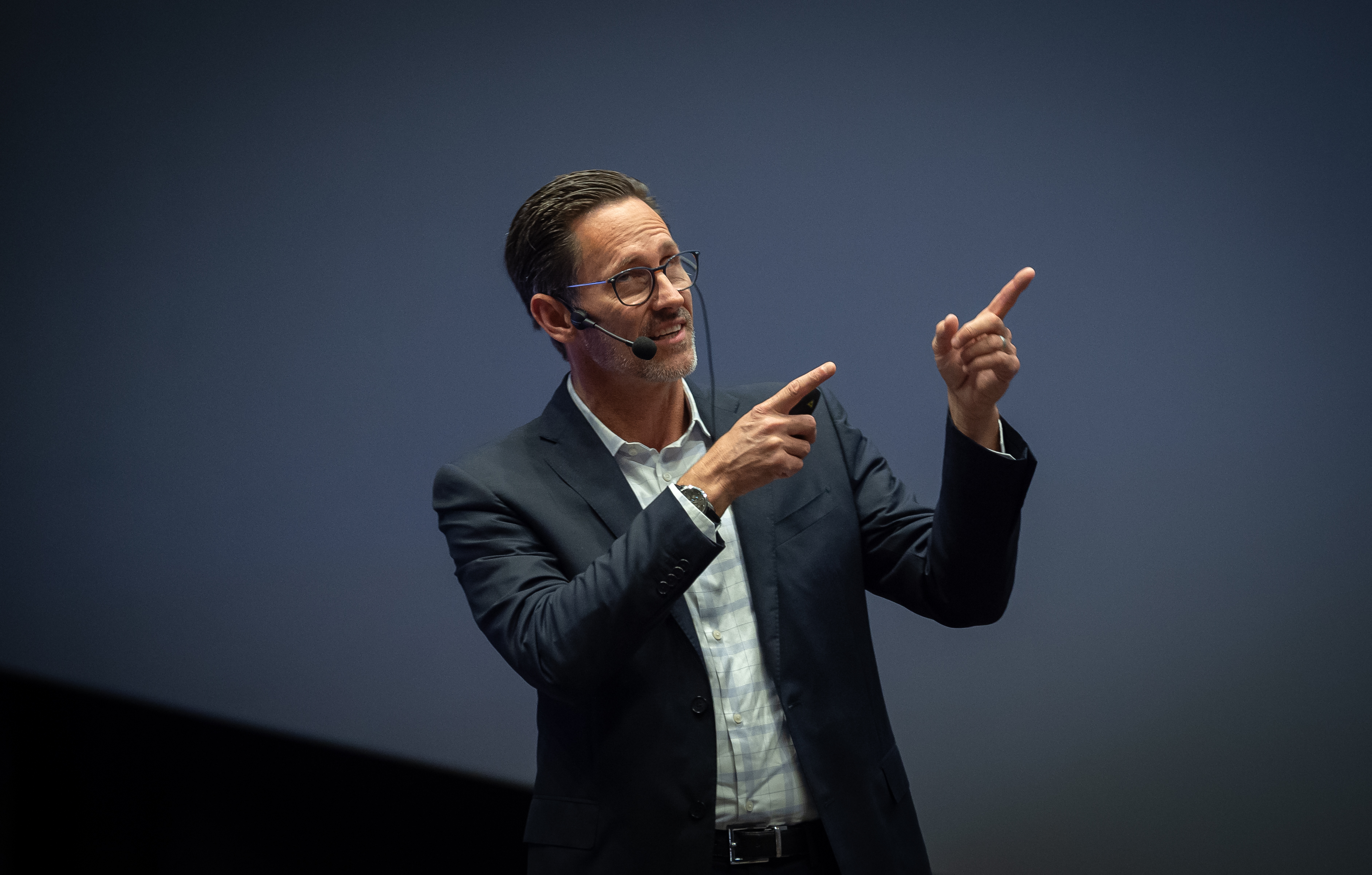 The Forum's last two presentations were on technology.
Fadi Naoum of SAP spoke about how a team can streamline its interaction with its fans. He gave the example of the Adler App, from which fans of Adler Mannheim – a corporate partner of SAP – can order tickets, play games, follow the team, buy merchandise and win opportunities to meet players.
"We make the life of the fan very simple," said Naoum.
Related to that, the KHL's Sergey Dobrokhavlov spoke about the league's growth with the use of modern technology in real-time. This technology tracks individual fan behaviour on the league's various platforms, tailoring communication with and offers for that fan. That information is shared between the league and its member clubs.
"Without this system, the club wouldn't know about this fan because he's not interacting with the team directly," said Dobrokhavlov. "It is our goal to know personally every KHL fan, and to interact with them at a one-on-one level."
It's not just the fans that are tracked but the players. Starting this season, there is a chip in every jersey and puck that will track exact movements on the ice and deliver it in real-time. Previously, data could only be delivered as fast as somebody could enter it into a computer.
"What we called real-time before wasn't really real-time wasn't really real-time," Dobrokhavlov explained. "Now, from this moment, we really can call them real-time statistics."
Photos: Florian Pohl/City-Press GmbH