Brynäs report on sustainability & social responsibility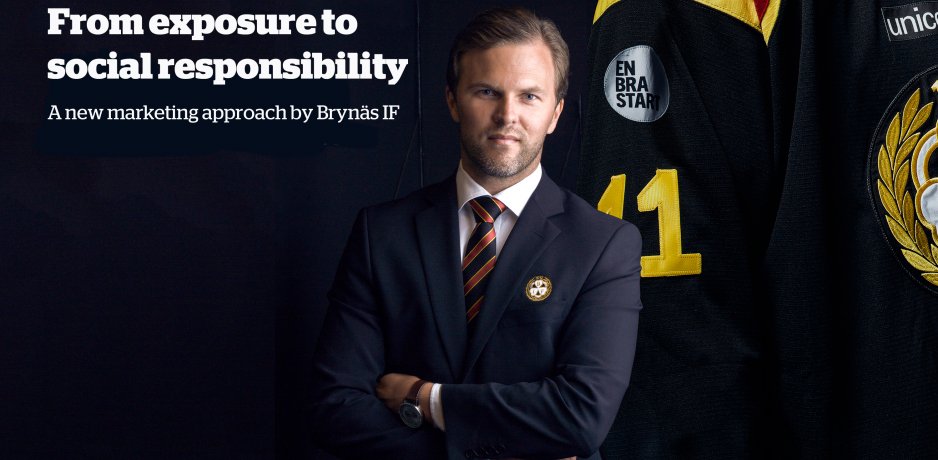 Showing that they are more than just a hockey club, Brynäs IF recently released its own sustainability report. The report focuses on the club's efforts in the areas of environmental sustainability and social responsibility.
"It's not okay to live in a bubble and pretend these things do not affect us and that we are not responsible for the choices we make regarding them," Johan Cahling, Brynäs IF's Deputy CEO and Director of Sustainability and Brand Development, is quoted in the report.
The report, titled Further Faster Together, is written in accordance with the guidelines of the Global Reporting Initiative, the most widely accepted standard for sustainability reporting.
For a while now, Brynäs has been a trailblazer in new ways of doing the hockey business. A few seasons ago, it became the first Swedish team in years to wear jerseys free from corporate sponsorship logos. A year ago, Cahling spoke at the E.H.C. Hockey Business Forum in Stockholm about his club's focus on environmental sustainability and social responsibility.
"What we did was create a new core business. This is not a project, this is core business," he said at the time.
But why would a hockey club based in Gävle – a city of 100,000 on Sweden's east coast, 170 km north of Stockholm – take such an initiative?
"It is important for us to stay relevant in a changing world and to be a good citizen in our region," Cahling explains. "We have an enormous potential to use our brand to help solve problems in our region and internationally and we feel it is our responsibility to do this."
The scope of the involvement of Brynäs in the community is quite widespread. In addition to making its home rink, Gavlerinken Arena, as energy efficient as possible, the team is very active in local schools, promoting good health and well-being, quality education and gender equality, participates in programs to lower the local youth unemployment rate and cooperates with UNICEF to help children around the world.
That all sounds wonderful, but many hockey clubs are challenged when it comes to staff being able to cope with the most basic things. How is it possible that Brynäs can allocate so many resources to things which are not directly linked to on-ice success?
"If we did not devote resources to this work then we would be struggling financially ourselves," Cahling reasons. "This work allows us to form partnerships as opposed to the traditional exposure revenue streams and these partnerships are longer-term and give us greater financial stability.
"In turn, the financial stability allows us to run these off-ice programs without worrying about how to fund them on a yearly basis. It's a winning combination for everyone involved – the community, our partners and Brynäs. Our local community gets help with regional challenges, our partners are shown a path to greater regional contribution and Brynäs wins with greater financial stability. Our finances become less dependent on success on the ice."
It's clear to see how the city of Gävle and the surrounding area benefit from this program, but how exactly does Brynäs benefit?
"The main benefits for Brynäs are of course linked to long-term sustainability, that is, this work ensures that we will be able to continue to do what we do today long into the future by operating within the resources we have available for use today. We will minimize our impact ensuring there are resources available for future generations to come," Cahling explains.
"The larger, long-term partnership contracts also open up possibilities for us to expand outside of our region and work with larger companies who also have a focus on sustainability."
Generally speaking, the challenges outlined are not unique to the Gävle region and Brynäs's model is one that could be adapted by clubs almost anywhere, and therefore Cahling encourages other clubs to follow this example.
"Absolutely. If we do not combine our efforts within the ice hockey community and start to operate with a focus on sustainability, then we risk the very survival of the sport," he warns.
"Our sport faces several very real challenges to its survival, including climate change and the high level of concussions experienced by our players. Combining these challenges with a responsibility to use the power of our brands to guide the behaviour of fans in terms of social, environmental and economic impacts is evidence that this is a path forward we all need to take together."
Read Brynäs's sustainability report, Further Faster Together, here.