Hallam leads Växjö to a third title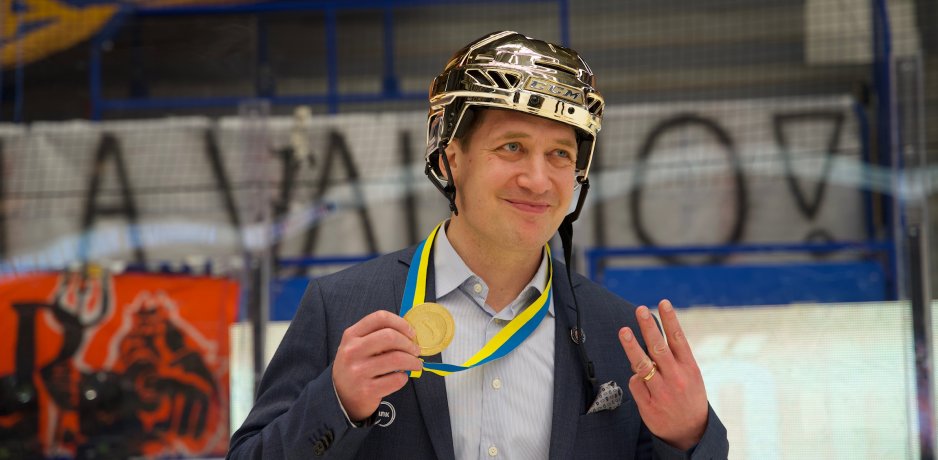 It would be wrong to call Växjö Lakers the new powerhouse in Swedish hockey, as they won the title already in 2015 and in 2018. So following the impressive 2021 championship, let's call them a dynasty. And the main man is coach Sam Hallam.
The 41-year=old coach originally from Stockholm has been with Växjö for nine seasons. So that's a national title every third year, not only on average, but literally: 2015 – 2018 – 2021. That's virtually Arno Del Curto pace (Google it, folks).
Since the club earned a promotion to the top Swedish league in 2011, no other club has won three national titles. That's three championships just seven playoff appearances.
The story about Sam Hallam and the Växjö Lakers is one about long-term strategy, believing in what you do and not deviating from your plan. A very good example was how the club acted after the two disappointing seasons following the 2018 victory, ousted in the quarterfinals after a disappointing seventh-place finish in 2019 and ending up 10th in 2020, the season where the playoffs were cancelled due to the pandemic.
In many other clubs, the management would start looking for the panic button, or at least looking for "changes". During these two seasons, Växjö looked like a team mired somewhere between mediocrity and haplessness. But what Sam Hallam and GM Henrik Evertsson were doing was slight rebuilding, adjusting, adding pieces here and there, without any hint of overreacting.
Keyword: Continuity.
So in 2020-2021, the Växjö Lakers were a machine. They won the regular season with 102 points in 52 games, a .653 record. In the playoffs, Växjö was only really challenged in the Covid-shortened best-of-five semi-finals where they needed to go the distance against pesky Örebro.
Sam Hallam's men swept 4-0 Färjestad in the quarter-finals, and they only needed five games in the final against Rögle from Ängelholm. So where is Hallam's greatness? There are several qualities that make him an excellent coach. He is a brilliant communicator, and he has shown that he can work equally efficiently with veterans as well as with young players. Just look at what Hallam did with Elias Pettersson before the player left for Vancouver.
There are observers who say that his teams play an overly academic or calculating style of hockey and, although there may be some truth to it, no one with the Lakers seems to care. The three championship titles in six years are solid proof of that. They are a team that relies on puck possession, opportunistic scoring and a suffocating defence.
This was very visible in the finals. Rögle, which scored a league-high 164 goals during the regular season, got very few clean looks at goaltender Erik Källström in those five games. Speaking of opportunistic scoring, Växjö had five sudden-death games in the playoffs and won all of them.
Aside from Hallam's qualities as a coach and his relationship with players, he is also an excellent ambassador for the club, well-spoken and articulate and he stays that way even after tough losses.
Although the Växjö's hockey roots can be traced to the early 60s, the current Lakers hockey organization was founded in 1997, shortly after filing for bankruptcy. It is difficult to imagine, but Växjö was promoted to the top Swedish league only in 2011. So Växjö's history as an elite pro club is only a decade old.
You often see it on Swedish social media platforms that (envious) fans of other clubs call the Lakers a "plastic" club, a euphemism for a club with no traditions or roots. Although this is not really true, the club management uses the fact that Växjö's traditions are not as storied as Djurgården's, Skellefteå's or Leksand's to their advantage.
For being a Swedish sports club, the club from south-central Sweden has a very business-like approach to what they do. The club's organizational structure, with different layers of companies and ownership, differs from most other clubs and the people behind the organization – who saved the club from extinction in 1997 – are not at all ashamed to say that the Lakers are run like a business.
This should really not be something controversial, but in the Swedish sports environment it often is. Fans want their favourite clubs to be successful, but they don't like to hear about the "business" part. The Växjö Lakers are slowly changing this outdated, romantic view.
So, what's next for Sam Hallam and his Lakers? One big challenge will of course be the Champions Hockey League, for which Växjö qualified as soon as they won the regular season. The Lakers reached the CHL final in 2018, but despite having home-ice advantage and Elias Pettersson, they lost the final to Finnish JYP Jyväskylä 2-0.
This means that the Växjö Lakers have the distinction of being part of the only CHL final (since the event's re-start in 2015) that wasn't won by a Swedish club.
Knowing Sam Hallam, this is something he would amend. After winning three Swedish championships in six years, Hallam has really nothing left to prove in the SHL. The next big assignment is to conquer Europe.
Photo: Växjö Lakers