JYP is first non-Swedish CHL winner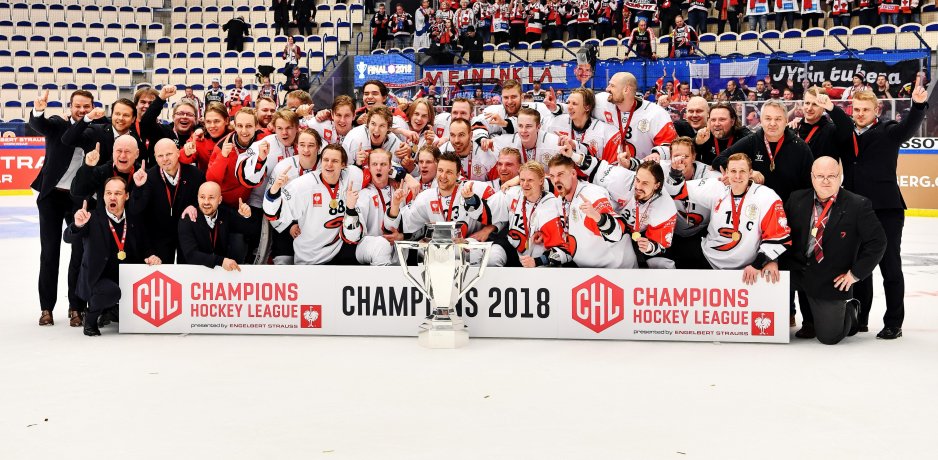 The Alliance of European Hockey Clubs congratulates member club JYP Jyväskylä on winning the Champions Hockey League, ending three years of Swedish rule. On Tuesday night, Finnish team shut out the Växjö Lakers 2-0 on enemy ice to claim the European Trophy.
The hero of the Final was goaltender Juho Olkinuora, who stopped all 38 shots he faced for the shutout. His saves were especially big over the first half of the game, when his team was outshot 21-6 and had to kill off several penalties, including a 5-on-3 for over a minute in the second period.
"It was fun to play. They're a great team and it was a great atmosphere here today," said the victorious goalie. About the CHL, he said: "It's a great tournament with great teams in it like Växjö, who we just played today, and that's why we appreciate this win quite a bit."
The winning goal was scored on the power play in the 35th minute by JYP forward Joonas Nättinen, who said that winning the CHL "has been an important goal for us the whole year, we focused 100 percent in every game and it feels really good to win the championship."
The captain of the team is 36-year-old Jyväskylä native Juha-Pekka Hytönen, who is a product of JYP's youth program and has played his entire career with the club, save for a four-year stretch where he played abroad from 2012 to 2016.
"These types of experiences as a group always help you," Hytönen explained. "All the way to the Final it was a great journey for us, we competed against great teams and I really believe it will help us in our league play too."
JYP is currently ranked fourth in the Liiga standings with 88 points and 11 games to play. They have at least one game in hand against every team in the league.
"It's so difficult to win this championship because you have to play well before the season and then continue that throughout the season," said head coach Marko Virtanen, referring to the fact that the CHL season runs from August until February, and any hiccup along the way can mean the end. "That's why it's so difficult and I really appreciate it."
JYP, which won Finnish championships in 2009 and 2012, had previously won the European Trophy back in 2013 when it was entirely a pre-season tournament. By winning the title this season, they automatically qualify to participate in the Champions Hockey League again in 2018/19.
Photo: Mathias Bergeld