Třinec tops Liberec for Czech title; Kladno advances over Jihlava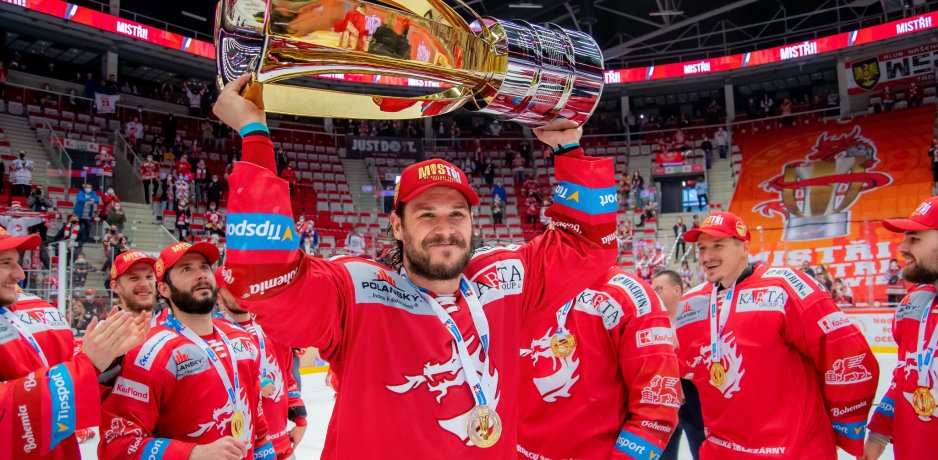 The hockey season ended on Thursday in the Czech Republic with Rytíři Kladno earning advancement over Dukla Jihlava in the seventh and deciding game of the Chance Liga finals. Three days prior, Oceláři Třinec won its second straight Extraliga title and third in a decade following a five-game win over Bílí Tygři Liberec.
On Tuesday, the national champion was decided when Oceláři Třinec defeated Bílí Tygři Liberec 3-0 before 879 fans at Werk Arena, ending the best-of-seven series in five games. After the cancellation of last year's playoffs due to the COVID-19 outbreak, it was the second straight Tipsport Extraliga finals to feature those teams, with Třinec also winning back in 2019 in six games.
Earning the shutout in the decisive game was goaltender Ondřej Kacetl, whose path to the title is interesting. Originally a product of Orli Znojmo, where he began as a professional in the EBEL in 2011, he has bounced around the top two Czech leagues for several years now and signed as a free agent with Kometa Brno last summer. However, he's yet to play a game for that club, instead spending this past season on loan to a pair of Chance Liga clubs – where he played 10 games – and to Třinec, where he played 18 games, mostly as a backup to veteran Jakub Štěpánek. However, the net belonged to 30-year-old Kacetl in the playoffs and he ran with it, posting six shutouts in 16 games to win the playoff MVP award.
?Kometa, co doletěla až k titulu! pic.twitter.com/QIj6EzXR0z

— HC Oceláři Třinec (@hcocelaricz) April 26, 2021
"The season was crazy," Kacetl told the club website. "I was out of work for two months in the summer, I had nothing. Then I signed with Kometa, but I didn't even get a sniff there and I was happy to go to Přerov, where they've got a great group. Probably because of my play there, Třinec took a chance on me. At first, my play was inconsistent – up and down, as you all saw. But in the playoffs, the boys helped me a lot and because of that, we started winning and the feeling is amazing now. I have no words. After 10 years, when I won the junior title with Znojmo, now I've got an Extraliga men's title. That's an unbelievable feeling."
But the real touching story on the team belongs to captain Petr Vrána, whose world was turned upside down late in the regular season, as Třinec was battling for first place. His wife Lindsey, a Canadian whom he met while playing for the QMJHL's Halifax Mooseheads between 2002 and 2005, fell through the ice on a frozen lake and drowned while trying to save a puppy. Suddenly, first place was unimportant, and nobody could have blamed Vrána if he'd just decided to stop playing. But the captain decided that playing was the best way for him to deal with the tragedy.
© Pan Kapitán. Jeho osobnost, charakter a vnitřní síla byla nezbytnou ingrediencí mistrovského koktejlu. Médiím toho v posledních týdnech mnoho neřekl. S čerstvým titulem za svým pásem ale pár rozhovorů rozdal.

? https://t.co/ZRHsM6kXXj pic.twitter.com/wspFAU1Yop

— HC Oceláři Třinec (@hcocelaricz) April 30, 2021
"To put it bluntly, it was such an escape for me," Vrána told the club website. "It may sound silly, but for me it was a salvation in that I didn't just have to sit at home. I didn't have to concentrate on being there alone, having a little son. I was able to enter the dressing room and turn it off, just talk typical nonsense with the boys and even laugh a little. When you play hockey professionally, you don't even have time to think about anything else. It's the playoffs, let's go!
"My family helped me a lot! If my wife's parents hadn't come, I probably wouldn't have returned," Vrána continued. "For the first two weeks, I wasn't at all sure if I wanted to, but after a while, I saw that it was working at home. My mother-in-law and father-in-law, my dad, mom, sister, they all supported us. So I felt, why not? I agreed with the coach that I would try and see. If it worked, I'd play; if it didn't, I wouldn't, and I'd just be here with the boys. I felt fine, I enjoyed it, my head wasn't all messed up."
As for the team from Liberec, the "White Tigers" finished fourth in the regular season and faced some adversity in the semi-finals when they built a 3-games-to-0 lead on Sparta Prague before watching that lead fizzle away. In a seventh and decisive game in Prague, they eeked out a 2-1 win to reach the finals, where they were in almost every game but just couldn't score timely goals.
"Right now, of course, I'm disappointed," Liberec defenceman Ronald Knot told the club website. "On the other hand, a lot of people didn't believe us before Hradec, Sparta and Třinec, and then we played a balanced game in the finals, although it doesn't look like that according to the outcome. I think that when the disappointment is over, we will be able to say that the season was successful."
Třinec and Liberec have been two of the Extraliga's most dominant teams over the past several years, with every final since 2015 featuring at least one of the two teams, and the last two featuring both. Both teams are also members of the E.H.C. Alliance, with Liberec joining as a charter member and Třinec in 2019 as the Alliance's 86th and most recent new member.
While Třinec and Liberec have been the top Czech teams of the past decade, the Chance Liga finals featured two clubs who had dynasties in the 20th Century and were fighting to return to the top league. From 1966/67 to 1984/85, Dukla Jihlava and the team in Kladno combined for 16 out of 19 Czechoslovak titles, with Jihlava winning 11 times and Kladno five. However, both have been up and down since then, with Kladno most recently playing in the Czech Extraliga in 2019/20 and Jihlava the season before.
"Tak jsme druhý, no a co?" Volaly dvě stovky fanoušků @hc_duklajihlava. V nočních hodinách přivítaly v Jihlavě autobus, který přijel z Kladna. pic.twitter.com/ogiLU9FX7M

— Jan Kodet (@johann_kodet) April 29, 2021
Kladno finished first in the regular season with 74 points and Jihava finished second with 70, and then both won their quarter-final and semi-final series to meet in the finals, with the winner earning a promotion. In a strange series where the visiting team won each of the first six games, Kladno bucked the trend in the seventh game on Thursday with a four-goal outburst in the first period, eventually winning 5-2.
Of course, Rytíři Kladno is led by its part-owner, 49-year-old legend Jaromír Jágr, who recorded one assist in the game. This season, Jágr had 12 points in 19 regular-season games and 10 points in 16 playoff games, while having a ton of off-ice worries with club revenues severely limited by the pandemic. With the season now over, the management hat was already on his head moments after the final horn.
"Honestly, I'm 50 years old. During my career, I've won a lot of games and lost a lot of games," he told hokej.cz after Game 7. "At 4-0, I was already thinking about how we would build for next year, and then when they made it 4-2, I was thinking about how we would hold the lead. I had several thoughts going through my head within 20 minutes."
Already committed to playing in an outdoor game in December 2021 and expressing a wish to play beyond his 50th birthday in February 2022, we can expect to see Jágr on the ice for his 34th professional season in at least a limited capacity next season.
"I can't stop yet. We've almost sold out Winter Classic. But honestly," he paused before critiquing his own performance, "I know I have to be much better. I want to be better to help the team. I want to be better to help (Plekanec). But I believe I can do it. It's just a matter of training and being in better shape: playing at 120 kilograms at age 50 isn't easy."
While the Liberec players can feel good about their trip to the finals and look ahead to next year, second place is harder to swallow at lower levels, where the stakes can in fact be higher.
"When you finish second in the Extraliga, you get a medal and can somehow enjoy it." Jihlava head coach Viktor Ujčík told the club website. "It's a big difference to lose a series that decides whether you play next year's Extraliga or Chance Liga. We are very sorry because of the great Jihlava fans and everyone. It was very close. After the game, one dream ended and we will start dreaming again tomorrow."
While the loss stung for the Jihlava coaches and players, their fans – who had to endure a tough season of not being able to watch them live very much – were nonetheless proud of them. They took to the streets of the town in the Czech highlands the evening of the seventh game and showed their appreciation.
As per agreement on playing the 2020/21 season amid the COVID-19 pandemic, no team was relegated from the Extraliga. Therefore, next season will be played with 15 teams in the top league and two teams will be relegated at the end so it returns to 14 teams for the 2022/23 season.