Tappara finally gets its CHL title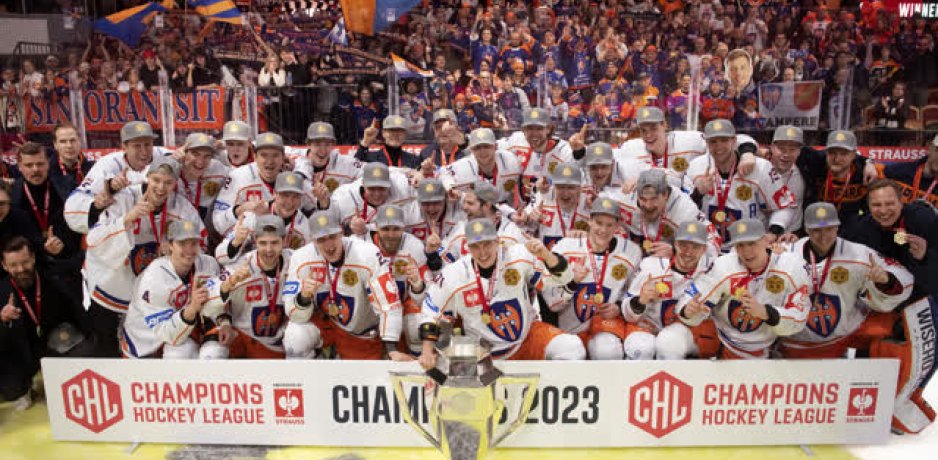 Winners of 18 domestic titles in Finland and one of only three teams to qualify for each of the Champions Hockey League's first eight seasons since its 2014/15 relaunch, Tappara Tampere finally has its first European club championship following a 3-2 road victory over Luleå Hockey on Saturday. This victory in the final also ensures that the team will return in 2023/24 for a ninth CHL campaign.
Prior to the CHL, Tappara also flirted with a European title but never quite got there, finishing second at the IIHF European Cup in 1980, third in 1983 and 1988, and reaching the semi-finals in 1976.
Was it all just a dream? ????#ChampionsGoBeyond #CHLFinal pic.twitter.com/xjAcJlq5TT

— Champions Hockey League (@championshockey) February 19, 2023
The other two teams to play in each season were both defeated in this year's semi-finals: EV Zug by Tappara and four-time champion Frölunda Gothenburg by Luleå.
This was the first final played between two previous finalists. Of course, Luleå won the first one eight years ago, defeating Frölunda Gothenburg 4-2 at the same Coop Norrbotten Arena that hosted this year's final.
For six seasons, Tappara advanced no further than the round of 16. The Finnish team was often strong in the group stage but then hit a brick wall in the knockout stages. Last season was a bit of a breakthrough – a run to the final before falling to Rögle Ängelholm in a tight game, 2-1.
Tappara defenceman Valtteri Kemiläinen was also a winner last season with Rögle.
"Back-to-back CHL champs, so I couldn't be happier," the two-time champion said.
???? @Tapparaofficial Valtteri Kemiläinen after winning the CHL for a second time in a row!#ChampionsGoBeyond #CHLFinal pic.twitter.com/pc2T6QP6PI

— Champions Hockey League (@championshockey) February 19, 2023
"We played for Kristian Kuusela. This was probably his last chance to win the trophy so it was really nice to win it for him," Kemiläinen continued, speaking about Tappara's veteran winger who turned 40 on Sunday – the day after the final.
This year's final was another game that went right down to the end, but it didn't seem like that would be the case for a while. Kristian Tanus on an early power play and then the team's top scorer Niko Ojamäki made it 2-0 Tappara by the 7:06 mark of the first period. That's the way the score remained through 40 minutes.
Back in February 2015, Luleå trailed Frolunda 2-0 heading to the third period, but when Jori Lehterä banked in a pass attempt off a defenceman's stick a minute into the third period to make it 3-0, it appeared that Tappara had a stranglehold. But Luleå, who hadn't lost a CHL game all season before the final, wasn't about to go quietly.
A string of three straight Tappara penalties and the coach's bold move to pull goaltender Matteus Ward with over eight minutes remaining tilted the ice in Luleå's advantage. They scored twice – Erik Gustafsson on the power play with 7:56 to go andJuhani Tyrväinen with 2:10 to go. The arena was rocking, but Heljanko had nerves of steel and shut the door, making 34 saves on the night.
"The main this is that cup is over there.I'm happy that I helped the team win it," said the MVP of the game and the whole 2022-23 CHL season.
Christian Heljanko was the star player of the 2023 CHL Final - here are the goaltender's thoughts on the game and his first title of European Club Champion!#ChampionsGoBeyond #CHLFinal pic.twitter.com/3MlZFc5Hvw

— Champions Hockey League (@championshockey) February 19, 2023
The new champions celebrated on the ice – to the delight of the hundreds of Tappara fans to made the trip to northern Sweden – and then flew home with the European Trophy. The team arrived home during a light snowfall in the wee hours of Sunday morning.
CHL-MESTARIT OVAT LASKEUTUNEET TAMPEREELLE ????#Tappara #ChampionsGoBeyond pic.twitter.com/s5njNScPWx

— Tappara Tampere (@Tapparaofficial) February 18, 2023
And on Sunday, the fans who didn't make the trip to Luleå had their chance to see their heroes and their new piece of hardware on display in its new home: Tampere.
Tapparan pelatessa CHL-liigan mestaruudesta Ruotsin Luulajassa, Tavara-asemalla sydämet löivät taistelun tahtiin. Yhteinen katsomo arvostettiin korkealle ja voitto räjäytti pankin. Katso laaja kuvakooste tästä.⭐#Tappara #CHL #Tampere https://t.co/gI1k3HPZjU

— Aamulehti (@aamulehti) February 19, 2023

Photo: Simon Eliasson/Bildbyrån