ONLINE TUTORIAL: Digitally Enhanced Dasherboards: How the NHL shifted the signage landscape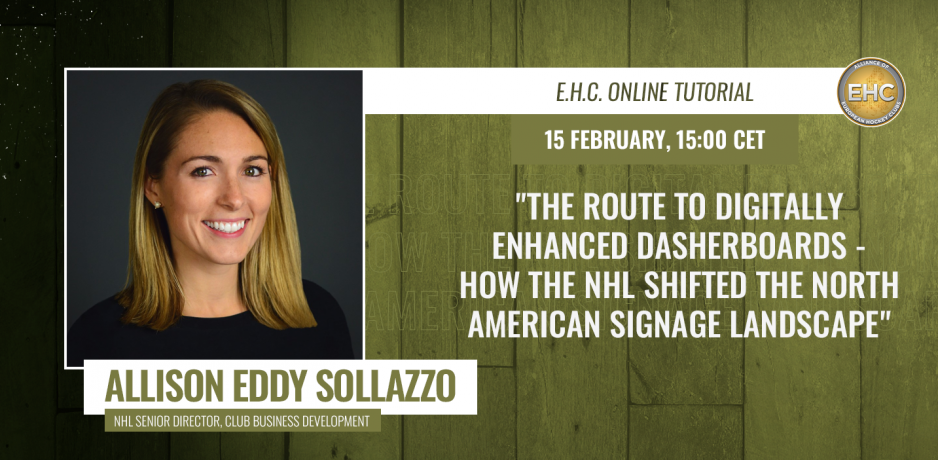 The fourth and final online tutorial presented by the Alliance of European Hockey Clubs will take place on Wednesday, 15 February. Join Allison Eddy Sollazzo on the topic: "The route to Digitally Enhanced Dasherboards: How the NHL shifted the North American signage landscape."
Anyone who's watched National Hockey League games on television this season has noticed them: the Digitally Enhanced Dasherboards (or DED). As a Director of Club Business Development in the NHL for the past several years – and the Senior Director since October 2021 – Sollazzo has been part of the process that's seen them come to fruition.
"My role at the NHL is to roll out new leaguewide partnership revenue-generating platforms, consult with all clubs on best business practices, facilitate partnership sales from league to club and club to the league, modernize initiatives that improve the fan experience and keep our clubs apprised on new business developments that impact the bottom line," she explained.
Prior to that, she worked for several North American sports teams, including the NFL's Miami Dolphins and MLB's San Diego Padres.
"In my roles at both the Dolphins and Padres I focused on building, implementing and monetizing new platforms that enhance the fan and brand experience," said Sollazzo. "Rolling out new initiatives for regional professional sports teams was a great lead up to the role I'd later be hired for at the NHL."
"There have been many benefits of DED," Sollazzo began. "Namely that the platform provides dynamic advertising that can be customized to an intended fan audience. The available tools include marketing CTAs, social media integrations, QR codes, designations and slogans, logo lockups with the playing team, product imagery, flighted campaigns, and above all, marketers can change the ad period by period."
Whereas before: "Static dasherboards were much smaller in size and limited to brand logos. They are also static and remain in their same board location during the game."
Of course, that doesn't mean the concept can't be improved upon, and that's what the NHL plans to do.
"In the future, we hope to use the DED technology to include live game elements as they happen," she said. "For example, team introductions, goals, penalties, power plays and winning team celebrations within the appropriate broadcast. We tested this during the 2023 Honda NHL All-Star game and it was well received."
And as this tuition is aimed at Europe, Sollazzo is quick to point out that DED is already seen in Europe thanks to NHL's European broadcast partners in various countries, and the possibilities are there for European leagues – and therefore member clubs – to grow their revenues through DED.
"Europeans will see more international DED technology in NHL broadcasts in the 2023-24 season," she said. "The benefits of implementing this technology in other European hockey leagues are countless. Customizable messaging, bigger ad canvas, targeted viewer reach and higher unaided viewer brand recall are some benefits that come to mind first."
Sollazzo's tutorial – which begins at 15:00 CET on Wednesday, 15 February – is the last in a series of four. First was Magnus Ahxner's "How a league can help its clubs to boost their revenues" on 25 January, followed by Martin Åkerberg's "Idea over wallet: 10 rules for small-budget clubs to be competitive in pro hockey" on 2 February and Dr. Elisavet Argyro Manoli's "How to make people like you" on 8 February.
To register for this online tutorial, email european@hockeyclubs.eu.