ONLINE TUTORIAL: How to make people like you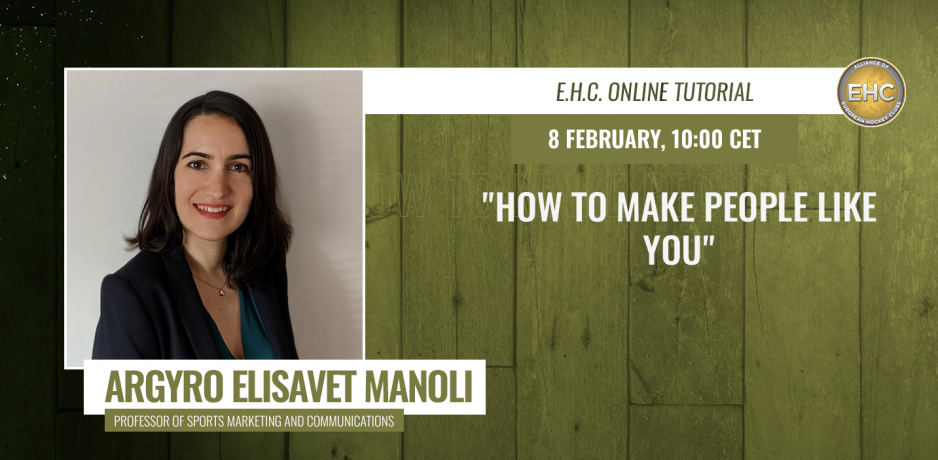 On Wednesday, 8 February, will be the third installment of four online tutorials organized by the Alliance of European Hockey Clubs. This one will be by Dr. Elisavet Argyro Manoli, titled: "How to make people like you."
Dr. Manoli is a Senior Lecturer in Sports Marketing and Communications in England at Loughborough University's School of Sport, Exercise and Health Sciences. While the topic of her tutorial isn't restricted to hockey or running a sports club, the benefits should be obvious. It is a topic she has researched, written about, and taught at university.
"The tutorial will be about public relations, which encapsulates all actions and strategies taken to build goodwill," said Manoli. "The notion of P.R. goes of course beyond sport, but they are very much applicable and indeed applied in sport and hockey in particular. In the tutorial, we will be focusing on how we can apply P.R. in hockey clubs in order to make others … like us."
Manoli went on to explain why her tutorial would be useful to people who run hockey teams, among other professions.
"Good PR has been associated with a number of benefits," she elaborated. "To focus on the most prominent ones, building goodwill makes all stakeholders, fans, governing bodies, sponsors, and the press be 'drawn' to you. As such, any future communication can be prioritized when received, making a club favourable in the eyes of fans and sponsors, while simultaneously building feelings of trust. This trust is also an important benefit to have since clubs can be thus 'protected' should an unfortunate event or crisis occurs."
While currently working as an educator, Manoli has plenty of experience in the sports industry working for clubs, governing bodies and sporting events. Her résumé includes football clubs AEK Athens FC in Greece, Middlesbrough FC in England and Barcelona FC in Spain, the British Handball Association and the Open 470 European Sailing Championships. She also has also done a wealth of research on public relations in sports, which has been published in highly-esteemed academic journals and books and has been presented at numerous academic conferences.
A detailed list of Dr. Manoli's publications and research can be seen on her Loughborough University bio page.
Manoli's tutorial – which begins at 10:00 CET on Wednesday, 8 February – is the third in a series of four. First was Magnus Ahxner's "How a league can help its clubs to boost their revenues" on 25 January, followed by Martin Åkerberg's "Idea over wallet: 10 rules for small-budget clubs to be competitive in pro hockey."
The final tutorial will take place on Wednesday, 15 February starting at 15:00 CET. It will be led by Allison Eddy Sollazzo on the topic "The route to digitally-enhanced dasher boards: How the NHL shifted the North American signage landscape."
To register for any of the online tutorials, email european@hockeyclubs.eu.