ONLINE TUTORIAL: Idea over wallet: 10 rules for small-budget clubs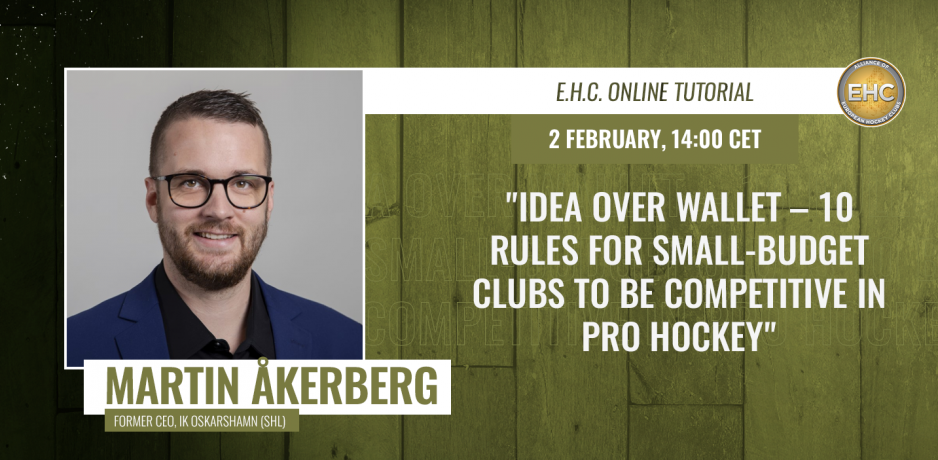 In the second in our series of four online tutorials, Martin Åkerberg presents "Idea over wallet: 10 rules for small-budget clubs to be competitive in pro hockey."
It isn't easy for a small-budget club to compete with giants in a top sports league, but it is possible. As the American baseball film "Moneyball" taught us, the smaller club can't outspend the larger one, so it must outthink it. Hence the title: Idea over wallet.
For many years, that's exactly the way Martin Åkerberg did business as the CEO of Swedish hockey club IK Oskarshamn, which competes in the country's top league despite playing in a town that has, according to the 2010 census, 17,258 residents. The town on Sweden's southeast coast is where Åkerberg grew up and developed his love for the sport and team, even though IK Oskarshamn was toiling in regional leagues.
"I was a big fan of the team in my teen years and got the chance to work in the organization when I was 19," he said. "I stayed in the organization and worked my way up to be CEO seven years later."
Oskarshamn was promoted to the second-tier HockeyAllsvenskan in 1999 and, under Åkerberg's leadership, which ran from 2012 to 2022, Oskarshamn rose through the league before being sensationally promoted to the SHL for the 2019-20 season, but it wasn't easy.
"The club developed a lot during my time as CEO," Åkerberg continued. "We had big problems with the economy in the beginning and were just a few weeks from bankruptcy in 2015. We managed to survive and slowly built a strong management and solid financial situation."
With its small population and arena with a capacity of 3275, the club had no business being in the top league and was not expected to stay there. But the people running and playing for the team have shown an incredible ability to punch above their weight, even making the playoffs for the first time last season. They are hanging in there this season as well.
"The foundation of our success was professional management and a coaching staff that were able to develop young players that suited our budget," he said, hinting at the "Moneyball" philosophy. "With a limited budget we had to find players that no other team had thought of and give them a good development."
Of course, short-term success is one thing but Åkerberg thinks it's also possible to stay at the top.
"One other important rule that I will speak about is long-term goals and plans," he said. "We worked with three-year plans that created continuity, stability and patience in the organization. That can be hard in the sport business if the results don't go your way, but with a long-term agenda and financial stability, it is easier to look past the results and not to panic."
Åkerberg's tutorial – which begins at 14:00 CET on 2 February – is the second in a series of four. First was Magnus Ahxner's "How a league can help its clubs to boost their revenues" on 25 January. Following him are:
8 February, 10:00 CET – Elisavet Argyro Manoli – "How to make people like you"
15 February, 15:00 CET – Allison Eddy Sollazzo – "The route to digitally-enhanced dasher boards: How the NHL shifted the North American signage landscape."
To register for any of the online tutorials, email european@hockeyclubs.eu.