ONLINE TUTORIAL: how a league can help its clubs boost revenues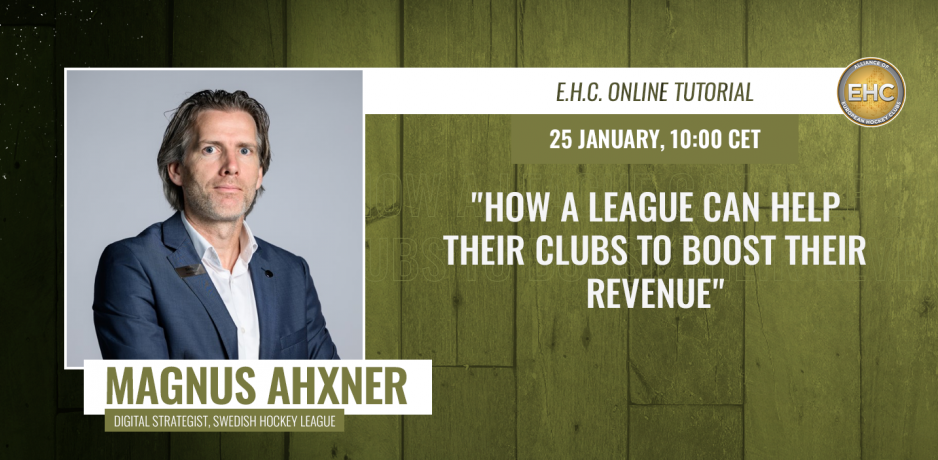 From late January and mid February, the Alliance of European Hockey Club presents four online tutorials. The first will be on Wednesday, 25 January by Magnus Ahxner, on how a league can help its clubs to boost their revenues.
In European hockey, clubs are left to their own devices to generate revenue, while leagues merely distribute the revenues generated from central league marketing among the clubs. However, Ahxner believes that clubs stand to gain more by pooling resources.
"Digital platforms and systems are often expensive and complex, so there is scale and efficiency to having common platforms," he explains.
Ahxner comes from an IT background before moving to hockey, and now works for the Swedish Hockey League, which is beginning to implement some of his ideas. He is, for example, overlooking how the clubs can gather as much data as possible from their customers by having all SHL arenas on the same WiFi system.
Without going into too much detail about his tutorial, Ahxner says that he will explain how to "maximize current sales within the classic products in ice hockey such as tickets and merchandise, but using digital tools for maximum effect."
Additionally, Ahxner says: "There is great potential in using networks and customer insights to drive sales of external partners' products."
Using his knowledge from the IT industry, Exhner sees numerous possibilities for revenue growth in hockey.
"There is great potential in general business development both with the help of technology but also the fact that there are so many who are interested and have passion, which has attracted me to see if it is possible to convert it into greater business value."
On entering the business of hockey, Ahxner says: "I bring with me the dare to think new and challenge old truths."
Ahxner's tutorial – which begins at 10:00 CET on 25 February – is the first in a series of four. Following him are:
2 February, 14:00 CET – Martin Åkerberg – "Idea over Wallet: 10 rules for small-budget clubs to be competitive in pro hockey"


8 February, 10:00 CET – Argyro Elisavet Manoli – "How to make people like you"


15 February, 15:00 CET – Allison Eddy Sollazzo – "The route to digitally-enhanced dasher boards: How the NHL shifted the North American signage landscape."
To register for any of the online tutorials, email european@hockeyclubs.eu.