Klagenfurt adds another title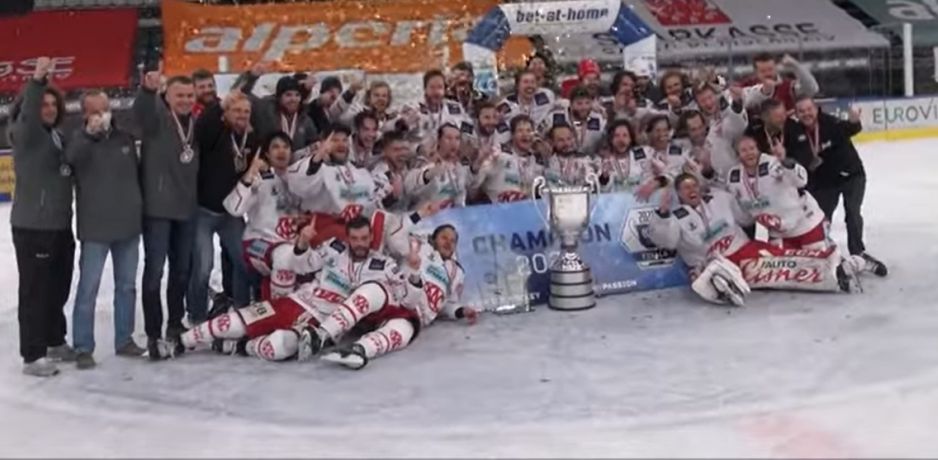 Stop me if you've heard this one before: EC-KAC Klagenfurt is the ice hockey champion of Austria.
Two years ago, the last time a champion was crowned, the club from Carinthia was crowned for a record 31st time following a victory over the Victoria Capitals and in 2021 they have repeated, winning the bet-at-home ICE Hockey League finals in five games over the Italian-based Bolzano Foxes.
Bolzano and Klagenfurt finished 1 and 2 in the regular season and in the pick round, so it's no surprise they met in the finals. But Klagenfurt came up with a big 6-0 win in Game 1 of the finals, thanks to a Nick Peterson hat trick and a 29-save shutout by Sebastian Dahm. Leading the series 2-1, Klagenfurt took a stranglehold on the series with a 2-1 overtime win on home ice in Game 4 thanks to an overtime goal by defenceman Blaž Gregorc, and then wrapped it up back in Bolzano, where they happily hoisted the trophy in an empty rink.


"I am very proud, because it is unbelievable how strong and how continuously our team has grown over the course of this season and how it has developed," head coach Petri Matikainen told the club website after the team held on for a 5-3 victory in the fifth and final game of the series.
Peterson, the 31-year-old Canadian winger, has now been the team's offensive leader for three seasons. This season, his 50 points led the team and tied for fifth in the league and he became unstoppable in the post-season, recording 23 points and a +10 rating in 15 games to earn the playoff MVP award. Meanwhile, Dahm and Gregorc were significant additions this season and recognizable names due to their international careers representing Denmark and Slovenia, respectively. Gregorc was a steady defensive force who could chip in offensively while Dahm's 1.81 goals-against average and .931 save percentage were both tops in the league for any goalie who played more than 10 games.
Other key players included Canadian winger Matt Fraser, Slovenian centre Rok Tičar and a trio of veteran Austrian forwards that formed the leadership group: Thomas Koch, Thomas Hundertpfund and captain Manuel Ganahl.
Matikainen, a former defenceman who finished his playing career in Klagenfurt in 1999, has now coached the team for four seasons and won two titles.
2019: #M31STER.
2021: #3ACK2BACK.
Und die Geschichte von Petri Matikainen mit den #Rotjacken ist noch nicht vorüber... #ICEtransfers pic.twitter.com/01kNbphMdh

— EC-KAC (official) (@EC_KAC) April 27, 2021
"How we fought our way through the last few minutes showed how good we have become as a group this year – just a great team!" Matikainen continued. "But I'm just as proud of the employees in our organization and the board members, it feels like the entire club is pursuing the same idea and therefore everyone is heading in the same direction. Above all, I am grateful for my staff and this team, this great mix of personalities and characters. To win the championship with such a structured squad, with so many local forces, is something very special."
And they'll be given the chance to continue. Obviously pleased with the results, club ownership has extended the contracts of Matikainen and his staff, which includes Finnish assistant coach Juha Vuori, Slovenian goaltending coach Andrej Hočevar and German performance coordinator Leo Kraus. Other than Matikainen, the other three were all new to the staff this season.
Typically, an EC-KAC title is festively celebrated in a crowded Neuer Platz, but this year was a little different. After winning the title on the road, the team made the four-hour trip through the Alps back home, where they had one last celebration as a group in the middle of the night in front of the Lindworm fountain in a deserted square.