Klagenfurt wins record 31st Austrian title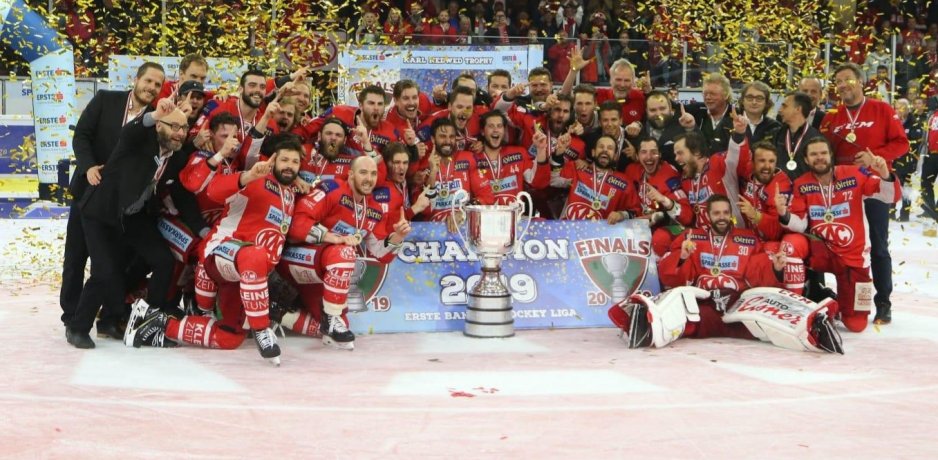 The championship of the Erste Bank Eishockey Liga was decided on Wednesday night, with EC-KAC winning its record 31st Austrian title. The Klagenfurt squad defeated the Vienna Capitals 3-2 in overtime on home ice to win the final series 4 games to 2.
"I am both tired and overjoyed at the same time," head coach Petri Matikainen told the club website after the game. "I am exceptionally happy for our players as they have grown over the season."
EC-KAC started the season slowly, finished third in the regular season and maintained that position through the EBEL's pick round. Then in the playoffs, they knocked off defending champion HC Bolzano in five games and swept the Graz 99ers to reach the finals.
"We started with seven pre-season defeats, but followed our path from the first day of practice," Matikainen continued. "A lot has been demanded of our team from our coaches, but we have made steady progress, which has allowed us to continue to grow in our belief in ourselves and our ability to meet challenges."
It was an international effort too. Canadian winger Nick Petersen was the team's offensive leader throughout the season with 65 points in the regular season and 14 more in the playoffs. Petersen scored the tying goal late in the third period of game six, and then defenceman Adam Comrie scored the OT winner.
But strong team play and stingy defence were the real keys to Klagenfurt's success. The team surrendered a league-low 96 goals against during the regular season, thanks in large part to the solid goaltending of Lars Haugen. The Norwegian international played in 54 of the team's 69 EBEL games this season, and posted two shutouts in the semi-finals and two more in the finals.
As Matikainen said, though, it was a full commitment from the club from top to bottom.
"I have been very well supported in my work by my coaching staff, as well as the management. We all pulled together and in the end we are standing with this trophy the team has won because it has created an environment in which to get involved could develop a team dedicated to winning.
"This process intensified once again in the playoffs, with each hurdle passed we believed even more, and in the end it was also possible to defeat a favourite like Vienna. I'm really happy for our team, our club. It's a great day."
Klagenfurt will formally celebrate its team's 31st title, and first since 2013, on Monday at Neuen Platz, the largest square in the city.
Photo: EC-KAC (official)