Hockey Checks Back! Business Forum in Zug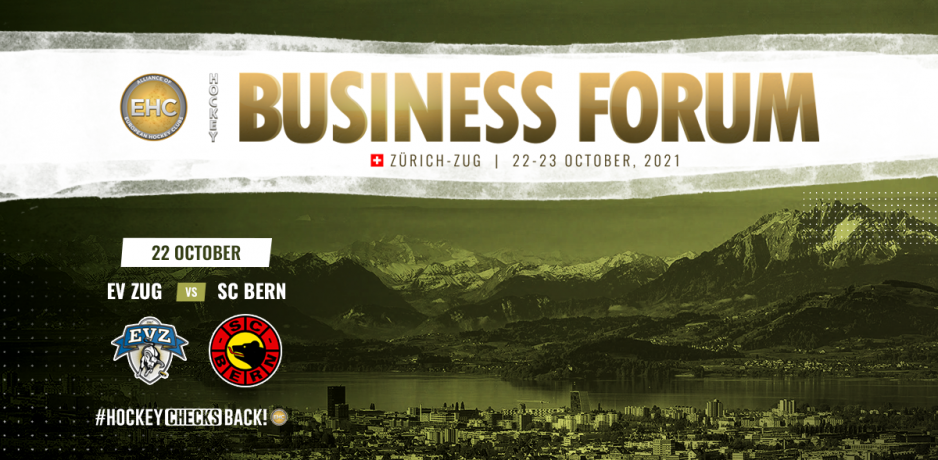 The Alliance of European Hockey Clubs has the pleasure to invite the international hockey family to the 5th E.H.C. Hockey Business Forum in Zurich & Zug, Switzerland. 22–23 October 2021.
The event is called the best forum in Europe to attend for hockey clubs looking to grow their businesses.
See the tentative program below.
Contact: european@hockeyclubs.eu to obtain the registration link.
Note: One person per registration.
Initially, two persons per club/organization. (We may possibly allow more later).
This will be a fantastic weekend in Switzerland, with arrival on Friday 22 October and a visit to the under-construction Swiss Life Arena (the new home of the ZSC Lions in Zurich) and in the evening attending the Swiss National League clash between defending champion EV Zug and 16-time Swiss champion SC Bern.
Game ticket information TBA.
The E.H.C. Hockey Business Forum will take place on Saturday 23 October, with world-class presenters and a Trade Show with E.H.C. partners. The event is designed first and foremost for club presidents, CEOs, General Managers and Marketing Directors, and representatives from leagues and federation executives. The list of speakers & presenters will be announced soon.
Friday 22 October
Arrival in Zurich (airport)
Lunch near ZSC Lions home arena
Visit to ZSC's new Swiss Life Arena
Bus to Zug
Check-in at Parkhotel, Zug
Pre-game meal at Pier-41 restaurant
Game: EV Zug vs. SC Bern
Saturday 23 October
E.H.C. Hockey Business Forum (09:00 – 15:00)
Networking & Dinner Cruise on Zuger Lake
Sunday 24 October
Departure (direct train from Zug to Zurich airport)
The last date to register for the event and to order game tickets:
9 SEPTEMBER
Covid-19: In response to the COVID-19 pandemic, there are special rules for people entering Switzerland. Depending on which country you are travelling from, you might have to fill out an entry form or show proof of a negative test and/or a vaccine certificate. For the event, rules established by the Swiss Government for conducting events will follow. Please see information from the Swiss Federal Office of Public Health for more information.
Click here for presenters and speakers in previous E.H.C. Hockey Business Forum: