European pro hockey: a men's bastion no more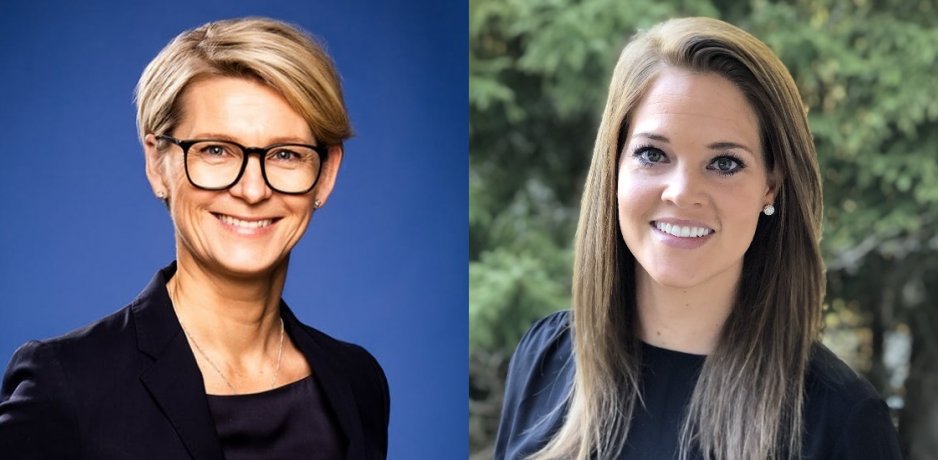 On April 2, Jenny Silfverstrand, 47, was appointed CEO of the Swedish Hockey League. Six days later, Florence Schelling, 31, was named General Manager of Swiss powerhouse club SC Bern. Never before have such key positions in European pro hockey been held by women. The barriers are definitely broken. Pro hockey is no longer a men's bastion.
Both these appointments must be considered groundbreaking as far as women's influence in European professional hockey. Never before has a woman held the highest operational position of a men's top pro league, and never before has a woman been a GM of an elite hockey club in one of Europe's top pro leagues.
Although a GM's position in a European club sometimes differs from what usually is associated with this role in a North American context, former Swiss national team and Olympic goalie Florence Schelling will be responsible for recruiting, signing and putting together a team which every year is expected to compete for the national title. This is definitely a first.
Both appointments are a sign of a new era in a sport which not only has been very male-dominated, but which also has been considered as – or suffered from – being very macho. Most likely, this is just the beginning. Silfverstrand and Schelling are pioneers who may be followed by others. Once barriers are taken down, there is no going back and more will surely follow.
What is very interesting with the appointments of Silfverstrand and Schelling is that both these jobs come with considerable pressure. The Swedish Hockey League, SHL for short, is one of Europe's best pro leagues, where one club (Frölunda Gothenburg) has dominated the Champions Hockey League with four wins and five finals in the CHL's first six years of existence, a league with an impressive central TV deal and a league which is superior in exporting talent to the NHL.
Silfverstrand, who will assume the position this coming autumn after having spent the last eight years as the CEO of SHL's Djurgården Stockholm, is – despite the SHL's success – not coming to a set table. Periodically over the last few years, the SHL has been marred by discontent at the hands of fans and media by whom the league has been blamed to be overly commercialized and to for being too distanced from the traditional hardcore fans. The SHL has had challenges in responding to this in a convincing way.
Jenny Silfverstrand blir ny VD i SHL #SHL #twittpuck #ishockey https://t.co/prc58nMRhP

— SHL.se (@SHLse) April 2, 2020
There is no question that Jenny Silfverstrand, with her charisma and unpretentious approach, is the right person to change the way how the SHL is perceived by its own fans. She brings an excellent résumé and delivery from her tenure at Djurgården. Silfverstrand was only 40 when she was entrusted with taking over the reign at Djurgården – Swedish hockey's most prestigious and winningest club – when the Stockholm team was in the second-tier HockeyAllsvenskan, having been relegated there one year earlier.
The club was in turmoil, to say the least. There was very little money, the organization not really major-league and the club which had won 16 national and two European titles, was far, very far away from its glory days.

Under Silfverstrand's stewardship, Djurgården was promoted back to the top league, the organization was gradually improved with capable people and every year since she took over, Djurgården made an operational profit. All this was reflected on the on-ice performance, as Djurgården made it to the SHL finals in 2019-2020, for the first time in nine years.
While Silfverstrand's appointment was not a shocker, one can say that the announcement which came around lunchtime on April 8 – that Schelling was taking over as Director of Sports / GM from Alex Châtelain at Swiss powerhouse SC Bern – was unforeseen.
Florence Schelling ab sofort als Sportchefin beim #SCBern. Lars Leuenberger bleibt Assistenztrainer und Alex Chatelain übernimmt den Aufbau des Bereich Analytics. Mehr dazu: https://t.co/9c4oixB8HJ pic.twitter.com/XGnAo7sSwd

— SC Bern (@scbern_news) April 8, 2020
For most hockey people, Florence Schelling is known as the most accomplished international female goalie of all time. She started her international career in 2004 (at the age of 15!) and by the time she retired 15 years later, she had played in more games at the World Women's Championship (44), more minutes (2,578:35), and won more games (21) than any other goaltender.
She played 28 complete games from the 2013 Women's Worlds, through the 2014 Olympics, 2015, 2016 and 2017 WW, and 2018 Olympics. During this span of nearly five years (from 5 April 2013 to 17 February 2018) no one played goal for Switzerland in a senior IIHF event except Schelling. Women's hockey's Glenn Hall, if you will. Following retirement, Schelling completed her MBA.
Just like for Silfverstrand, Schelling's new job comes with considerable pressure. SC Bern has for 20 years now been the club with Europe's highest attendance figures, always averaging between 16 000 and 17 000 fans in the Swiss capital. Just like Djurgården, SC Bern has won its national title 16 times. They have had an amazing run in the last decade, winning the championship in 2010, 2013, 2016, 2017 and 2019.
SC Bern is a club were winning not only is desired; it is expected. This is why not making the playoffs this season (before the playoffs were cancelled due to the COVID-19 pandemic) was as extraordinary or even as shocking as when the Montreal Canadiens missed the playoffs 50 years ago, in 1970.
SC Bern will have a new coach next season and several new players will have to be signed. There will be things to be done almost immediately for Schelling.
There are many of us who are pulling hard for Silfverstrand and Schelling. Jenny is not taking over some lowly hockey league in Europe's Mediterranean region. She will be the new boss of the Swedish Hockey League. Florence is not taking over a newly promoted club in a small league which very few people have ever heard if. She will be the GM, a job which will include the development of strategy and analytics, at European giant SC Bern.
The barriers are down. The men's bastion is no more. This is a great time to be alive in European professional hockey.