Defying the pandemic: DEL starts against all odds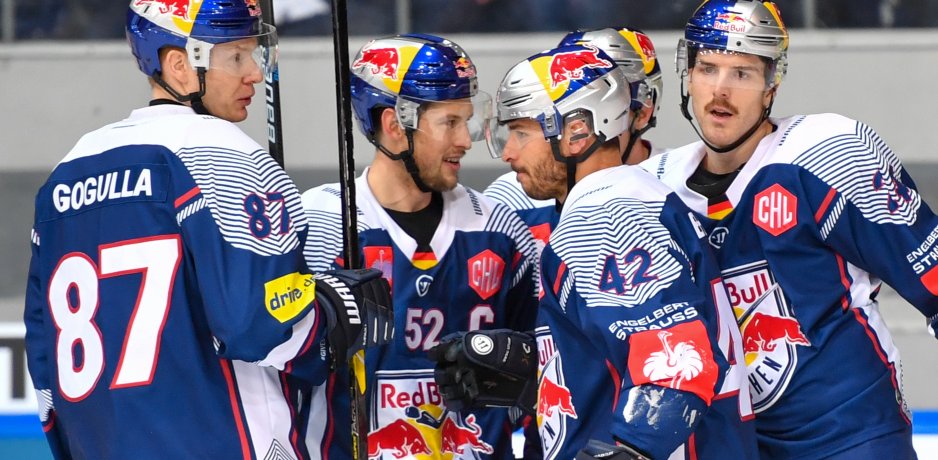 ​The timing, well, it could have been a little – no – a lot better.
Germany's premier ice hockey league, the newly renamed Penny DEL, will start its 2020-21 season on Thursday, 17 December, thus being the last of Europe's top leagues to open the season. The reason is of course COVID-19. There is hope, but also lots of concern.
If you start, you may as well do it with a bang! The Penny DEL opens with the biggest regional derby there is in German hockey: Kölner Haie vs. Düsseldorfer EG. The Düsseldorf squad travels less than an hour to Lanxess Arena in Cologne – Europe's Europe's biggest hockey arena, but with no fans present in the building.
On Sunday, 13 December, German federal and state leaders met virtually to discuss new rules following last Friday's new record case number of almost 30 000 new infections and the exponential rise in COVID-19 infections.
As of Wednesday, 16 December, most stores in Germany will shut, along with schools and daycare centres. This will be the second lockdown in Germany in order to decrease the number of infections. The shutdowns have not been as strict as in France, Italy or Spain. Still, the restrictions had to be intensified since "lockdown light" (put into place at the beginning of November) has proved not to be enough to curb the trend.
Still, German ice hockey needs the boost of its premier hockey league returning. After the second-tier DEL2, the regional Oberliga Nord and Oberliga Süd and the women's elite league Frauen-Bundesliga had been playing since the late autumn, the return of the top league is the last exclamation mark that COVID-19 will not be able to erase hockey in Germany.
It has been a tough struggle for the league and its clubs. All German top-league clubs and a lot of the second-league teams depend heavily on game-day revenue. So between 50 and 80 percent of the budget will be missed as the teams will be starting without any attendance and no possibility of selling hospitality packages, merchandise, catering or parking – all the streams that fall under that category.
Football star Podolski will dress up
"It is a risk but we need to be brave," said Kölner Haie CEO Philipp Walter to Germany's Eishockey News the other day, thus admitting that almost every club has serious concerns regarding the new season. Walter was one of the last club officials to confirm the participation of his club in the league's restart.
Walter was able to do so only due to a remarkable marketing campaign Die Haie have been running to collect about one million Euros from fans and partners all over Germany. The club sold #Immerwigger (Keep going) tickets and also asked their season ticket holders to loan funds to their club.
One of the most famous sports figures in the city on the river Rhine supported this campaign. Soccer player Lukas Podolski put in a bet that he would become a Kölner Haie team member if 100 000 tickets (€10 each) were sold. The 2014 FIFA World Cup champion plays for the Turkish side Antalyaspor this season and now has to put his hockey gear on. The fans and the media will love this!
While almost all the teams have in some way asked their fans for support, 13 of 14 clubs have also applied for governmental funding. During this Corona-crisis, the German government handed out lots of financial aid to help businesses that were in huge distress due to COVID-19 restrictions.
The maximum amount that organizations were able to ask for was €800 000 for 2020. There is also supposed to be a similar package for the first half of 2021. Moreover, all the teams have been able to get funding for employees being put on furlough. Some of the clubs even kept the players on short-time up until training camp started on 1 December.
Speaking about the players, yes, they have been very supportive as well. Most of the general managers and sports directors went at least twice into the locker room to negotiate pay cuts and various salary deferral models. Most numbers were not being reported, but most of the players will not make more than 50 to 65 percent of their usual salaries this season.
The only team not really being affected by the financial troubles is Red Bull München. The Munich-based club held training camp as planned from the beginning of August, not having to cut any players' salaries, and not even applying for government funding.
Red Bull swept through the Magenta Cup
So it was no surprise that Munich won the pre-season tournament, the Magenta Sport Cup. It was held among eight of the 14 teams of the league. Two groups of four played to qualify for the semi-finals. After the Schwenninger Wild Wings and Eisbären Berlin dropped out because of COVID-19 cases, Adler Mannheim lost to the Fischtown Pinguins Bremerhaven and Munich beat Düsseldorf in the semis. A high-scoring final game saw the Red Bulls take the cup after a 7-5 win. The team of the most successful head coach of Penny DEL history, Don Jackson, is now the odds-on favourite to win the championship.
New Corona league alignment
The league will be played in a different format than usual. Due to the late start, and to cut down on travel, clubs have been divided into northern and southern conferences. In the North, Bremerhaven, Wolfsburg, Berlin, Iserlohn, Cologne, Düsseldorf and Krefeld will battle for one of the four quarter-final spots. In the South, the race will be between Nuremberg, Augsburg, Ingolstadt, Straubing, Munich, Mannheim and Schwenningen.
Initially, there will be 28 regional game days within the conferences. Following that stage, in the middle of March, there will be 14 game-days scheduled against teams from the other conference, followed by playoffs. The 2020-21 German champion will have to win three best-of-three series.
Can anyone threaten the Bull?
As mentioned, Red Bull München is the favourite to win the league. The 2019-20 regular-season champion "has the most skilled and best-coached team in the league," former Eisbären Berlin manager, six-time DEL-champion and Washington Capitals alum Stefan Ustorf told Eurohockeyclubs.com.
Ustorf sees only one problem facing Jackson's team: "They always seem to run into injury trouble."
"Mannheim, on the other hand, will have to compensate for the loss of Lean Bergman, Marc Michaelis and Tim Stützle when NHL teams call them back," said Ustorf.
Only two of three, Bergman from San José and Michaelis from Vancouver, played the pre-season with the team being on loan while Stützle, the 3rd overall pick by the Ottawa Senators in the 2020 NHL Entry Draft, recovered from surgery on a broken arm.
Stützle, who together with last year's NHL MVP Leon Draisaitl is the highest-drafted German player in NHL history, will anyway not be available to play for Mannheim in the upcoming weeks since he is in Edmonton with Team Germany for the IIHF World Junior Championship. But still, Ustorf feels that "Mannheim will be Munich's major contender and I see these both teams being at least one step ahead of the other clubs."
The dark horse in all of this could be ERC Ingolstadt. "Ingolstadt may be a real good team," says Ustorf pointing out that sports manager Larry Mitchell signed a number of skilled and powerful players.
Other teams to watch are Bremerhaven, who made it to the Magenta Sport Cup finals and seem to be even stronger than last year, and the Schwenningen, who played some remarkably good games in pre-season. They also have a smaller rink after a rebuild of the arena and this may play to their advantage.
Another team to watch will be the Krefeld Pinguine. The Pinguine had some tumultuous off-season, basically exchanging their whole roster almost twice after Canadian head coach Glen Hanlon, who was appointed in the summer, left the club after only two weeks and returned home.
Players to watch
It will be very interesting how Krefeld legend Daniel Pietta, one of the highest-scoring Penny DEL players ever, who was forced to leave the organization despite having a valid contract until 2025, will do in Ingolstadt. Another interesting story could be the goalie situation in Ingolstadt. Michael Garteig, joining from Finnish club Tappara Tampere, might be number one for now but Nicolas Daws, who was with OHL's Guelph Storm during the 2019-20 season, could be a strong challenger. The 19-year-old Daws was drafted by New Jersey 84th overall in the 2020 NHL Entry Draft.
Speaking of draftees, it will be also very interesting to see – provided they stay in Germany – how John Peterka (Munich) and Lukas Reichel (Berlin) develop. Peterka had a short but successful stint with Red Bull Salzburg this season after being drafted 34th overall by Buffalo. Reichel, in contrast, did not shine as brightly as last season during pre-season and will miss the World Juniors due to testing positive for COVID-19. The 18-year-old forward was drafted 17th overall by Chicago this year.
Other intriguing stories: How will German national team forward Felix Schütz do in Mannheim after tearing up the DEL2 during the first few games of 2020-21? Can 2019-20 Player-of-the-Year Marcel Noebels play with as much confidence as he did last year without centre James Sheppard? How will Sheppard do in Cologne, being reunited with coach Uwe Krupp? Will even more Finns be able to break into the Canadian-American ruled league, like Joonas Lehtivuori, Jan-Mikael Järvinen and Tommi Huhtala did with Mannheim last season?
New stars for the Penny DEL have the opportunity to shine after the league lost some well-known names to retirement. Marcel Goc, Christoph Ullmann, Jochen Reimer, André Rankel and Maxim Lapierre will not be seen on German elite league ice anymore. Big losses but also more space for new stars to shine bright.
Navigating through COVID-19
The league supported the development of a COVID-19 re-entry protocol by Grizzlys Wolfsburg team doctor Dr. Axel Gänsslen. The need for such a recommendation for the teams was evident after new Wolfsburg arrival Janik Möser was diagnosed with myocarditis following his COVID-19 infection. Although suffering only mild symptoms, Möser will be out until the middle of January at least.
The virus not only hits the economy of the organizations. More importantly, it also affects people's health in a very serious way. German hockey's focus is very much on health and safety during these unprecedented times.
Photo: GEPA pictures / Ulrich Gamel