Official Partners of the 2019 E.H.C. Hockey Business Forum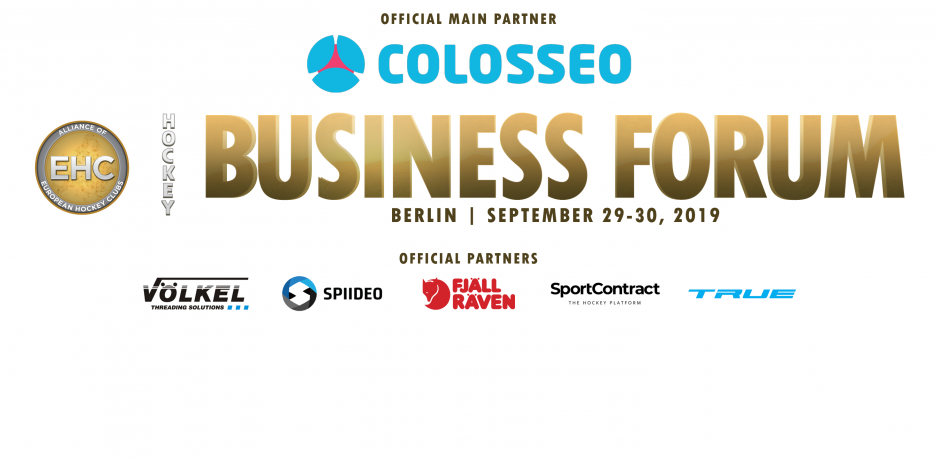 The Official Main Partner of the 2019 E.H.C. Hockey Business Forum in Berlin is ColosseoEAS Inc. along with Official Partners VÖLKEL, Spiideo, Fjällräven, SportContract and TRUE Hockey.
OFFICIAL MAIN PARTNER – ColosseoEAS

ColosseoEAS, Inc. is the world's leading technology provider for sports venues that provides hockey arenas and their visitors with an unrivaled, engaging game-day experience, by equipping them with its cutting-edge technologies in the form of the most complete turnkey solution available on the market today.
This industry-leading solution is already installed at multiple arenas in the NHL, KHL and other major European leagues, the most prestigious ones include Capital One Arena (Washington D.C.), VTB Ice Palace (Moscow), BB&T Center (Miami), Erste Bank Arena (Vienna), Patinoire des Vernets (Genève), Traktor Ice Arena (Chelyabinsk), Espace Malley Arena (Lausanne) and Barys Arena (Astana). In football: Gazprom Arena (St. Petersburg), National Olympic Stadium (Minsk).
Colosseo technology has been in use at IIHF World Championships since 2011, at the 2014 Winter Olympic Games in Sochi or the 2017 Winter Universiade in Almaty. This includes the highly advanced Colosseo Video Goal Judge solution which helps referees solve controversial moments at ice-level and in the goalmouth
The Colosseo product portfolio includes custom-designed LED Center-Hung Scoreboards, LED Displays & Dashers, Ribbons & Perimeters, Integrated Game Presentation System with Timekeeping & Statistics, Interactive IPTV, Player Tracking, Ticketing and Access Control with Biometric Facial Recognition.
With more than 80 installations in North America, Latin America, Europe, Asia and Africa in the past eight years, Colosseo is providing control room operators with cutting-edge technology to take multimedia management, interactivity, entertainment and infotainment to a significantly higher level.
For more information visit http://www.colosseoeas.com/en/
OFFICIAL PARTNER – VÖLKEL

Based in Remscheid, Germany (45km east of Düsseldorf), VÖLKEL carries more than 100 years of experience in the field of threading solutions and has developed into a worldwide leading manufacturer of thread cutting tools and thread insert systems.
Through Mr. Peter Völkel, the successful entrepreneurship is the main sponsor of German DEL-league's Düsseldorfer EG, one of German hockey's strongest club brands and consequently one of the most popular teams. Mr. Völkel is also one of the most committed supporters of the E.H.C. Alliance and one of four Official Partners of the E.H.C. Hockey Business Forum.
While staying true to its four pillars of success – Specialization, Quality, Pricing and Service – VÖLKEL is a highly successful player in the business of thread cutting tools, with over 12,000 different products, all being available from stock. VÖLKEL is currently exporting goods into some 70 countries in Europe, Asia, Australasia, Africa and all of the Americas. The company's export quota is around 70 percent. Since 1996, thread cutting tools conforming to Japanese standards are also available from the Remscheid plant.
The concept of international production fully under VÖLKEL control has been implemented since 1991. VÖLKEL is one of many entrepreneurial success stories which apart from their core business and responsibilities, also support ice hockey in their region.
For more information visit https://www.voelkel.com/en/
OFFICIAL PARTNER – Spiideo

Spiiedo is about sports video recording and analysis made easy, for coaches, analysts and players.
Spiideo makes advanced sports video recording and analysis easy, useful and accessible for hockey coaches, analysts and players. With Spiideo's powerful video solutions and cameras installed in the arena, video recording is always available for practices and games.
No need anymore for manual camera handling, no cameraman, no hassle with cables and files. Spiideo's Virtual Panorama technology captures an overview of the entire rink, as well as details of individual players, in the same experience for live feedback and performance analysis. While used by pro teams and academies in some of the world's largest and most well-known clubs, the system is cost-efficient and also suitable for small clubs with limited resources. In addition, the system allows you to, in a very easy way, enable broadcasting of your matches.
The Spiideo system can be integrated live, straight into programs like Dartfish, Iceberg, SportsCode or other tagging programs. Spiideo was founded in 2012 in Lund, Sweden and has since moved its offices to nearby Malmö.
For more information visit https://www.spiideo.com/
OFFICIAL PARTNER – Fjällräven

Hailing from the small town of Örnsköldsvik in Sweden, a place where mountains and forest meet the sea, Fjällräven is the outdoor clothing and equipment company that's committed to making nature more accessible. In true Swedish style, Fjällräven focuses on simplicity and practicality, and we have the utmost respect for the environment.
This is what Fjällräven does:
Develop functional, durable and timeless outdoor gear
Act responsibly towards nature, animals and people
Inspire and develop interest in outdoor life
Fjällräven's core mission and driving force has always been, and always will be, to enable and inspire more people to spend time in nature. We want our products to help you feel secure and at home in the outdoors, now and in the future.
Fjällräven is part of Fenix Outdoor International AG together with the brands Tierra, Primus, Brunton, Royal Robbins and Hanwag (development and production of outdoor gear and apparel) while Naturkompaniet (SWE), Partioaitta (FIN) and Globetrotter (GER) make up Fenix's retail division. Fenix Outdoor was founded in 2002, with Fjällräven founded in 1960 by Åke Nordin in Örnsköldsvik, Sweden. The iconic popularity of the Kånken rucksack has reached global proportions.

Fenix Outdoor is the main partner of the Alliance of European Hockey Clubs since 2015 and has the naming rights to three annual awards: Fjällräven Young Player of the Year, Globetrotter Coach of the Year and Hanwag Club of the Year.
For more information visit https://fjallraven.ca/
OFFICIAL PARTNER – SportContract

SportContract is an innovative, secure system for all stakeholders in professional hockey; leagues, federations, clubs, players, scouts, unions and agents.
With advanced video, enterprise scouting solutions and analytic tools, SportContract reforms the world of sport. The enhanced video system gives you access to an unlimited global video database and allows you to target any team, player or even specific plays.
Furthermore, the inventive SportContract transfer and network service enables general managers, sport directors, coaches and players with easy and secure communication and allows teams to issue trade or signing requests. Despite the wide range of precise functions, SportContract is easy and comfortable to handle.
For good reasons, SportContract is a leading partner and service provider for many major teams and leagues in European ice hockey.
SportContract's objective is to support the hockey community by making processes easier, breaking up obsolete structures and bringing in new ideas and a different way of thinking.
SportContract has league-wide premium cooperation with the Swiss National League, German DEL and all their teams. Among SportContract's club partners are several members of the E.H.C. Alliance - Rögle BK (SHL), Kärpät Oulu (Liiga), Red Bull Salzburg (EBEL) - as well as global partnerships with teams like the Vancouver Canucks (NHL), Jokerit Helsinki (KHL), Dragons De Rouen (LM) and SønderjyskE Ishockey (ML).
For more information visit https://sportcontract.net
OFFICIAL PARTNER – TRUE Hockey

For over 100 years, TRUE Sports has demonstrated a commitment to bringing transformational technologies to market and does so with an unwavering determination to be #1 in everything they do.

In 2014, True Temper Sports entered the consumer hockey market with the launch of the TRUE hockey brand. In just under six years, TRUE Hockey has been recognized as a leader in innovation and the fastest growing brand in hockey.

From a series of patented technologies to the combined efforts with MIPS to bring about the first hockey helmet to feature their leading brain protection system; TRUE Hockey continues to enhance the player experience through performance-enhancing products.

100% of True sticks and skates are manufactured in our own factories, using only the best materials and industry-leading manufacturing process.

For more information visit www.true-hockey.com