Success at the World Juniors: Development starts at home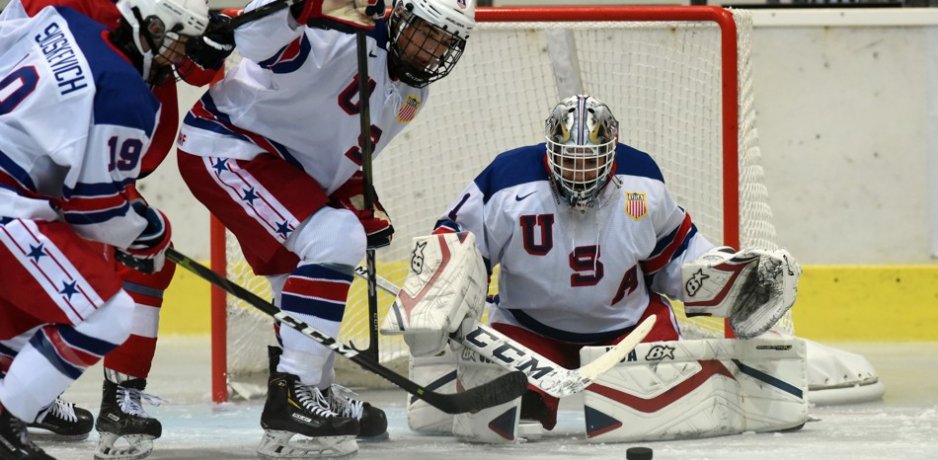 Lessons learned, findings confirmed from the 45th IIHF World Junior Championship:
The gap between nations is widening
Programs do not improve from participating
Development starts at home
The World Juniors show tomorrow's hockey
The 2021 World Championship for players under 20 is in the books. The USA won its fifth gold medal overall and fourth since 2010, thus confirming USA Hockey as, arguably, the best junior development program in the world. No other nation has four titles during this period.
Midway through the tournament, there was – as always in Canada – a controversy about the event format, triggered by some lopsided scores.
Very often it becomes a shallow, elitist discussion with little understanding about nations who aspire to become competitive. In my opinion, the 10-nation format with two single round-robin groups followed by a knock-out stage, is optimal. It's easy to understand, it's fair and the event has a perfect duration of 10-11 days.
So, let's address the lessons and findings from the 45th World Juniors played in the Edmonton "bubble".

The gap between nations is widening
In the early 2000s, the hockey world had a clear Top Seven: Canada, Russia, Sweden, USA, Finland, Czech Republic and Slovakia. The Slovaks followed up a bronze medal at the 1999 World Juniors with a World Championship silver in 2000 and a history-making gold at the Worlds in 2002, making them a legitimate member of this elite group.
This gave a competitive field in all men's top events: Olympics, Worlds, World Juniors and the World Cup of Hockey, however irregularly the WCH appeared on the calendar.
In order to avoid drawing far-reaching snapshot conclusions from one or two tournaments, one must see development over 10 to 20 years. By doing so, we can clearly see that the competitive field has narrowed.
One reason why the World Juniors are so engaging is that they are the first indicators about tomorrow's hockey (more on that in the last paragraphs). And what we see is not encouraging. The Top Seven is no more. Only five nations have won gold or silver in the last 20 events: Canada (15), Russia (10), USA (6), Sweden (6) and Finland (3). The Czech Republic (2005) and Slovakia (2015) are the only other countries that have managed bronze medals since 2002. Out of the 60 available medals, 58 have been won by the Top Five.
If you ask representatives of any of the top-five nations, each would tell you that they have their own challenges, but the fact is that they are far ahead of the rest. The Czech Republic is stuck in some kind of no man's land between the Top Five and the rest, to which Slovakia now belongs.
The other nations that are either wanting to keep up with the top or trying to establish themselves at the A-pool level are Switzerland, Germany and Austria. Out of these three, Germany is the only one with a clearly positive trend. Never before has this vast nation produced talented players like Moritz Seider (not released by Detroit to the WJC), Tim Stützle, John-Jason Peterka, Florian Elias and Lukas Reichel (missed the WJC due to a positive COVID test).
Germany's challenge will be to produce players of similar calibre who were born after 2002. Austria must be praised for earning promotion to the elite pool for the first time since 2010. Although outclassed in Edmonton, there are positive signs. Switzerland, on the other hand, was a disappointment and the Swiss development program is currently struggling. Only two players on the 2021 WJC team are vital roster players on their Swiss National League teams.
But whatever is said about Switzerland and Austria, they are currently better than any other developing nation that has been in the WJC elite pool in the last 10 years: Belarus, Denmark, Kazakhstan, Latvia and Norway. All in all, 15 nations. That's it. There are currently no other countries that have a reasonable chance of earning promotion to join the elite 10. We hear often that "the hockey world is growing", but that is not really correct.
A final observation on the widening gap issue: When the KHL was founded in 2008 and the league incorporated clubs from former Soviet republics, it was argued that this would be beneficial for the development of hockey in Latvia, Belarus, Kazakhstan and Ukraine. But it hasn't. On the contrary, development in those countries has regressed or has stood still during the KHL era. Their U18 and U20 records are good indicators of that.
Programs do not improve from participating
Let's start with a telling example: To use the momentum from the excitement of the Olympics in Nagano 1998, the Japanese were given a free pass in the IIHF World Championships from 1997 to 2004, meaning that they could not be relegated although their final standing warranted it. With this, the IIHF was hoping to reach the lucrative Asian market and add an important Asian component to its marquee event.
In those seven "free pass" championships, Japan won a total of zero games. They had four ties and 28 losses. The IIHF eventually realized that this was leading nowhere and the special treatment ended following the 2004 Worlds. Since then, the Japanese have not come close to earning a promotion on the ice. Their participation did little, or nothing, to develop their program.
Why is this important to point out? Because the participation-leads-to-improvementcard is often pulled when arguing for keeping a certain number of countries in a championship. At the beginning of this story, I defended the 10-team WJC format because of its practicality, simplicity and fairness. But this should not be confused with improving a national program.
Real improvement comes from having a strong home-made development program. At the 2002 Olympics in Salt Lake City, USA Hockey conducted a study on puck-possession. The study, led by iconic Canadian coach George Kingston on behalf of USA Hockey, showed that a player who gets lots of ice time five-on-five, is used on power-play and sometimes even in penalty-killing very seldom has puck on his stick for more than one minute during an entire game.
Consequently, players on third or fourth lines maybe have 20 seconds or less puck-possession time. The result, or maybe the purpose, of the study was that playing doesn't develop fundamental skills like puck handling, passing or shooting. Kingston concluded that it takes playing between 150 and 180 games for young hockey players to acquire one hour of quality puck-possession time!
The study was used by USA Hockey to gear their program towards a different practice-to-game ratio, where practice and repetition – not games – were key to developing skilled players. What USA Hockey has accomplished since then, we see now.
There are many advantages from participating the World Juniors; nations and players can use participation as an encouragement to practice more and by losing 10-0 you can measure your program's gap to the best. But just by participating and playing, your program doesn't magically develop. You can relate to the WJC participation and development of Denmark, Belarus, Kazakhstan and Latvia to have this confirmed.

Denmark – all credit to them for their development from a C-level nation – played in five consecutive Elite Pool World Juniors (2015-2019) and won a total of three games in regular time during those years before being relegated and they were not close to being promoted last season, finishing fifth in the WJC Division I A.
Development starts at home
The Soviets started their hockey program in 1946. They had virtually nothing, except their experience with bandy, the 11-man game on big ice sheets, with curved sticks and a ball. They really started from zero. But they had a hockey ideologist in Arkady Chernyshov and an executor in Anatoli Tarasov.
They eventually realized that copying Canadian hockey would not be a good idea. The duo concluded that Soviet/Russian hockey must be built to reflect the national character and soul of Russians. During the buildup time, they hardly played any games against foreign opponents, instead fostering unique ideas on how to practice and how to play. Most of the time, they practiced.
The rest is history. Eight years after the humble beginnings, they were World Champions, two years later, Olympic champions. And 26 years later, the Soviet national team proved they were equals to the best Canadian pros at the 1972 Summit Series.
Although this happened some 70 years ago, the principle remains. Development starts at home. It is important because this deflects the participation-leads-to-improvement mantra but also repels any ideas or hopes that the IIHF can somehow develop a country's program. This is sometimes brought up when people ask what the IIHF is doing to close the gap between the USA, Canada and the rest of the world in women's hockey.
The IIHF may inspire with a coaching exchange program, a training camp here or there or with instructional videos for developing or emerging hockey programs. But the IIHF will not – and should not – be responsible for any country's development. This must come from within. How much can you credit the IIHF for the USA's impressive progress or for Canada's stature in the hockey world or for Finland's or Sweden's exceptional ability to develop talented hockey players? Nothing. All that came from within. Development starts at home.
World Juniors show tomorrow's hockey
There are many reasons why the IIHF World Junior Championship is so compelling. One is that it gives an indication about tomorrow's hockey. The development is currently led by the U.S. and Canada. What we saw in Edmonton is a kind of Total Hockey with emphasis on very powerful skating, amazingly high fundamental skills combined with the ability to find solutions in any pressured situations at the highest speed.
When these teams play at their highest level, you have the feeling that there are no defencemen and forwards, but instead every player is an old-time rover (google it, kids), possessing universal abilities regardless of where on the ice the player is positioned.
The hockey displayed at this 45th World Juniors, especially when the best teams were involved, was very attractive to watch and this could have been, quality-wise, the best tournament in history. This was the fifth Canada vs USA gold medal game since the U.S. became competitive in the WJC in the 90s. These countries have together more players and more rinks than the rest of the world. Their dominance is likely to continue.
The challenge will be for the rest to keep up with those who are leading the development. And you will not address the core issues by limiting the field.
Photo: Karel Švec