Warrior Sports will continue to recognize European club hockey's Career Excellence, Sportsmanship and Dedication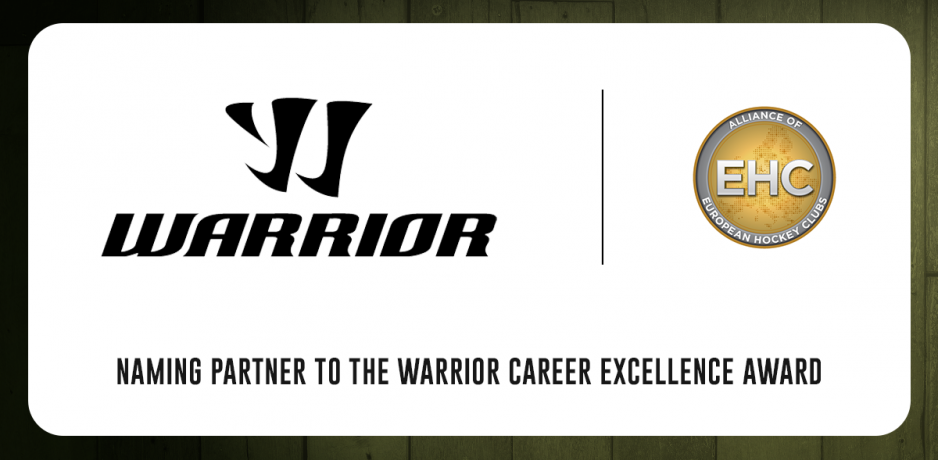 GOTHENBURG, Sweden – Warrior Sports Inc. and the Alliance of European Hockey Clubs (E.H.C.) have today announced an extension of their partnership that will see the global ice hockey equipment manufacturer continue supporting the Warrior Career Excellence Award.
The award, which was introduced in 2018, shall be annually awarded "To the player who over a career span, has exemplified the qualities of sportsmanship and dedication, combined with community service and involvement and with a high standard of playing ability."
The Warrior Career Excellence Award has since its inception been presented to: Riikka Välilä, HV71 Jönköping, SWE (2018), Michael Wolf, Red Bull Munich, GER (2019) and to Joel Lundqvist, Frölunda Gothenburg, SWE (2020). The award is determined by a group of selected hockey experts from eight European countries.
"In a short time, the Warrior Career Excellence Award has become a well-recognized concept in European club hockey," said Stuart Proud, Warrior Sports' International Financial Controller. "The award manifests very well Warrior's and the EHC Alliance's joint commitment to sustainability and good values in hockey."
"In these uncertain and challenging times for all of us, we are delighted over Warrior's commitment to European club hockey," said Szymon Szemberg, Managing Director of the E.H.C. Alliance. "The criteria and the spirit of this award and the Warrior brand are truly a great fit."
About Warrior Sports Inc.: Founded in 1992 by former champion lacrosse player David Morrow, Warrior was acquired by the privately-held company New Balance Athletic Shoe, Inc. in 2004. Since then Warrior acquired Innovative Hockey (Mexico), MIA (Canada) & Montreal Sports (Finland) and has expanded into revolutionary high-performance, cutting-edge, ice hockey equipment which is used by pros around the world in all elite professional leagues. As a result of this, internationally, over recent years the brand awareness of Warrior has significantly increased and continues to do so.