The name's Jukurit, not Jokerit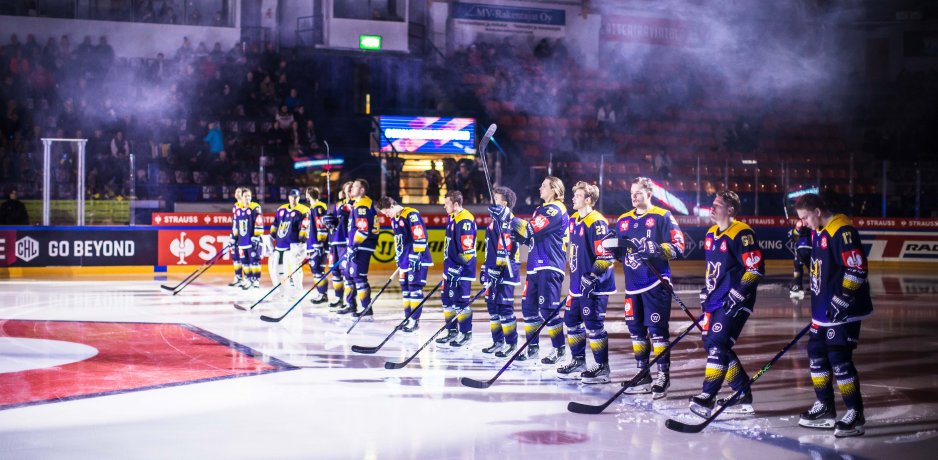 With eight minutes remaining in the 3-on-3 overtime in the Champions Hockey League game between Jukurit Mikkeli and Fribourg-Gottéron, 21-year-old forward Patrik Puistola grabbed a loose puck at the faceoff circle and headed up the ice.
Jarkko Immonen, 40, bounced up and skated the length of the ice to receive Puistola's saucer pass and shoot the goal that took Jukurit to the Champions Hockey League quarter-finals – and probably placed the team with the smallest pro team budget of all eight remaining teams in the CHL on the hockey map.
"People don't actually confuse us with Jokerit that often, but it was obvious to me at the CHL group draw that not many people didn't exactly know where Mikkeli is located," Jukurit CEO Antti Laakso says with a smile.
Let's make that clear right away then. With its population of 52,000, Mikkeli is the 18th biggest town in Finland, a country of 5.5 million, is about a two-and-a-half hour drive slightly northeast of Helsinki, along one of the major highways cutting through the country, with access to Lake Saimaa, the biggest of literally thousands of lakes in Finland.
It's one of those towns that are easy to drive past, on your way to somewhere else.
Jukurit is one way for Mikkeli to gain recognition. And to go deep in the Champions Hockey League is one for Jukurit to advance the cause. And to gain respectability both in Finland and elsewhere. The club got promoted from Division II in 2000, then spent a decade and a half in Mestis, the second-tier league, outside looking in, winning the title seven times, and making another four final appearances, but unable to earn promotion to Liiga. In 2016, Liiga accepted Jukurit as their 16th team.
Since then, the team has only made the playoffs once, last season.
"We were struggling with credibility issues and even our existence in the top league. The fact is that it's not easy to build a top-league organization from the ground up. It's a long and winding road and the work is ongoing, but from the marketing point of view, last year's great regular season earned us some important credibility," says Laakso.
Laakso and Director of Hockey Operations Mikko Hakkarainen were teammates on the 1999-00 Jukurit squad that earned a promotion to Mestis, so they know the Jukurit culture inside and out.
"A small club like Jukurit has to do right things right. We've succeeded in hiring a great coaching staff and players who do good work every day so that we can develop players. Developing players is the only way for a team like ours, we can't afford to acquire a lot of stars, or prominent players," Hakkarainen says.
One of the key people is head coach Olli Jokinen, the former NHLer who founded a hockey academy in Florida after retirement. Jokinen, who had no head coaching experience before taking over Jukurit, surprised the league last season by turning Jukurit into a regular-season runner-up. He recently signed a one-year extension to stay in the club next season.
Another innovation Jukurit has made is outsourcing its conditioning and skills coaching to Viima Hockey, a private company specializing in skills coaching. On their website, Viima lists several NHLers as clients.
"They take care of all that – skills coaching, coordination – whatever modern hockey requires. That gives the coaching staff more time and energy to focus on developing the team play," Hakkarainen says.
According to Hakkarainen, the players welcomed the new style.
"They feel that they got better and we can see from their test results that it's true. And players are happy when they feel better and play better," he says,
"Basically, they take care of our players 365 days a year, 24/7. The first season was the first time we did this, and the results were encouraging so we signed a five-year contract with them," he adds.
And if you need proof, Hakkarainen points to the OT goal again.
"Immonen is a good example of players who have got better under the new system," Hakkarainen says. "He's stronger and faster."
At forty.
And he's originally from the region, even though he chose to play his junior hockey in Savonlinna, another traditionally strong team 100km east of Mikkeli. The local team went bankrupt recently.
"We're the clear number one sports team in town, but we hope that the historically strong football team will rise again. A vital town needs sports and culture to attract people, otherwise it's game over," Laakso says.
Not that one CHL quarterfinal berth solves all problems. Mikkeli - now that you know where it is – is still a small town and even though Jukurit has 200 corporate partners, their size does vary. And even though Jukurit likes to position them as the team for the Southern Savolax region, the towns are even less famous than Mikkeli.
The pandemic hit Jukurit hard and Laakso says their season ticket sales still haven't quite recovered. Early this season, the team's attendances were, frankly, dismal, barely hitting 2,000.
"We expected that, though. We knew we had a lot of home games in September, and since we're in the middle of cottage country, it wasn't hard to deduct that when the sun was shining, people would rather go boating on Lake Saimaa than come to a hockey game," Laakso says.
"But we're grateful for the fans who did come," he adds.
Photo: CHL Media/Mikko Kankainen