Panel: There's potential for growth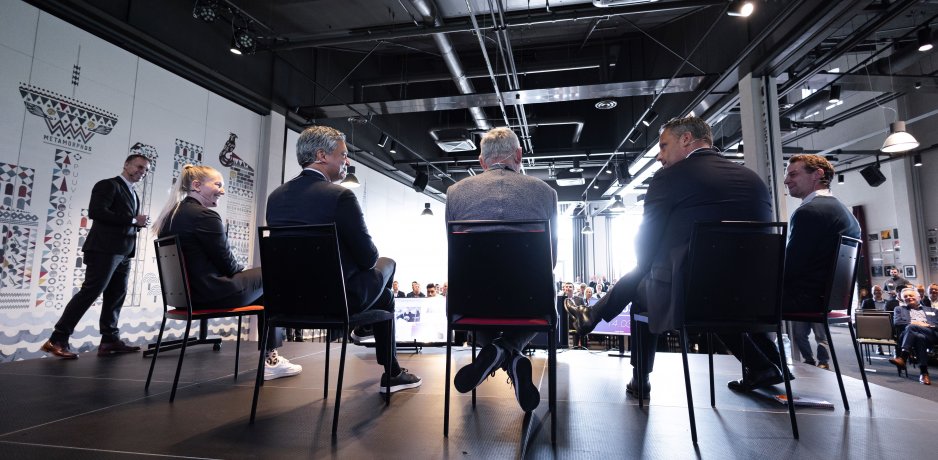 While the EHC Hockey Business Forum facilitates serendipitous meetings of hockey minds as a natural part of the conference, there was also a more formal panel discussion in which five experts touched on a few hot European hockey topics, from rink sizes to investments.
Opinions on the optimal rink size varied. World champion Janne Pesonen said he preferred playing in an NHL-sized rink, as did Frölunda women's team's GM and former Team Sweden goalie Kim Martin Hasson. She added, though, that she preferred watching women's games played on a bigger ice surface.
The bulk of the time was spent on talking about economics: whether there should be promotion and relegation between leagues, and whether the time was ripe for larger private equity investments in hockey in Europe.
According to Bobby Sharma, founder and managing partner of Bluestone Equity Partners, sports properties are becoming an interesting target for private equity investors who are looking to established clubs that need help to get to the next level.
"Hockey is attractive because it has potential for growth, and that's what investors are looking for," he said.
"In some countries, like Sweden, there are rules that guarantee that the clubs are majority owned by their members, which makes it difficult to attract investors since they can only control a 49-percent share," added Jörgen Lindgren, President of the Champions Hockey League and former CEO of the SHL.
But, added Sharma, a possible relegation creates an almost intolerable risk for an investor when the topic of league formats was discussed.
Naturally, relegation is a major financial blow to a club.
"The first and second league have to work together," said Peter Lee, CEO of Eisbären Berlin, and noted that in the English Premier League, the team that was relegated gets a buffer that helps them adjust to their new reality.
Also, when a team earns a promotion at the end of one season, building a team for the next season in May is difficult, Lee added.
Now, a team that has earned a promotion to the top league won't be playing in the Champions Hockey League where the new season is around the corner in May. This year, the first games were played in late August, which is still too early, said Lindgren.
The hockey calendar is simply so packed that it's difficult to find suitable dates among annual World Championships, three national team breaks, and the domestic leagues, added Lee.
But the CHL is still improving, said Lindgren.
"The new format and standings have created a better competition. Compared to five years ago, teams are today much more committed and prepared for the games," he said.
As women's hockey grows, there will be new investment opportunities – and needs. In Sweden, one of the most talked about teams in recent years has been Frölunda's women's team that went undefeated through Division 1 last season and is now challenging the top teams in the SDHL.
"We needed and got both the investment and club management's commitment to start Frölunda's women's team. It's easy, though, to allocate money for a women's team, but the management also has to care about it. Frölunda does," said Martin Hasson.
"Having and supporting women's teams should come naturally to men's teams," said Lindgren, and added: "I hope there will be a women's Champions Hockey League, too."
The Panel:
Peter Lee, CEO of Eisbären Berlin
Janne Pesonen, MTV analyst
Kim Martin Hasson, GM of Frölunda
Jörgen Lindgren, President, Champions Hockey League
Bobby Sharma, founder and managing partner of Bluestone Equity Partners
Mike Helber, moderator