Pro hockey halted across Europe; Few leagues still hopeful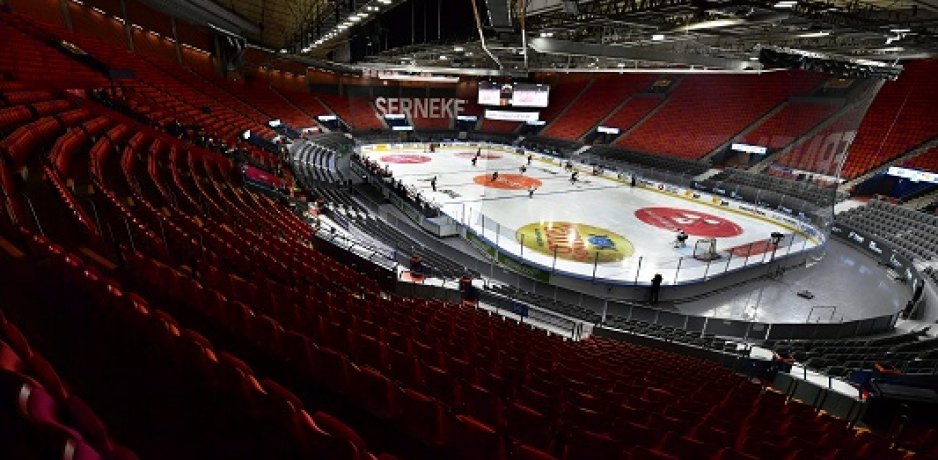 The outbreak of the novel Coronavirus has forced organizers of sports events to cancel upcoming events and hockey is as affected as other sports. Following the British EIHL's cancellation of the remainder of the season, eleven top European professional leagues have put an end to their respective seasons.
The first European leagues to take this very difficult but necessary decision were the German DEL and the Austrian EBEL (which also includes clubs from Italy, Hungary and the Czech Republic) who cancelled their playoffs on Tuesday, 10 March.
Other leagues continued to cancel on Wednesday and Thursday before the British Elite Ice Hockey League (with clubs from England, Scotland, Wales and Northern Ireland) decided to put the season to a halt at noon on Friday.
EIHL boss Tony Smith (also chairman of the Sheffield Steelers) has been chairing many meetings and conference calls in the last week, leading to this morning's decision to cancel the EIHL for the remainder of this season.
"It's been a tough couple weeks on many levels," said Smith. "We have to take so many things into account, most importantly the health of our players, fans and staff. We looked at every option possible but we had no option but to take this very disappointing decision this morning.
"Our priority right now is to ensure that our players can return home as soon as possible with their families," he added.
This is the situation summary with regards to the top European hockey nations and their major professional leagues, as of Friday afternoon:
AUT – Cancelled remainder of season on 10 March
CZE – Cancelled remainder of season on 12 March
DEN – Cancelled remainder of season on 12 March
FIN – Cancelled remainder of season on 13 March
FRA – Playoffs suspended until at least 17 March
GER – Cancelled remainder of season on 10 March
GBR – Cancelled remainder of season on 13 March
HUN – Ersteliga, with 7 Hungarian and 3 Romanian clubs, cancelled season on 11 March
NOR – Cancelled remainder of season on 11 March
POL – Cancelled remainder of season on 11 March
RUS – SF to begin 17 March, games to be played without attendance or with fan limitations
SUI – Cancelled remainder of season on 12 March
SLO – Slovenian federation cancels all hockey for remainder of season
SVK – Cancelled remainder of season on 11 March
SWE – Playoffs postponed until 24 March
UKR – Playoff games with no attendance
The Russian-based KHL and the Ukrainian UHL continue to play with limited attendance. Russia has a special situation where Moscow-based teams have to adhere to the city Mayor's decree of banning public events with more than 5000 attendees. Thursday's playoff game between the two Moscow clubs Spartak and Dynamo was played in an empty arena, while the first indications from CSKA Moscow (who will now play Dynamo in the conference semis) are that they plan to play before a crowd of just below 5000 spectators.
The Finnish KHL club, Jokerit Helsinki, will play their conference semifinal vs. SKA St. Petersburg with no attendance at the Hartwall Areena, as the Finnish government has issued a ban on events with 500 people or more.

At the present time, the Swedish SHL try to go on playing games without spectators. The league concluded its regular season on Thursday before empty buildings. Finland was hoping to do the same, but on Friday decided to cancel its last round of regular-season games as well as the playoffs.
While the SHL has postponed the start of their playoffs by ten days (planned to start on 24 March), Swedish hockey had a setback on Friday when the second-tier HockeyAllsvenskan decided to "temporarily pause" its qualification games for promotion to the SHL when players on the Vita Hästen suffered from symptoms. The HockeyAllsvenskan planned to play those games without attendance, but now even that had to be stopped.
In some countries, pragmatic decisions had to be made to the promotion-relegation process. In the Czech Republic, it was decided that Motor České Budějovice will be promoted to the top-tier Extraliga after finishing first place in the second-tier Chance League's regular season. They will replace Rytíři Kladno, who finished last in the top league and had to face relegation.
"I have to admit that no one really imagined it that way. You want to go through the playoffs and celebrate with your teammates, your fans, while experiencing those emotions. That's why my feelings are so mixed now," České Budějovice forward Matouš Venkrbec told hokej.cz. "It's a really difficult situation for everyone. There was no perfect solution. This decision might be unfair for other clubs as well as for fans, but unfortunately ... It's not anyone's fault. You can't point a finger at anybody, you have to take it as it is."
Also, Sweden and Switzerland have promotion and relegation between their respective top and 2nd tier leagues, and those qualifications could not (Switzerland), or have not (Sweden) been finished before this extraordinary situation forced the close-down.
UPDATE: Since this article's original publication, it has been announced in Switzerland that there will be no promotion or relegation between the top two leagues for next season. As well, Finland's Liiga cancelled the rest of its season.
Photo: Tommy Holl