HC Donbass seeks higher penalty for Smereck-Denyshin incident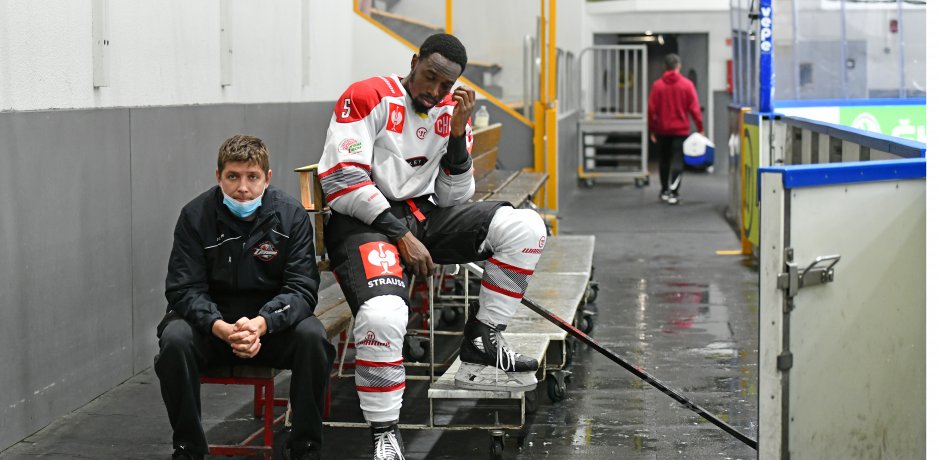 Every once in a while in the sports world, like anywhere else in society, racism rears its ugly head. Usually, it's in the form of an ambiguous action or comments that are difficult to corroborate. So rarely does something occur as was the case on Sunday, in a Ukrainian Hockey League game between HK Kremenchuk and EHC Alliance member HC Donbass.
For those not familiar, the video tells the whole story:
A disgusting gesture in the UHL was made towards American Jalen Smereck… This is embarrassing and pathetic for hockey. @IIHFHockey needs to step up here. pic.twitter.com/cSqxBKVC4k

— World Hockey Report (@worldhockeyrpt) September 26, 2021
The player in the video is Kremenchuk's Andrii Denyskin and his target is Donbass' Jalen Smereck, an American of African descent, as one could probably guess.
The hockey world was stunned when it first saw the images and was collectively once more stunned a couple of days later when the punishment was handed down by the Ukrainian Ice Hockey Federation.
Donbass issued the following statement:
"On September 26, 2021, an unprecedented incident occurred in Ukrainian and world hockey. During the game between HK Kremenchuk and HC Donbass the player of HK Kremenchuk team Andrii Denyskin committed racist manifestations in relation to the player of HC Donbass team Jalen Smereck.

"On September 28, 2021, the Disciplinary Committee of the Ukrainian Ice Hockey Federation, referring to the norms of the Disciplinary Code of the Ukrainian Ice Hockey Federation, decided to apply to Andrii Denyskin an essentially symbolic punishment – a mandatory disqualification for 3 matches and an additional one for 10 matches, which can be replaced with monetary compensation in the amount of UAH 50,000 ($ 1870)."
"This morning I clicked on it and I was, 'No way, man. This has to be fake,'" Smereck told Ken Campbell of Hockey Unfiltered. "I went on the page and my heart just dropped. It's very poor. For them to come out with 13 games is bad, but the fact that he can pay his way (down to three games) is absurd. I think (the Ice Hockey Federation of Ukraine) is going to find itself in a real big problem when this really gets out. It's bad."
According to some reports, Denyskin doesn't have the option of buying his way out of the additional 10 games and the aggregate 13-game suspension is the maximum allowed under the UIHF's guidelines, which are obviously in need of revision. Whether or not the federation's hands were tied on this matter, it's obviously not enough and Donbass is rightfully seeking a higher penalty.
"Taking into account the above, HC Donbass was forced to turn to IIHF with a request to conduct an objective investigation and make a new decision to ban hockey player Andrii Denyskin from participating in any competitions held under IIHF jurisdiction," the statement from Donbass continued.
Newly-elected IIHF President Luc Tardif was quick to denounce the action.
Statement of IIHF President Luc Tardif: The IIHF condemns in the strongest possible terms the actions of Andri Denyskin. There is no place for such a blatantly racist and unsportsmanlike gesture in our sport and in society. 1/2

— IIHF (@IIHFHockey) September 27, 2021
Now 22, Denyskin has played in the past for Ukraine's national junior team and has played for the senior team as well, albeit not yet in an IIHF-sanctioned event.
The statement concludes:

"HC Donbass expresses deep hope that the Alliance of European Hockey Clubs will be able to contribute to a comprehensive investigation by the International Ice Hockey Federation and will help in establishing punishment for Andrii Denyskin."
For his part, Denyskin issued somewhat of an apology on social media.
"I would like to express a public apology to the player of the Donbas hockey club Jaylen Smerek," he posted on Instagram. "I being in negative emotions, showed a gesture that someone might consider as an insult in racial affiliation. I respect all people regardless of race or nationality. Emotions in hockey are unfortunately different."
Of course, this was more than 'negative emotions'. Denyskin is a racist. Regardless of what provoked it, nobody who has in his arsenal of comebacks such a dehumanizing gesture that is universally connected with the race of the intended target could claim otherwise.
Is he a bad person or just an incredibly ignorant one? Part of what makes his behaviour so hard to fathom is that the 22-year-old has spent a total of four years of his career in the United States, where, unless he lived an extremely sheltered life, he must surely have had some exposure to the country's racial issues. For the record, Denyskin attended the Compete Hockey Academy in Coeur d'Alene, Idaho for two years as a teenager and then played a year each for the Hampton Roads (Virginia) Whalers in the USPHL Elite and the Brookings (Minnesota) Blizzard in the NAHL.
Surely, Denyskin is sincere when he expresses his regrets. Instantly becoming the most hated person in the sport worldwide will do that. Hopefully, that sparks some introspection that will make him a better person in the long run, which leads us to what would be an appropriate punishment for his actions. Recent issues involving off-ice transgressions by players have sparked debates over how far-reaching penalties ought to be.
While some are calling for a permanent ban, which can be debated, the rest of the 2021/22 hockey season at least should be a given. Had the Ukrainian Ice Hockey Federation ruled him off the ice for the rest of the season and said they would revisit the matter next summer, giving all parties involved a chance to study the matter with cool heads and then allowed Smereck to return to the ice to play hockey, most people probably could have lived with that.
Of course, there would be no promise of reinstatement even then. Even now, HC Kremenchuk has a chance to do the right thing. It's not uncommon in the sporting world to have a team sever all ties with a player that has brought shame or negative attention to it.
But enough about Denyskin. What about Smereck? Understandably dissatisfied with the UIHF's ruling, the 24-year-old Detroit native and former Arizona Coyotes prospect has been placed in an uncomfortable situation in his first year playing abroad and has now taken a leave of absence.
"I'm still not sure whether I'm going to stay in Ukraine or leave," Smereck told Hockey Unfiltered. "I'm still thinking about it. I'm not the kind of person to abandon my teammates, and we're in a good spot to move on in the Champions League. I really want to battle it out with them and finish it off and move on to the next group. If (the federation) does end up suspending (Denyskin) for a longer time, maybe I'll change my mind and play. Or maybe I'll just leave and go home."
No one would blame Smereck for leaving but, hopefully, he decides to stay. As he mentioned, besides the UHL, this season Donbass is also competing in the Champions Hockey League. The reigning Ukrainian champs have two remaining group games against fellow EHC club KAC Klagenfurt – next Wednesday in Kyiv and the following Wednesday, 13 October in Klagenfurt. In a very tight group, they are two big games that will decide which two teams from the group, which also includes the Rouen Dragons from France and Rungsted Seier Capital from Denmark, will advance to the round of 16.
Besides that, though, they're a wonderful opportunity for the European hockey community to unite with Donbass and Smereck. Klagenfurt is a perennial Austrian powerhouse with a notoriously strong fanbase. The game they host will be a wonderful chance for them to show, on behalf of the worldwide hockey community, that they #StandWithJalen.
Photo: Stephane Heude