Eisbären Berlin back on top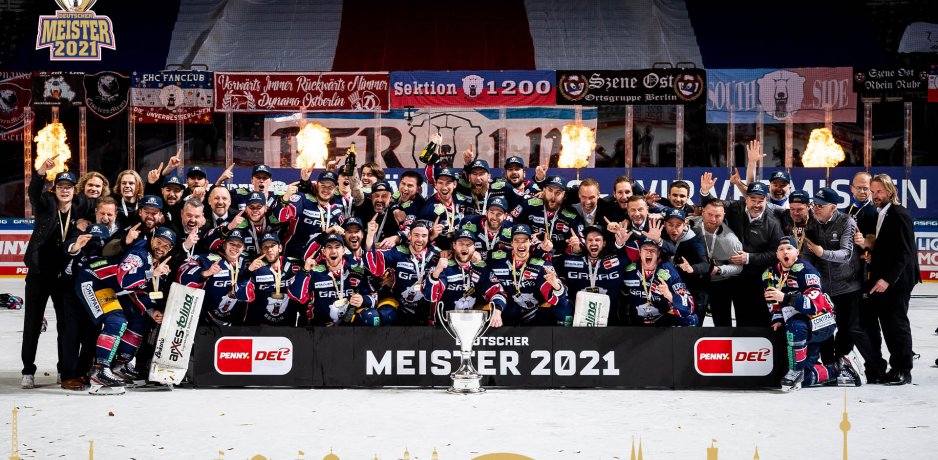 With numerous titles in their 67-year history, Berlin's ice hockey club is one of the most decorated in German history. After an eight-year pause, the team now known as Die Eisbären is back on top as champion of the DEL.
In a strange season that didn't begin until December, the Penny DEL played a 38-game regular season followed by three best-of-three playoff rounds. Eisbären Berlin finished first in the temporary North Division and third overall behind perennial powerhouses Adler Mannheim and Red Bull Munich. In the playoffs, Berlin lost the first game of all three series against the Iserlohn Roosters, ERC Ingolstadt and Grizzlys Wolfsburg before rallying to win two straight. On Friday night, they capped off the title with a 2-1 victory at an empty Mercedes-Benz Arena.
May 9, 2021
"We were 1-0 down in each series and had our backs to the wall every time," said head coach Serge Aubin. "But the team never gave up, always fought their way back and now we're champions. I am incredibly proud of my team. It's been a very special year and we miss our fans. This title is for them too. We can't wait to play in front of them again."
All season long and throughout the playoffs, Mathias Niederberger was the team's rock in goal, and the offence was led by forwards Marcel Noebels and Matt White, with 42 and 39 points in the regular season, respectively, and 10 points each in the playoffs. In the playoffs, they were joined by offensive defenceman Ryan McKiernan, who also recorded 10 points in nine playoff games on the strength of seven goals and three assists. In his fifth year in Europe and second in Berlin, the 31-year-old American was named playoff MVP.
"You could have got the impression that we had to lose the first game in each series and we needed the pressure," said McKiernan. "I'm incredibly proud of my teammates – we've grown incredibly close over the course of the season. Respect to Wolfsburg, they also played a good series. We changed our system after the loss at the start of the finals. That was crucial and now we're the champions. I am delighted to have been named the most valuable player of the playoffs, but everyone on our team would have deserved this award."
For Wolfsburg, a club founded in 1975 and once known as Grizzly Adams Wolfsburg, this was the first time they'd made it to the finals, which unfortunately means that their fans still haven't had a chance to fully experience such a playoff run. On Sunday, the team tried to give its fans just a little taste of it with an outdoor event in a park attended by hundreds.
"I think events like these are very important and I told the fans that the season simply couldn't be compared to the other seasons without them," said American defenceman Jeff Likens, who announced his retirement after a 15-year pro career – more than half of which was spent in Wolfsburg. "I am very happy to see everyone here. For me personally, it was also very important. Today I saw people again who I have known for eight years and may not see in the future. Thanks to everyone who came."
Founded in 1954 as SC Dynamo Berlin, this was the club's 23rd title overall. The first 15 of those came as champions of East Germany – a league that consisted of only two teams for a number of years. Renamed Eisbären in 1992 and then bought by the Anschutz Entertainment Group in 1999, the team dominated the DEL from 2004/05 to 2012/13, winning seven titles in nine years under the command of former NHLer Peter Lee, who has now been the team's general manager for more than two decades. Die Eisbären had to wait a while for the eighth title, but management is already hard at work building a team for next season to ensure the next title comes quicker. Several key contributors to this year's championship team will return, including Aubin and assistant coach Craig Streu.
"We are very happy about these contract extensions," said Stéphane Richer, the team's Canadian sports director that has now been involved in German hockey as a player, coach and manager for over 25 years.
Die Eisbären Berlin können die ersten Informationen zur Planung für die kommende PENNY DEL Saison 2021/22 bekanntgeben. Mehr unter: https://t.co/Ge2IssBmKs

— Eisbären Berlin (@Eisbaeren_B) May 10, 2021
"Frank Hördler was a great captain and an outstanding leader last season. With his experience and consistent performance, he was one of the cornerstones of the team," Richer told the club's website. "As German national team players, Jonas Müller and Kai Wissmann are important pillars on our defence. Eric Mik has developed enormously in the past year and was an integral part of our championship team – he showed that he still has huge potential. Giovanni Fiore, Matt White and Zach Boychuk were perfectly integrated into the team when they joined us over the course of the season and all of them have played important roles within the team and were essential to winning the championship."