Name: Sparkasse Arena
Opened: 1993
Address: via Galvani 34, 39100 Bolzano (Italia) / Galvanistraße 34, 39100 Bozen (Italy)
Capacity: 6800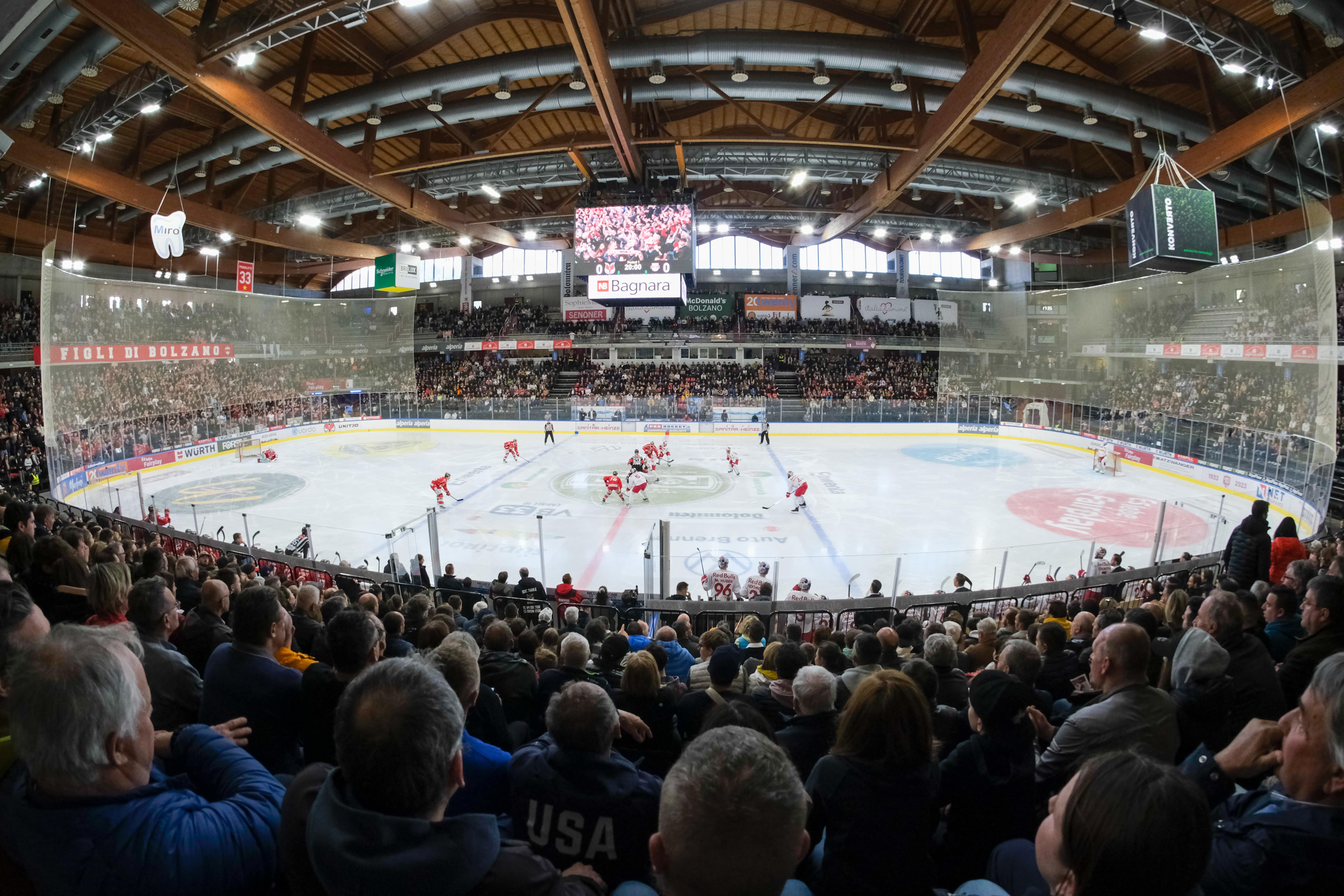 The home of the Foxes is the Sparkasse Arena, which opened in 1993 in time for the 1994 IIHF World Championship, which Italy hosted. In recent years, the stadium has undergone some modernization. Latest-generation boards have been installed to limit player injuries as much as possible, as well as a new video cube and a LED board between the two benches.
Basic info
Founded
1933
Website
www.hcb.net
Club adress
via Galvani 34, 39100 Bolzano (Italia) / Galvanistraße 34, 39100 Bozen (Italy)
Honours
National titles
Italy (19) – 1963, 1973, 1977, 1978, 1979, 1982, 1983, 1984, 1985, 1988, 1990, 1994, 1996, 1997, 1998,
2000, 2008, 2009, 2012; ICEHL (2) – 2014, 2018
European championships or greatest European accomplishments

Last Seasons
2022-23: 1st regular season, league finals
2021-22: 9th regular season, preliminary round, CHL Round of 16
2020-21: 1st regular season, league finals
2019-20: 1st regular season, playoffs cancelled
2018-19: 6th regular season, quarter-finals, CHL Round of 16
About club
Hockey Club Bolzano is a true institution for our sport on the Italian national territory. Indeed, with its 90-year history, it represents the most successful team in Italy, being able to boast important successes inside and outside national borders and counting among its ranks some legendary players, in some cases among the most iconic of their eras: one example above all is that of the Czech champion Jaromír Jágr, who wore the red and white jersey in 1994.
The connection with the city of Bolzano has always been solid. During these 90 years, this sport and these colours have united fans and supporters, regardless of language group or ideology. A passion that, especially in recent years, has been spreading throughout the territory and beyond. In fact, there are many fans who come from all over northern Italy to enjoy the Foxes games.
In 2013 the HCB left the Italian Serie A and joined the EBEL (now ICE Hockey League), a Central European league that over the years has welcomed teams from Austria, Italy, Slovenia, Slovakia, Hungary, Czechia and Croatia. Right from the start, the Foxes have confirmed themselves among the leaders of this league: in ten seasons the club can claim four finals played, two of which it won in 2014 and 2018, and no less than five Champions Hockey League qualifications.