Vienna coach Aubin: "We live in the moment, that's all that counts"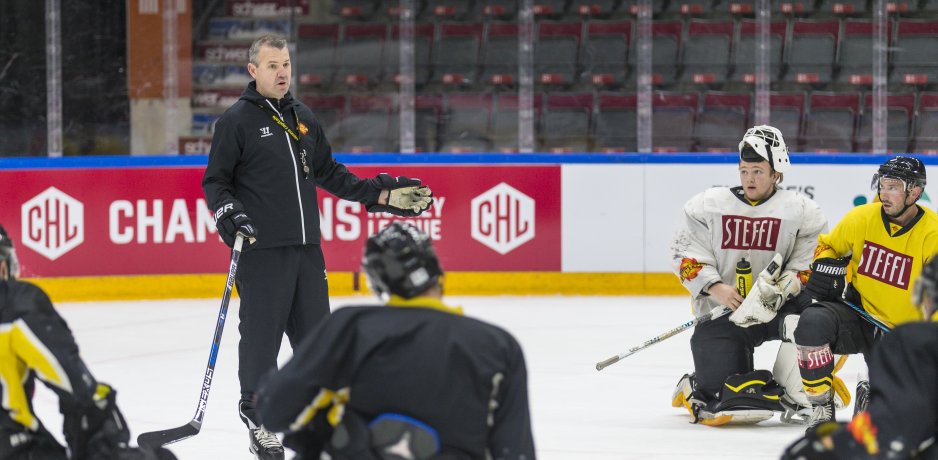 Over the past couple of seasons, no team has been as dominant domestically as the Vienna Capitals in the Erste Bank Eishockey Liga. Last season, they won their first title since 2005 and this season they are comfortably in first place in the middle of this season.
In 2016/17, the team from the Austrian capital ran away from the pack in the regular season and pick round, losing in regulation time only nine times in 54 games, then marched through the playoffs, winning 12 straight games. After years of mediocrity, everything seemed to come together last season.
"First of all, you need a team with character and good technical and physical abilities," said head coach Serge Aubin. "We had a good balance. No player worried about his personal statistics. We have always lived in the moment and my boys have only one goal, namely to win. For my boys, but also for me as a coach, the season was a great example of how strong a team can be."
Last season was Aubin's first behind the Capitals' bench, having become available in the summer of 2016 after the sudden demise of his former team, the Hamburg Freezers of Germany's DEL. He took over a Vienna squad that had finished fourth place the previous season and been knocked out in the quarterfinals.
Aubin, a former centre who played nearly 400 NHL games for the Colorado Avalanche, Columbus Blue Jackets and Atlanta Thrashers, wasn't the only new addition to the team that offseason, however. The club also welcomed veteran goaltender Jean-Philippe Lamoureux and centre Riley Holzapfel. After gaining a reputation as a dependable two-way centre in the AHL and SHL, Holzapfel broke out in the EBEL, leading the team in scoring and winning the league's MVP award. He also led the EBEL playoffs in scoring with 12 goals and 11 assists in 12 games. This season, he continues to be among the team's top scorers.
"Riley is a player who has tremendous goal instinct. He knows where the enemy net is and is dangerous in front of it," Aubin praised. "Of course, I knew all about his qualities but whether he was going to have such a dream season on ice... of course, nobody could've expected that.
"Riley never puts his statistics to the fore. For him, only the team counts."
But of course, Holzapfel doesn't do it alone.
"The entire team was the key to success," Aubin said of last season. "The players quickly understood that everyone in the club – whether coaching staff, management or front office – working together for them and the success. On the other hand, the mix in the team was perfect."
Aubin went on to describe how the team came together, stating: "The foundation stone was laid in summer training camp. With various activities, (assistant coach Craig Strau) and I tried to get to know the team and weld it together. From that point on, we did not look back. We travelled a lot by bus and the squad became more and more a tight-knit group.
"For example, MacGregor Sharp, one of our older players, went for lunch after practice with the young players. That may sound a bit trite now, but that was also a little puzzle piece that helped."
So far, the team has continued this season where the last one left off. Of their first 24 games, they've won 19 in regulation time and have outscored their opponents 85-46.
"On the first day of training camp, we made it clear that last season is now a thing of the past. If you live in the past, you cannot take a step forward," Aubin insists. "Not a single player has rested on the success. At the same time, we have not changed our approach to each game. We continue to think from game to game. That's why I was never surprised that my team continues to perform so successfully."
Of course, running away with a regular-season title is never a guarantee of playoff success. The EBEL is unique in its format in that it plays a 44-game regular season, after which its 12 teams are split into two groups of six. The top six teams play what is called the "pick round", where they duel for playoff seeding and the right to choose their quarterfinal opponents. The bottom six play what is called the "qualification round", with the last two quarterfinal spots up for grabs.
Some teams can peak early and finish first, only to lose seeding in the pick round or, worse, fall victim in the playoffs to a team that gets hot at the right time. That doesn't seem to concern Aubin, however.
"We live in the moment, that's all that counts." the coach says. "We do not worry about the pick round or the playoffs. We think from game to game. This attitude has always rewarded us."
Still, that doesn't mean there aren't areas that he feels the team can improve in.
"There are always areas where you can improve. That's why I am only 99 percent satisfied after a very good game. Otherwise, there would be no potential left to exploit."
Read more about the Vienna Capitals here.
To follow the standings of your favourite European leagues, scroll down the home page to "TOP European League Standings", click on "Edit Your Leagues" and select up to four leagues.
Photo: Jiri Halttunen