Växjö & JYP advance to CHL Final, 10 Olympic rosters named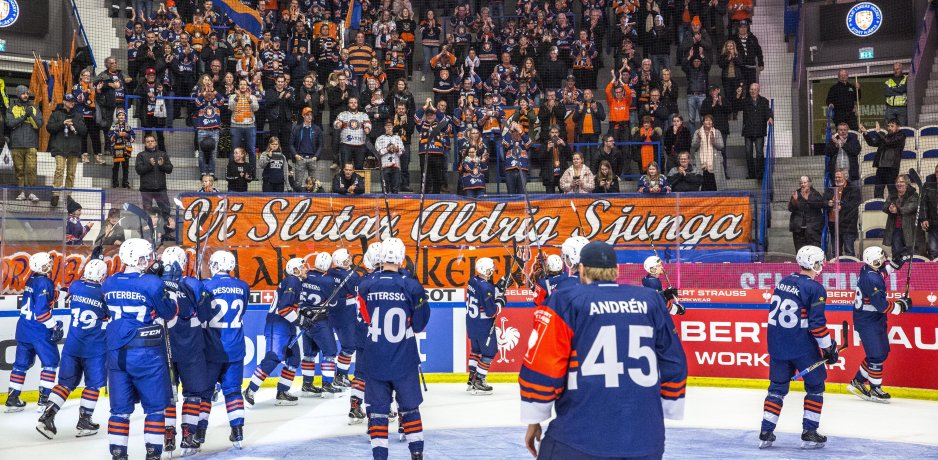 ​After winning their semi-finals, two members of the E.H.C. Alliance will meet in the Champions Hockey League Final on 6 February. The Swedish Hockey League-leading Växjö Lakers defeated Bílí Tygři Liberec from the Czech Extraliga, while JYP Jyväskylä of the Finnish Liiga won a thrilling set against another Czech club, Oceláři Třinec, that required 130 minutes of hockey and a shootout to decide.
After winning 4-2 on home ice a week ago, JYP had a two-goal lead on aggregate and still held that into the third period of the game in Třinec before surrendering two goals in the last 12:10 of regulation time.
"It was a really, really hard game," JYP head coach Marko Virtanen told the CHL in a post-game television interview. "We knew they were going to really come at us and they really pressured us the whole game and the fans here were great, but I'm really proud of our team."
In the final, JYP will visit Växjö, who entered Tuesday's second leg even after a 1-1 tie in Liberec a week earlier. However, the suspense did not last long as the Lakers scored three times in the first period en route to a 6-1 victory.
"We earned this victory in the first period – it was the best period I've seen us play in all these years (in the CHL)," Lakers coach Sam Hallam told the CHL in a post-game television interview.
Looking ahead to the final matchup with JYP, Hallam added: "I don't think we've met them for a couple of years, but we have met a lot of Finnish teams. We have good contacts in Finland, so we can use our channels to check them out as well as possible."
Due to accumulating a better record over the course of the tournament, the Lakers will host the final on 6 February at Vida Arena.
Most Olympic rosters named so far
It was a great day for Lakers goalie Viktor Fasth. Not only did he backstop his team to a spot in the CHL Final, but hours earlier he was named to the men's team that will represent Sweden at the 2018 Winter Olympics in PyeongChang, which begin in less than three weeks.
Ten of the 12 competing teams have now announced their Olympic rosters, and with the unavailability of NHL players to represent their countries this year, many of the national teams are turning more to European clubs to stock their rosters. This year, for the first time, clubs are being financially rewarded by the IIHF for releasing their players to play in the Winter Olympic tournament to the tune of USD 10 000 per player, as announced at the E.H.C. Hockey Business Forum in Stockholm in November.
As such, numerous players from E.H.C. Alliance member clubs have been chosen for the rosters of Canada, the Czech Republic, Finland, Germany, Slovakia, Slovenia, Sweden, Switzerland and the USA so far, and numerous clubs stand to be compensated:
14 – SC Bern
9 – Red Bull München
8 – Adler Mannheim
6 – EV Zug
5 – Zürich Lions
4 – HC Lugano, Kölner Haie, Sparta Praha
3 – HC '05 Banská Bystrica, Frölunda Gothenburg, Fribourg-Gottéron, Genève-Servette HC, HC Davos, Kärpät Oulu, Kometa Brno, Skellefteå AIK, Škoda Plzeň, Thomas Sabo Ice Tigers Nürnberg
2 – Bílí Tygři Liberec, Brynäs Gävle, Färjestad Karlstad, Grizzlys Wolfsburg, HC Košice, HV71 Jönköping, Tappara Tampere, Växjö Lakers
1 – Ambrì-Piotta, BK Mladá Boleslav, Djurgården Stockholm, Dornbirner EC, Düsseldorfer EG, EC Klagenfurter AC, EHC Biel, ERC Ingolstadt, Fischtown Pinguins Bremerhaven, IFK Helsinki, Krefeld Pinguine, Lausanne HC, Linköping HC, Örebro Hockey, Piráti Chomutov, Red Bull Salzburg.
It should be noted that Norway is one of the two remaining teams yet to announce its roster (along with the Olympic Athletes from Russia team), so the list of teams and the numbers for some already on the list could grow.
Photo: Lars Nilsson / Frilansfotoigarferna