UK & DEL teams surprise in CHL, domestic leagues underway, Liiga to play in Estonia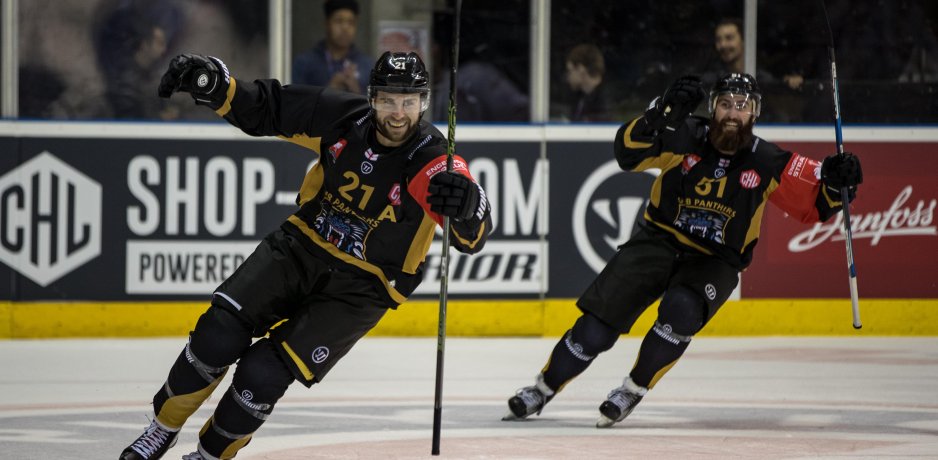 The first big event on the European club hockey stage of the season was, of course, the first four game days of the Champions Hockey League Group Stage, and it included some surprises. Most notably, the Nottingham Panthers, who qualified as winners of the Continental Cup, won three of their four games against Czech semi-finalist Mountfield HK and Swiss champion SC Bern to lead their group. If they now manage to win at least one of the two remaining games against TPS Turku, they would do the unthinkable.
"It would be the greatest achievement so far for the Elite League if Nottingham got to the 'last 16'," EIHL chairman Tony Smith told ChampionsHockeyLeague.com. "They're a great organization; (owner) Neil Black is part of the European Hockey Alliance and the IIHF now, so is very close to what's happening in Europe, and I'm very pleased for the organization to have this chance to get through to the next round. It sends the message that the UK league is getting better, and I believe will continue to do. I would be thrilled if they can make it."
While the EIHL's other representative, the Cardiff Devils, don't have a chance to advance, they did make history of their own by beating HC Davos 4-3 in overtime on home ice.
"Despite the scorelines in the three previous games, we had some minutes of our game and just couldn't put it together for the 60 minutes. But this result has to be at the top in terms of what we've achieved and I think it could be possibly the biggest in our organization's history," Cardiff player-coach Andrew Lord said following the win. "We came up against a team that hosts the Spengler Cup every year with a history of winning and a coach that's been there for 25-plus years."
Lord called it "a huge testament to the league with our result and what Nottingham have done so far. It just shows how far this league has come in the last couple of years. With that, I hope the message is being sent out about the Elite League that it's a legitimate league that's getting better every year."
British teams aren't the only ones who have impressed so far in the CHL. After disappointing results in the first three seasons, all three German teams in this year's competition have started strongly. Red Bull Munich is through to the next round and both Adler Mannheim and Grizzlys Wolfsburg are in good shape to join them. Die Adler need just one point from their last two games against Esbjerg Energy from Denmark to advance, and the Grizzlys need just two from their two games against Red Bull Salzburg.
When asked to explain his team's stunning 4-2 road victory against IFK Helsinki, Munich head coach Don Jackson stated: "I think we've put together a defence that skates really well, helps keep us out of trouble and moves the puck up - that's a goal-scorer's best friend. Our guys are playing gritty and really well defensively."
Munich is one of six teams that has already qualified for the Round of 16, which will be played in November. Others include the two-time defending champion Frölunda Indians, Växjö Lakers and Brynäs Gävle from Sweden, Tappara Tampere from Finland and Kometa Brno from the Czech Republic.
Domestic leagues underway
Most of Europe's domestic leagues are now one week old, with teams playing two or three games each heading into this weekend.
Alder Mannheim has continued its solid start from the CHL with a perfect DEL start, the Vienna Capitals have started their EBEL title defence the right way by outscoring opponents 13-2 in their first two league games, HC Donbass is perfect at 2-0 in Ukraine, Ässät Pori and Piráti Chomutov are off to surprisingly perfect 3-0 starts to their Finnish Liiga and Czech Extraliga schedules, respectively, and things are tight in the Swiss National League with six teams winning two of their first three. The top leagues in Slovakia, Norway and Poland are also underway, while the Swedish Hockey League gets its start on Saturday.
Up-to-date information about all leagues that are represented in the E.H.C. Alliance can be found in our Leagues section. To stay in touch with your favourite European leagues, scroll down our homepage, click "Edit your leagues" and select the four that you want to keep an eye on.
Finnish Liiga in Estonia
On Wednesday, travel packages went on sale for a game between Pelicans Lahti and HPK Hämeenlinna on 27 January 2018 at Tondiraba Arena in Tallinn, Estonia. It will be the first Liiga game to be played outside of Finland.
"We are very excited about this. It is marketable for the league to be visible outside the borders of Finland and this is a very good way to do it," Liiga executive director Arto I. Järvelä told the league website.
"We want to be innovative pioneers in our operations and, above all, provide our fans with unique experiences," says Pelicans CEO Tomi-Pekka Kolu commented. "The behind-the-scenes work has been going on for a while now, and we are really happy that we can now seriously start building this up."
Photo: Panthers Images