Tribute to Arno Del Curto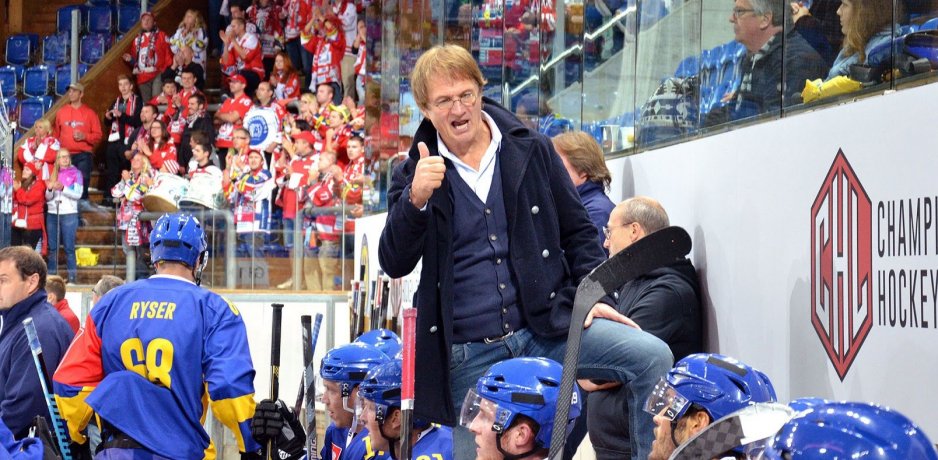 Arno Del Curto, 62, is no longer the head coach of Swiss giants HC Davos, the club announced on Tuesday, 27 November. Del Curto took over the coaching reigns in Davos in 1996 and became the most successful Swiss coach of all time with six national titles 2002, 2005, 2007, 2009, 2011, 2015; five Spengler Cup wins 2000, 2001, 2004, 2006, 2011 and a Champions Hockey League Semi-Final in 2016.
E.H.C. Alliance Managing Director Szymon Szemberg wrote this tribute to Arno Del Curto in 2009, following HC Davos' fourth national title in eight years. It is republished from IIHF.com archives:
No, it's not a Russian disciplinarian. It's not a Swedish tactician. And it's not a Czech defensive mastermind. The best hockey coach in Europe is Arno Del Curto, a Swiss, from HC Davos.

Arno Del Curto doesn't look much like a hockey coach. Rather, he looks like Harry Potter will look when he is 52. Del Curto is probably also the worst dressed coach in Europe, definitely in the Swiss top league.

He stands behind the bench in worn-out jeans and a hopelessly outdated jacket, which he sometimes changes for a sweater, two sizes too big.

But don't let the exterior fool you. Del Curto's credentials are second to none among current coaches in Europe. On Easter Monday, Del Curto led HC Davos to its 29th national championship, in the process becoming the only team in Swiss playoff history to win all three post-season series in seven games.

The St. Moritz native has been with the same club since the 1996-1997 season. Just this fact makes him anomaly in Europe, but Del Curto is much more than just longevity.

In his thirteen seasons with one of the oldest and most storied hockey clubs on the continent, playing in one of the most competitive leagues, Del Curto has won four championships (2002, 2005, 2007 and 2009) and has made the finals in 1998, 2003 and 2006.

This means seven finals in thirteen years, better than 50%.

But like his clothes, the numbers are not enough to describe Del Curto. It's the way he builds teams and makes his players play for him and believe in the team that makes him the best coach in Europe today.

Yes, HC Davos is one of the most prominent clubs in Switzerland and is expected to be a top team, but those not familiar with Swiss hockey should know the background.

Davos is a mountain village – okay, a small town – of approximately 10,000 residents. Rivals like the Zurich, Bern, Lugano and Geneva-Servette have superior pre-conditions to build financially strong clubs and lure big-name players.

Prior to Del Curto's arrival in Davos in 1996, the club had only won two titles in 36 years. There was a risk that the country's most popular hockey club would not be able to compete with the big-city clubs anymore and consequently disappear into oblivion during an era when Swiss hockey and its top league turned fully professional.

When Del Curto came to the club almost 14 years ago, he realized that he must build his team differently from the competitors. When asked what constitutes a good team, Del Curto replied:

"A good blend between warriors and chiefs. You need reliable goal scorers, solid defencemen and, in particular, you need defensively oriented forwards. On top of that, you need a good, hard core of front-line players with good character and a strong personality. When all this is mixed, the team must show mental strength. At HCD, we have had this core for fourteen years. This has allowed us to constantly compete at the top."

Nearly every coach in the world would agree that this is a winning concept and most of them want to build their teams that way. But only a few succeed and no one succeeds as often as Arno Del Curto.

There are many reasons for his triumphs. When he came to the club, he immediately made sure that he had full control. Even today, also people in the hockey business are not sure who is the Davos GM, the director of sports or even the assistant coach. Those positions may appear on an organizational chart, but everybody knows that Del Curto does it all.

He does it because he is a born leader and has qualities that can never be taught. Apart from staying true his belief of how to build a team, Del Curto is a natural when it comes to communication. Every player on the team understands his role, and if he doesn't, he won't stay long with HCD.

For well over a decade, Del Curto has kept the 'good, hard core' with the brothers Jan (defenceman) and forward Reto von Arx, defenceman Marc Gianola and forwards Michel Riesen and Sandro Rizzi, creating a culture of constant high performance and accountability. If a new player accepts the culture, he is in. If not, the core group will repel him like a virus.

The coach displays such passion that the players can't help getting contaminated and he cares deeply about each and every one of them. It's a coach like this that the players want to play and win for and this is this one single element that separates great coaches from the rest: Making players want to win for their coach.

Never was this more visible than during the NHL lockout season in 2004-2005 when Del Curto recruited, negotiated and signed (who needs a GM?) star forwards Joe Thornton, Rick Nash (both Canadians) and Niklas Hagman (a Finn).

Thornton and Nash, who had never played in Europe before, arrived to the picturesque mountain resort with the preconception that it would be a vacation season filled with fun, skiing and occasionally some hockey… until they saw Arno Del Curto in action.

He was more demanding, better prepared and had a superior sense of game strategy than any North American coach Thornton or Nash had previously played for. The Canadians realized that this would be no vacation and it was they who had to accept the rules of the 'core group' and not – like the case was in many European clubs with a strong NHL-lockout contingent – the other way around.

Even today, Nash (Columbus) and especially Thornton (San José), keep close ties to HC Davos and Del Curto and have great memories from the season which ended with a championship. Thornton even practises with Del Curto and HCD each summer.

Although Del Curto's greatness as a coach goes beyond numbers, there is a very telling stat that shows how much the Davos players want to win and how well coached and composed the team is under pressure.

Since 2007, the team has played 15 playoff games when facing elimination. They won 14. During the same period, they encountered eight Game Sevens – and won them all.

Del Curto has something which in German you call: Fingerspitzengefühl. Call it intuition or pure instinct. He proved this uncanny quality during this year's finals against the Kloten Flyers.

After Game 2, with the series tied, Del Curto noticed that goalie Leonardo Genoni was showing signs of fatigue. Despite the fact that backup Reto Berra basically hadn't played for six weeks, he got the call for Game 3, a key Davos 2-1 win on the road. Berra was also in goal for Games 5 and 6 (in which he posted a 1.5 GAA).

Most believed that the natural choice for Game 7 was Berra, and likely ten out of ten coaches would have gone with the 'hot hand'. But Del Curto defied all conventions and picked Genoni because he felt that he was ready to step in again. Needless to say, Genoni had a perfect game and was only beaten on a screened shot.

Despite the fact that four lines had carried Davos to the final game, he shuffled everything in the last game as he went with three centers and four pairs of wingers, which meant that nearly every shift featured a different line.

Former NHL first overall draft choice, Alexandre Daigle, was a healthy scratch in five out the seven final games as Del Curto felt that the virtually unknown Canadian Lee Jinman (who spent most of the season in the Swiss B-league) was a better choice as the fourth foreigner.

As much as Del Curto would never compromise his basic principles, he is a pragmatist first and foremost, and he senses when comprises are necessary.

Although he is an advocate of offensive hockey, and likes taking the game to the other team, he realized during the finals that his team had very little gas left compared to Kloten, which had swept both the quarterfinal and the semifinal series in four games. There was no doubt in Del Curto's mind that playing firewagon-hockey against a rested, fast and well-organized Flyers team was suicide.

After the 2-1 win in the last game at Kloten, Del Curto apologized to the media at the press conference and explained that this is not the way he wants his team to play, but he had no other options than staying conservative and hoping for breaks.

At the end of the day (career), they don't ask 'how'. They ask 'how many'.

Now that most hockey fans in Europe realize that Swiss teams can play the game (with Zurich winning the inaugural Champions Hockey League) and that there is solid hockey knowledge in the country, the question remains – Can Arno Del Curto be a successful coach in Russia, Sweden, Finland – or in the NHL?

He laughs at the last suggestion and says: "No way. The reason? I have a Swiss passport. It's a red little thing with a white cross on it. Coaches with passports like these are not hired for head coaching jobs in the NHL."

So let us do the answering for him. If he would be assigned an NHL job and be able to do it on his terms, he would soon be the best-paid coach in the league. Arno Del Curto would be the talk of the town, a media darling, and he would transform a struggling club to a playoff team or make a contender out of an underachiever.

He would pick his own assistants, he would send a six-million-dollar player to the minors if he doesn't buy into the system, he would ask the board and the owner to mind their own business and the GM would only do the trades that Del Curto has signed off on. And yes, he would run the draft too.

So if any NHL team has the fortitude to think outside the box, they have their chance in 2011 - the year Arno Del Curto's contract with HC Davos expires.

There is only one issue though. An NHL coach's dress code, with slacks, jacket and tie must be written into the contract. Del Curto wouldn't like it, but he would take it.
Photo: Jan Hrabal, hcdynamo.cz