Three-peat for Red Bull München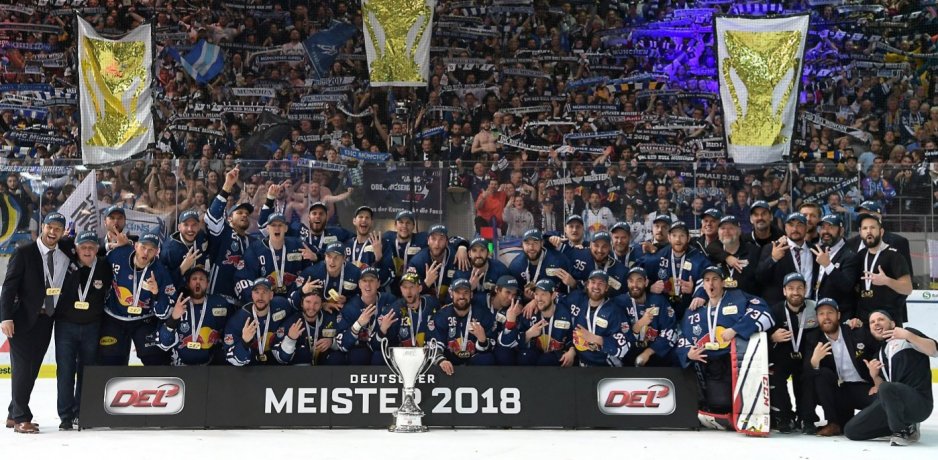 ​For the third year in a row, the champions of the Deutsche Eishockey Liga is Red Bull München, who closed out the German domestic hockey season with a 6-3 home-ice victory over Eisbären Berlin in the seventh and decisive game of the finals on Thursday night.
It was a tough series, with Munich winning three of the first four games before Berlin battled back with a pair of wins to force Game 7. There was little drama in the decisive game, however. Although Die Eisbären struck first, the Red Bulls stormed back and led 4-1 after one period and 5-1 after two. Right winger Steve Pinizzotto, who was also celebrating his 34th birthday on Thursday, led the offence in the game with two goals and one assist.
"It's very emotional," head coach Don Jackson told the club website after the deciding game. "I've only thought about the title in the last few seconds but I'm too tired at the moment for it to settle in. It's just perfect to win three titles in a row and now we'll celebrate."
Jackson now has three titles in his four seasons behind the bench in Munich. Previously, the 61-year-old American had won three DEL titles as a head coach in Berlin. As an NHL defenceman, Jackson won back-to-back Stanley Cups with the Edmonton Oilers in 1984 and 1985.
Pinizzotto is one of several players that have been part of all three championship teams, including captain Michael Wolf, offensive stars Keith Aucoin, Dominik Kahun and Frank Mauer, great Dane Mads Christensen, defencemen Yannic Seidenberg and Daryl Boyle and goaltenders Danny Aus den Birken and David Leggio, who once again formed a solid tandem. In addition, Kahun, Mauer, Seidenberg, Boyle, Aus den Birken and forwards Brooks Macek and Patrick Hager were all members of the German national team that surprisingly claimed Olympic silver in February.
Established in 1998, the club now known as EHC Red Bull München was promoted to the DEL for the first time in 2010. After a few rough seasons, the team has now become a dynasty.
Photo: redbullmuenchen.de