So FC Barcelona is football? For Swede Wallmark it's a hockey gig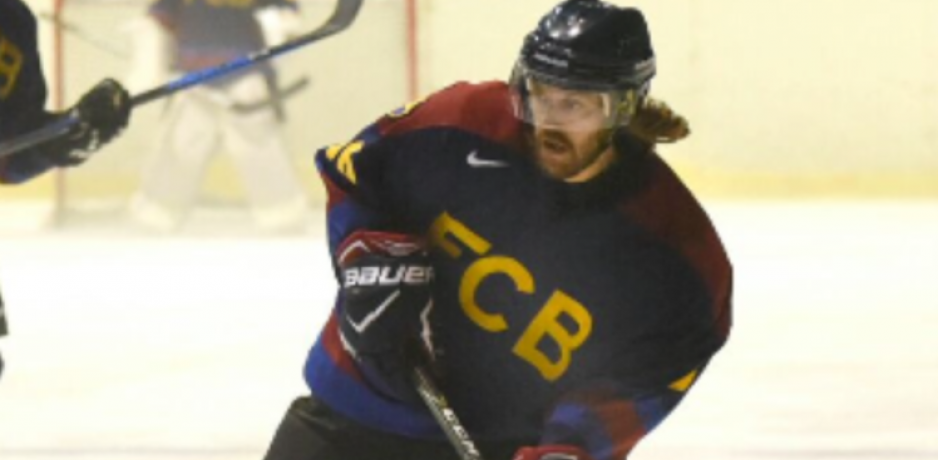 Not many Swedish kids end up playing for FC Barcelona.
Zlatan did it.
And Marcus Wallmark. Marcus has scored six goals and added 10 assists in six games for what arguably is the most famous sports club in the world. The little detail that could be added to this story is that the 26-year-old Swede has done it for FC Barcelona's hockey club.
This is how most people, including Marcus' friends, react when he tells them that he is playing for the red-and-blue FCB in the Catalan capital. "No way that FC Barcelona has a hockey team."
Yes, way. Although FC Barcelona's flagship sport, of course, is football, the club has professional teams in basketball, handball, roller hockey (a huge sport in Spain) and futsal (indoor soccer) and amateur programs and volleyball, rugby, athletics, field hockey, figure skating – and hockey.
But in Spain and Catalonia, you can't just say "hockey" as they'll think you talk either about roller hockey or field hockey, so you need to emphasize "hoquei gel" if you want to impress in Catalan or "hockey hielo" in Spanish. Ice hockey, that is.
"No, it's not really a big sport in Spain", admits Wallmark. "Some people know about it, but many don't. But this is a different experience for me. At this stage of my career, I prefer to learn a new language, enjoy the advantages of living in a fantastic city like Barcelona and treat this as an adventure.
"It is better than playing in a third-tier league in Sweden, where you have seen every rink and travelled every road multiple times," said Marcus. "I have also learned more about many things here than I ever did in school."
But of course, when the elder of Wallmark brothers (four years younger Lucas is with the Carolina NHL organization and currently with the AHL Charlotte Checkers) began playing hockey at the age of four or five in Umeå, he had the same dreams as almost all other Swedish kids; Climb through the ranks of the famous IF Björklöven system, make the junior team, make the pro team, play in the SHL, get drafted and embark on a nice 10- to 15-year NHL career.
And Marcus was on exactly the right path in his teens. In 2007 (at 16), he was one of the stars of the region Västerbotten's TV-Puck team (an almost must-selection for aspiring hockey kids in Sweden), one season later the captain of Björklöven's under-18 team and in 2009, at 18, Marcus was signed by one of Sweden's preeminent organizations, Skellefteå AIK.
"It was, of course, an amazing thing that a club like Skellefteå showed interest in me," said Marcus. "I became the captain of the U20 team, we went to the Swedish junior finals, and although we lost to Frölunda in the final it was a great year for me and I was making progress as I was hoping I would."
But eventually – when Marcus wanted to take the big step to the pro team in the Swedish Hockey League – he realized how tough the competition for the centre position was.
Skellefteå had assembled a roster which would play six consecutive SHL finals – a dynasty – so when Marcus tried to steal one of the four spots at centre, he had the following pivot-men in front of him in the pecking order: Oscar Lindberg (now Vegas, NHL), Melker Karlsson (now San Jose, NHL), Martin Lundberg (now Växjö, SHL) and Joel Mustonen (now Frölunda, SHL).
So during the 2010-11 campaign, he played what would be his first, lone and last SHL game, with Skellefteå at HV71. At that crucial age of 20, Marcus' career stalled.
Now, fast forward on this amazing tour of Europe that followed: Via two lower-tier Swedish clubs, two seasons in Narvik in the second-tier Norwegian league, one season in La Roche sur Yon in the French second division, Marcus landed at TxuriUrdin (San Sebastian) of the Spanish hockey league prior to 2016-17.
"I wanted to test opportunities abroad, to see something different and Spain is definitely something different as far as hockey," said Marcus.
Spain is known for a lot of things, but Marcus is correct when saying that hockey is not one of them. The country has one men's league which generously can be called semi-pro. When Marcus came to the Basque Country, where San Sebastian is the fourth largest town, the LNHH (Liga Nacional Hockey Hielo) had seven teams. Prior to this season two of them folded and it left the LNHH with five clubs. The schedule is a manageable 16 games, plus two rounds of playoffs.
Spain is ranked 31st in the IIHF World Ranking, after Romania and Serbia, but ahead of Belgium and Australia. But the World Ranking was for Marcus entirely irrelevant. Enjoying life, learning a new language and culture and having fun playing hockey was what this experience should be about. And at TxuriUrdin, fun indeed it was
The Basque team went to the best-of-five final, where they swept CH Jaca 3-0 in games, and Marcus Wallmark scored the OT-winner in the final game, sending the championship to San Sebastian for the first time in 17 years. He collected 12 points (7+5) in eight playoff games, after having scored 29 points (17+12) in 12 regular-season games.
After making this name for himself in his first season, the famous FC Barcelona called and gave Marcus an offer he could not refuse.
Despite doubling his salary from last season, he cannot by any means be called rich, but he and his Swedish teammate Dennis Boström (also from Umeå) make a living from hockey, and they – together with their girlfriends – share a nice apartment not far away from Camp Nou, the cluster of FC Barcelona sport venues, which of course includes the famous 99,354-seat stadium of the football team, but also the arenas for basketball, handball, roller hockey – and hoquei gel.
Coming from one of the premier hockey nations, playing in the Spanish LNHH will not exhaust you. You will not hear stories about a demanding schedule and 10-day road trips.
"We practice four times a week, there is a game on Saturday, and we are off Friday and Sunday," said Marcus. "Each team can have a maximum of three foreigners. The domestic players are amateur. Sometimes players cannot come to practice because of work. You have to respect that. They don't make any money."
"Each team tries to put together a good first line, a so-so second line and after that, the quality drops off quite dramatically. Our top line plays every second shift. But still, the quality is better than what I expected. Some Spanish players are really talented, but you can see that they lack in education and fundamentals."
He is in frequent contact with his brother Lucas, who has already played eight NHL games with Carolina and whose goal is to earn permanent promotion from the AHL club to the show.
Although they joke that they would like to swap places with each other next year, Marcus realizes that his NHL train has left the track.
But living in this Catalan metropolis beats the hell out of Charlotte, North Carolina. Barcelona is one of Europe's most vibrant cities and the perks of being part of the FC Barcelona family are not bad. Sometimes the hockey players are invited to a football game at Camp Nou and Marcus has also watched one FCB basketball game.
He doesn't make a living as FC Barcelona's footballers, but all good things in life cannot be measured in money. When Marcus goes to a practice at the Camp Nou hockey rink, he takes the tram. That's a luxury that Lionel Messi could never afford.
Check out Marcus Wallmark's careers stats at eliteprospects.com.
Check out the LNHH stats page.