Salming's greatness went beyond records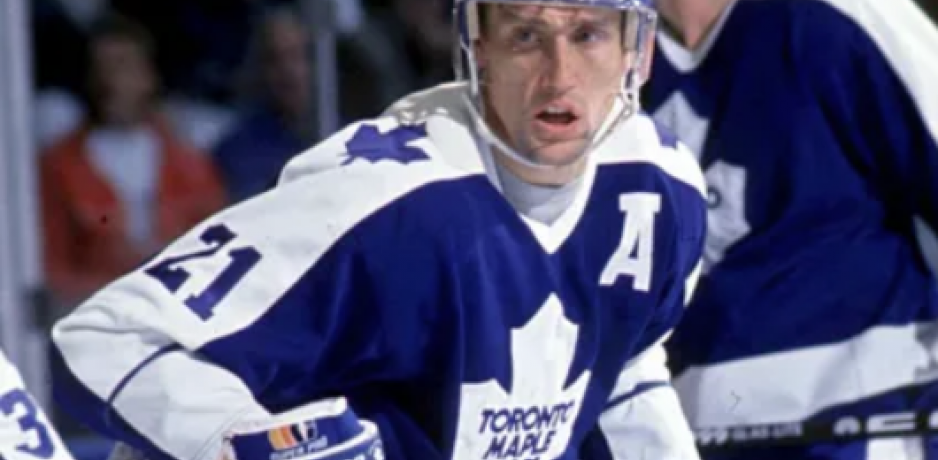 There are some players whose greatness can't be defined by trophies or records. Börje Salming's greatness was that he changed the way how European hockey players were perceived by the Canadian hockey community. Salming was the European trailblazer into the NHL; he dispelled the very notion of "Chicken Swede" and redefined toughness.
The news about Börje Salming's passing came on Thursday evening Swedish time, just as the evening's Swedish Hockey League games were getting underway. Salming died at the age of 71, from the degenerative and fatal disease that is ALS.
Before the second periods began around the SHL, all seven arenas and fourteen teams observed a moment of silence for one of the greatest defencemen of all time and the first European player to be inducted into the Hockey Hall of Fame, in 1996.
The mood was particularly sombre in Leksand, which was playing their great rivals Brynäs, the club from Gävle which Salming represented up until 1973 when he embarked on one of the most distinguished and remarkable hockey careers in the history of the NHL.
Salming's accomplishment may be difficult for today's hockey fans to understand given that some thirty per cent of players in the NHL are from Europe and that Sweden alone has around 140 players with NHL contracts. Salming's fearless arrival in Toronto and the NHL almost fifty years ago must be understood in the context of the 1970s.
European or international hockey and NHL hockey were two very different games in those days. For Europeans, hockey was a game of skill with only peripheral elements of toughness. NHL hockey, with a national representation exclusively Canadian but for a handful of Americans, was a game of toughness and intimidation central to the displays of skill.
For the Swedish hockey community, NHL hockey was in a different galaxy. And those semi-amateur Canadian teams which came to Europe and played in the World Championships and Olympics did not always leave a great impression on European hockey fans. We were stunned, for instance, at the 1969 World Championship in Stockholm when Canada's Fran Huck knocked down Swedish defenseman Bert-Ola Nordlander with a boxing punch. You didn't do that in Europe. That wasn't hockey.
Not much had changed when Canada sent their very best NHLers to Stockholm in 1972, to play Sweden's Tre Kronor in two exhibition games in Stockholm before going to Moscow for the last four games against the Soviets in the historic 1972 Summit Series.
The second game was a virtual bloodbath, and it reconfirmed the perception that Swedish hockey fans had of Canadians, amateurs or NHL pros, that all of them were tough guys first and hockey players second. The only way they could compete was by intimidating their opponents.
On the other hand, Canadians recognized European speed and skill, but sneered at their "softness." Someone coined the expression "Chicken Swede" to describe the style of that country's players. With this as the backdrop, Börje Salming and his Brynäs teammate Inge Hammarström went to play for the storied Toronto Maple Leafs after secretively signing contracts at the 1973 World Championship in Moscow.
Both Salming and Hammarström made the team, of course, but it was the defenceman Salming who immediately impressed all observers with both his superior conditioning and his fearless play. Even the Leafs' eccentric owner Harald Ballard – not a big fan of Europeans – appreciated Salming when he went down to block a shot with just a few minutes left with the Leafs leading the Buffalo Sabres 7-4 in the season opener.
The next day, Toronto travelled to Philadelphia to face the Flyers, the infamous "Broad Street Bullies" who fought and intimidated their way to two Stanley Cups, in 1974 and 1975. Their most notorious bully was Dave "the Hammer" Schultz, who the next season would set an NHL record for most penalty minutes in one season with 472. Salming, who had hardly heard of Schultz, took him on in a scramble and immediately earned the respect of his teammates and opponents alike.
Salming not only showed that Europeans could play in the NHL, but he did it in a way which forever wiped away the "Chicken Swede" label. Börje was tough in the right sense of the word. He didn't run around trying to provoke fights, but he never backed down and occasionally "dropped the gloves" when he felt it was needed.
Salming was the player who opened the gates to the NHL for all Europeans who followed. He was the trailblazer who showed that North Americans didn't have a monopoly on toughness. At the Swedish Ice Hockey Federation's Centennial Gala on 17 November – where Nicklas Lidström was named Sweden's male player of the century – Lidström said that Börje Salming was his idol, and when he played on frozen ponds in his hometown of Avesta as a boy he imagined that he was Salming.
During that gala, Swedish TV viewers were asked to vote for Swedish hockey's moment of the century. Remember that this is a country which has won two Olympic gold medals and eleven World Championships, a country that has seen Mats Sundin go end-to-end for gold and Peter Forsberg electrify the world in a shootout among the many great moments. But the moment which got the most votes was the standing ovation which Börje Salming received in 1976 at Maple Leaf Gardens prior to the Canada Cup game against Team Canada.
For us, who were watching the game in the middle of the night in Sweden, this was an incredible experience. Yes, we could read the reports in the Swedish evening tabloids about how popular Börje was in his new hometown, but we didn't have a clue how immensely appreciated he was. This was a time, of course, before the internet. NHL games were never televised in Sweden, and NHL news was scarce. How could we know? We didn't even know about a thing called a standing ovation. Swedes were not like that.
That moment when Börje Salming was introduced as part of the starting lineup that night in Toronto in 1976 – and the ovation that went on and on – has become one of the most replayed highlights in all of Swedish sports for the last half-century. If you check this clip on YouTube, it also reveals some of Salming's qualities which made him so popular, both in Canada and in Sweden.
Normally, a player who gets such ovations would wave to the crowd or acknowledge the cheers by raising his stick. But Salming was embarrassed. He just skated in small circles. One could see that he didn't feel comfortable, and he later admitted that he just wanted the crowd to stop so the other Swedish teammates could be introduced.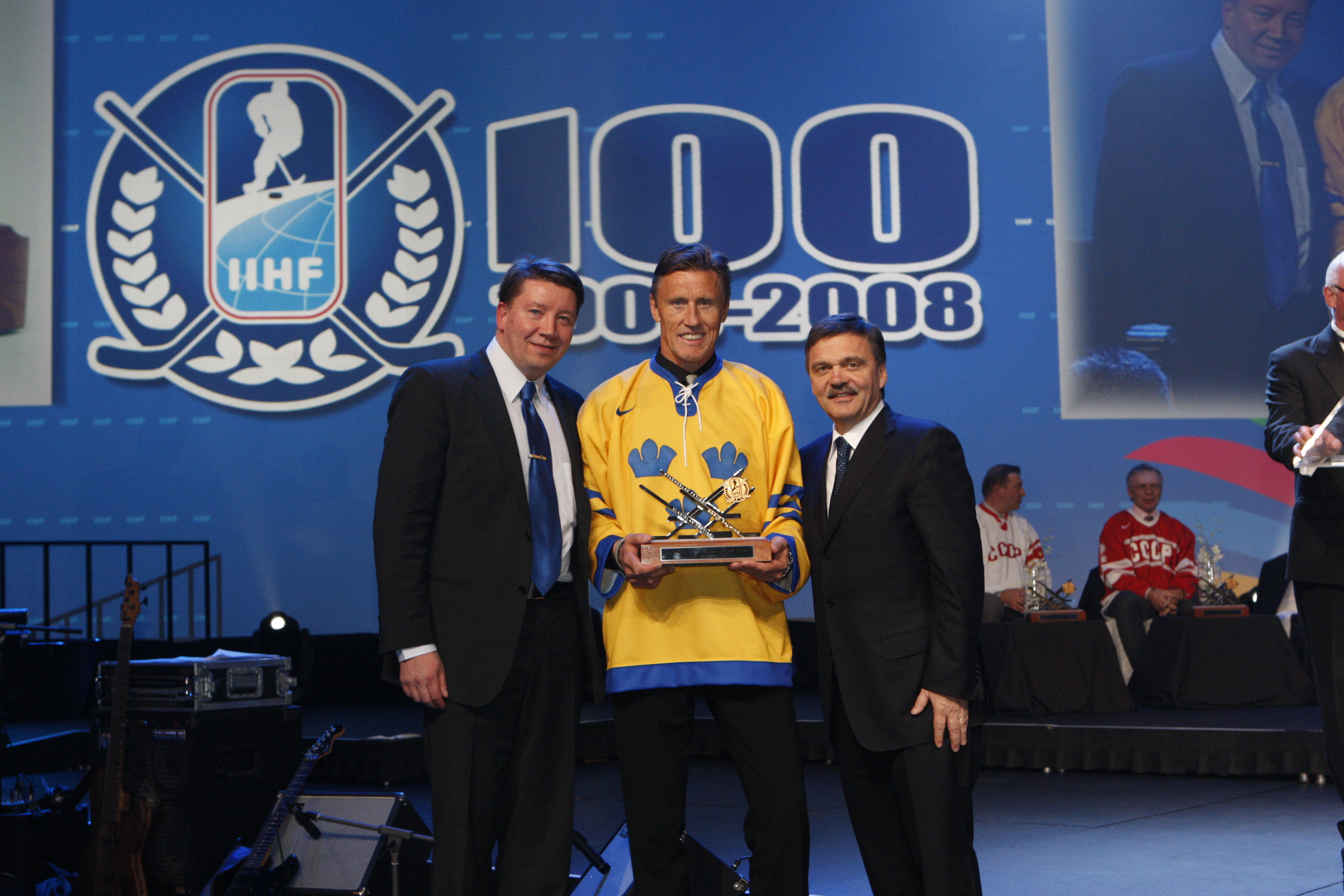 Salming receives the prize for being named to the IIHF's Centennial All-Star Team in 2008 in Quebec City. He is flanked by Finnish great Jari Kurri and former IIHF President René Fasel. Jukka Rautio/IIHF Images
Salming, who was born in the mining town of Kiruna, two hundred kilometres north of the Arctic Circle and who began playing for the local club team Kiruna AIF, was the ultimate team player. He didn't like to be singled out and to be perceived as someone who was bigger than his teammates.
Börje's older brother Stig, who was also on the 1976 Swedish team for that Canada Cup, had the best seat in the house that night. He had tears in his eyes when he saw from the bench how his kid brother was celebrated by the crowd.
A few years ago, Börje Salming was featured in a Swedish TV series hosted by Gunde Svan, Sweden's Olympic hero in cross-country skiing with eight Olympic medals. They went to Toronto and walked the streets while Börje reminisced about his 17-season NHL career. Eventually, they came to Carlton Street and Maple Leaf Gardens. Salming continued to explain what the city and the arena meant to him, and the moment became very emotional for him. He couldn't hold back his tears.
Once he started to talk again, Börje explained that the memories when he returned to the Gardens for each training camp in the autumn were so strong, especially when he walked in and was welcomed by the janitors and the equipment managers.
It wasn't the ovations from the fans, the wins, the goals or the occasional playoff success with the Leafs. No, it was the arena janitors and the equipment managers who welcomed him back after a summer in Sweden, who gave Salming the feeling of belonging in the city that adopted him as one of their own.
When the International Ice Hockey Federation celebrated its Centennial Season in 2008, I had the honour of organizing the IIHF's 100 Year Gala in Quebec City, prior to which a group of more than 60 international hockey experts were asked to cast their votes to name the IIHF's Centennial All-Star Team: one goalie, two defencemen, one centre, two wingers. Vladislav Tretiak was the goalie; Wayne Gretzky, the centre; Valeri Kharlamov and Sergei Makarov, the wingers. Vyacheslav Fetisov and Salming got the votes as defencemen.
This is probably the most underappreciated recognition that Salming ever received. Only six players in international hockey could be on that team and he was one of them. Canada's Prime Minister Stephen Harper was an honourary guest at the centennial event in Quebec City and remarked that he was at Maple Leaf Gardens in 1976 and joined in the standing ovation for Börje, despite the fact that Sweden was about to play Team Canada.
Salming's ALS was very aggressive. His health deteriorated quickly, and he knew that he didn't have much time left. I spoke to Börje on 19 July, wanting to invite him to a hockey forum in Malmö in October. He said that he wasn't sure he could attend because he felt something strange in his throat. One could hear that his speech was different. Three weeks later, on 10 August, the news came that he had been diagnosed with ALS.
But despite that the disease had progressed to the point where he no longer could speak or walk without support, he travelled with his family to Toronto in mid-November to accept the ovations from the fans in Toronto, and he amassed all the strength he could to take part in Swedish hockey's 100-year gala on 17 November. Salming passed one week after that.
He wanted to say goodbye to those fans who meant the most to him.