Red Bull faceoff: Salzburg vs München in CHL Semi-Finals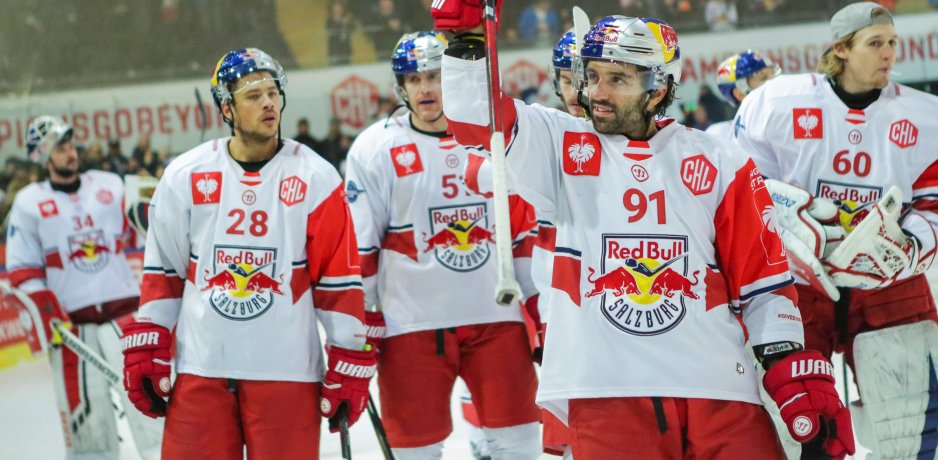 ​On Tuesday begin the Semi-Finals of the Champions Hockey League. While the first matchup to face off features a pair of teams from the Czech Republic and Sweden – two countries that have traditionally dominated European hockey – the other one features teams from Germany and Austria. Not only have these countries never sent teams this deep into the European club hockey championship, but the two E.H.C. Alliance teams facing off are both part of the Red Bull sports division.
Red Bull Salzburg has competed in all five CHL seasons and Red Bull München has been there the last four, but until this season they had never faced each other in the competition and neither club had advanced past the Round of 16 – in fact, no team from Austria or Germany had – until this season.
"It's exciting," München forward Trevor Parkes said following his team's overtime Quarter-Final victory over Swedish club Mälmö Redhawks back on 11 December. "Both teams are gonna wanna prove who is the better Red Bull team and we're gonna come out firing; we're not gonna take our foot off the gas for them at all."
That same day, Salzburg earned a 1-1 tie against Kärpät Oulu to earn its place in the Semis. After the game, goaltender Steve Michalek said: "We are all really excited to face another Red Bull team. They are obviously a really good team as well and it's gonna be a tough battle. I think this tells a lot about our group, which has so many Austrian players. We wanna keep going and look forward to the next round."
The fans of the two teams immediately showed how excited they were of the matchup. On 17 December, just four days after tickets went on sale, it was announced that the first game in Munich was sold out more than three weeks in advance. The return game in Salzburg, which will be played next Wednesday, 16 January, soon followed suit.
The two teams then had to get back to their domestic leagues, where they have both dominated in recent seasons. Salzburg has won six EBEL titles and eight Austrian titles over the past 12 years, while München has won the last three German DEL titles and won the Hanwag European Club of the Year Award last season. This season, München is second in the DEL while Salzburg is fourth in the EBEL.
NOTE: Stay up to date on your favourite European domestic leagues by scrolling down the homepage of Eurohockeyclubs.com.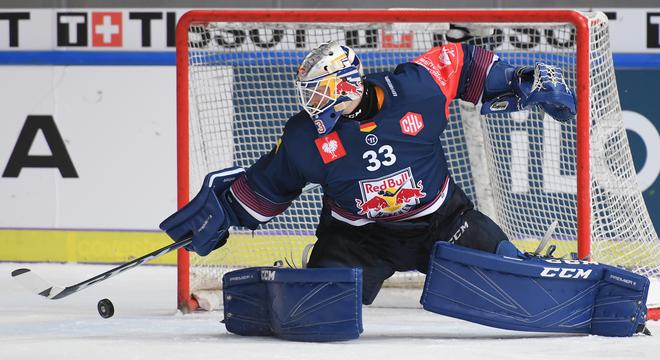 Both of these clubs have also left a big imprint on their respective national programs, with several München players being key to Germany's silver medal at last year's Winter Olympics, such as goalie Danny aus den Birken (pictured above). Now the two Red Bull squads take aim at each other, similar to the logo displayed on the jerseys and helmets of both teams. You better bet bragging rights are on the line, and gamesmanship is at play. Which one is favoured?
"We believe we can beat Munich, that's our main goal," Salzburg forward John Hughes said on the Austrian side's website. "Munich is incredibly strong and to some extent, I see us as the underdogs, but it's a game of ice hockey and we both have a shot at victory. Anything is possible."
"The Champions League Semi-Final – there's nothing better! This will be an absolute highlight and we want to set the tone at home," München forward Yasin Ehliz said on the German side's website ahead of the first game.
"When you come this far, then you want to take the final step and move on to the final, no matter what your opponent's name is," said München captain Michael Wolf. "Both teams have a lot of quality, so I expect a very interesting matchup."
Added Salzburg veteran Matthias Trattnig: "To be one of the top four European teams is very special for us and for me personally. It's also extraordinary to be playing against Red Bull München. Who knows when that will happen again? I'm really excited about the two games."
The Salzburg captain predicts "a very high-calibre game. The team clearly bears the signature of [head coach] Don Jackson. Munich plays fast, aggressive and physical ice hockey. It'll be crucial for every player to do his job and that we work as a team. Just as we did against Oulu, Rouen, Bern and Växjö."
What do Jackson and his counterpart Greg Poss expect?
"We're one of the top four teams in Europe, but we're not done yet," said Poss. "We'll be pulling out all the stops tomorrow to make sure we're in a strong position for the return game in Salzburg. If all the guys bring their A game, we're capable of beating any team in the world. But every single player needs to deliver his absolute best performance. We have our strategy for Munich and the responsibility is ours."
"We have a good plan and want to win," said Jackson, the two-time Stanley Cup champion. "Salzburg plays aggressively and organized, so that's what we aim for."
Wolf added about the two-game format: "This will be decided after six periods, so under this format, every little thing can decide it."
Meanwhile, the other Semi-Final features two-time champion Frölunda Gothenburg against Škoda Plzeň from the Czech Republic. The CHL Final will be played on Tuesday, 5 February.
Photos: GEPA pictures/ Jasmin Walter (top) and Amir Beganovic (bottom).