Munich gets wings with Red Bull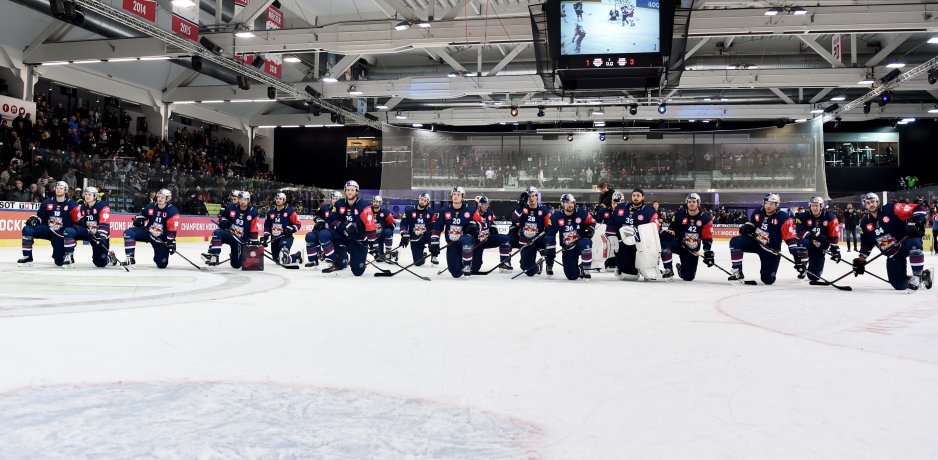 Munich is about beer and football. Always will be. But Red Bull has given the city's hockey scene a new energy boost which may carry all the way to the top of Europe. And it may even stay there for a while. Red Bull München is for real – and an excellent example of corporate sponsorship at its best.
Red Bull München will play in their first Champions Hockey League Final on 5 February against the Frölunda Indians in Gothenburg. It is the first time a German club has a title within reach in a premier and official European club hockey competition since Kölner Haie in 1996, when they lost in a shootout to Jokerit Helsinki in the final of the old IIHF European Cup.
A German club has never won any of the previous European club top competitions. If the Munich club manages it at Gothenburg's Scandinavium arena on this first Tuesday of February 2019, it will mark German and European hockey history.
But Red Bull München is not just a quick fix. It has used its corporate support from the Austrian energy drink entrepreneur in the best way possible, building a solid base for now and looking to do it for the future as well.
"Red Bull's support took the club to a totally different level," said Christian Winkler, the Sports Director, who has been with the club since 2004 when it played in the third league. "It was like going from a small fishing boat to a cruise liner."
Since the Red Bull takeover of EHC München in May 2013, the new club organization has three consecutive German DEL titles, it shares a state-of-the-art youth academy with partner club Red Bull Salzburg and they are on their way to build a new hockey arena at Munich's historic 1972 Olympia Park, projected to be ready in 2021.
But hold it right there for a moment. To understand where Eishockeyclub Red Bull München comes from, we need to look back a century. Because ice hockey in the capital of Bavaria has never enjoyed long term success, despite its long history.
While today's European hockey powers Sweden and Finland still only played bandy in the winters, ice hockey was an organized sport in Munich and Germany already in the early 1900s. It is documented that MEV 1883 München played what was at that time known as "Canadian hockey" in 1909. Rival club MTV 1879 München won the city's first national championship title in 1922.
Although ice hockey was always part of Bavaria's winter sports scene, it was the smaller towns and clubs in the countryside which were the most successful, Füssen, Garmisch-Partenkirchen / Riessersee, Bad Tölz, Landshut and Rosenheim, with all of them winning German national titles, during an era when ice hockey was basically amateur.
To establish hockey in Munich in the professional age became more and more challenging. Although EC Hedos München became the first Munich pro club to win the German championship in modern times (1994), the club was in such financial distress that the title became EC Hedos' last accomplishment. The club went bankrupt midway through the following season, after having been in operation for 12 years.
Enter the München Barons in 1999. The new club was run by the Anschutz Entertainment Group and established in the top league after having purchased the DEL license from EV Landshut. The Barons' reign in Munich lasted only three years. Although they won the city's third national hockey title in 2000, AEG was losing money and the club was moved to Hamburg in 2002 where it was re-established as the Hamburg Freezers. The Munich legacy in the north-German port city lasted until 2016, when the Freezers folded.
This was, by the way, a move never seen in European top hockey before. Sports franchises are moved more or less on a frequent basis in North America, but this Munich-to-Hamburg relocation was the first big-town club switch in one of the major European hockey countries.
Meanwhile, a new club was founded in Munich in 1998, HC München 98, and the club was renamed EHC München and continued its rise through the divisional system, eventually reaching the DEL in 2010. Two years later, Red Bull became the name sponsor and in 2013, the club became part of the Red Bull's sports division.
"Many people doubted that top-league hockey would have any future in Munich, but Red Bull saw and understood the potential," said Winkler. "We who believed in it said that it will work – with the right support."
It is clear that the people behind Red Bull Munich have learned the lessons from the earlier hockey failures in the city. While very soon building a DEL powerhouse – champions in 2016, 2017 and 2018 – the Red Bull management were simultaneously committed to long-term success.
Their focus was on:
1. Developing their own youth, and
2. Building a new arena.
The Red Bull Academy in Salzburg is run in cooperation with their Austrian partner club, which lost the CHL semi-final to their Munich brethren. The academy is already producing talent for both Austrian and German hockey. During the 2017-18 season, Red Bull Munich had 25 players on various German youth national teams, 17 players on the German national team and seven of them were on the Olympic silver team in Korea.
The Red Bull star player and one of the Olympic heroes, Dominik Kahun, is one of the Rookie-of-the-Year candidates in the NHL, scoring goals and contributing nicely to the Chicago Blackhawks. For that, Red Bull Munich was named Hanwag Club of the Year at the E.H.C. Alliance European Hockey Awards in 2018 in Prague.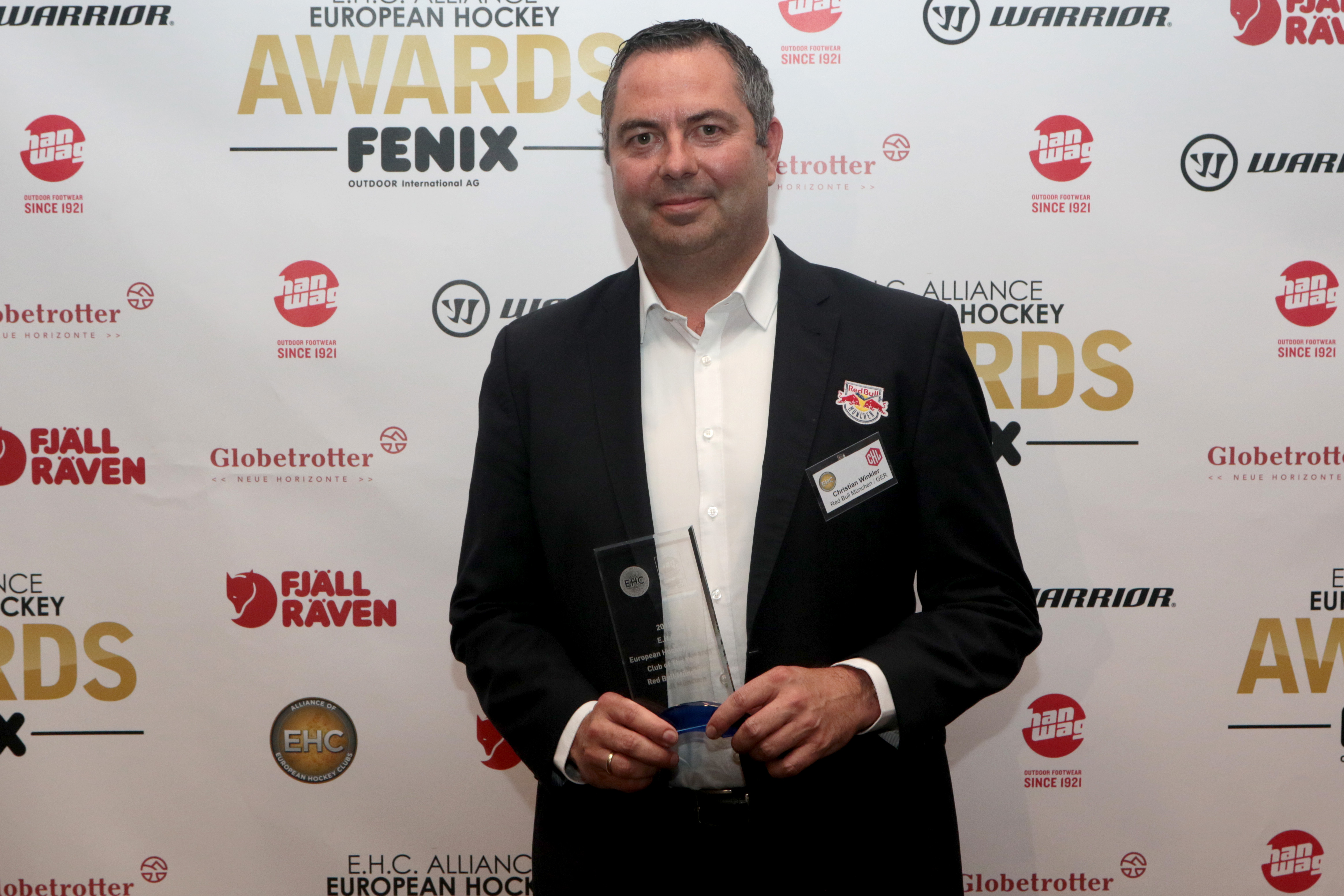 Red Bull München was named Hanwag European Club of the Year after a spectacular 2017-2018 season, and Sports Manager Christian Winkler received the prize. (Photo: Jan Beneš)
The current Red Bull management also realizes that a professional sports organization must generate revenue, which is difficult in the charming but outdated Olympia-Eisstadion which was built five years before the 1972 Olympics and which seats only 1,500 fans, although total capacity is 6,142.
To become a permanent DEL and European contender, a new €100 million, 11,500-seat arena is projected to open in 2021. If everything goes according to plan, the construction will start in August 2019. It will also be situated at the grounds of the 1972 Olympia Park and shared with Bayern Munich's basketball club. The new building will boast three ice rinks in addition to the main arena rink.
So what we see is a potential European hockey powerhouse being established in one of the major European cities, thanks to committed support and investment by a corporate partner. There are traditionalists in European hockey, especially in the Nordics, who are not amused by such corporate "takeovers", but it is difficult to find one rational reason to be critical here.
With the Red Bull backing, Munich is on its way to establish something which hockey has never been able to accomplish in the Bavarian metropolis – a professional organization which operates long-term both when it comes to youth development, devoting resources to corporate social responsibility in the region and investing heavily into infrastructure to make it a workable hockey business. And that in a city where football is king.
"Our goal is to create a basis for running a professional hockey club in a financially sustainable way and to be able to give kids excellent training conditions. This is one of our main objectives, to develop local hockey players, Munich kids," said Winkler.
For everyone who likes hockey and believes in its pan-European potential, this is very good news. And the 2019 Champions Hockey League Final is probably just really the beginning for Red Bull Munich.
"We want to be a dominant force in the DEL every year, but to compete on the highest European level is really the salt in the soup," said Winkler. "It's simply a step higher. And we are really happy to be able to play the final against Frölunda as we consider them as a template for how to run a top level club, both on the pro side and when it comes to talent development."
Top photo: GEPA pictures/ Florian Ertl